Adding Some Color: Chamblee's New Murals
As students return to in-person school at the end of this year and the beginning of the next, they may notice some changes in how Chamblee's interior looks. That is because this year, six Chamblee students have been commissioned to paint murals to display inside the school.
"I'm in [the] National Art Honor Society, which is run by the art teacher, Ms. Landers. And the Blue and Gold Foundation bought canvases and supplies for us to make murals for the school to help spice up the building for when we get back," said Camille Thorp ('22), the artist behind one of the murals.
Landers talked about the mural project and its future.
"The goal behind it was to add some color to the hallways and get more artwork up in the hall because we've got a lot of hall space that needs some art. […] I wrote up the grant to purchase the canvases, and then I had students propose ideas and we selected the ones that we wanted to go with, in most cases. Some people I just said, 'Hey, go do this,' because they had work already, that they were thinking about, that was really nice," she said. "So it's going to be, I think, an ongoing thing that we'll do each year."
The murals were supposed to be focused on Chamblee, but the artists had a lot of room for creativity.
"I gave them a pretty wide open prompt. I said you could either kind of go with—like it'd be cool to have some that were [paintings of] the building and the space because that's always nice to have," Landers said. "I think architectural paintings of the space that you're in are nice, or something that shows the spirit, the energy, the community of Chamblee High School."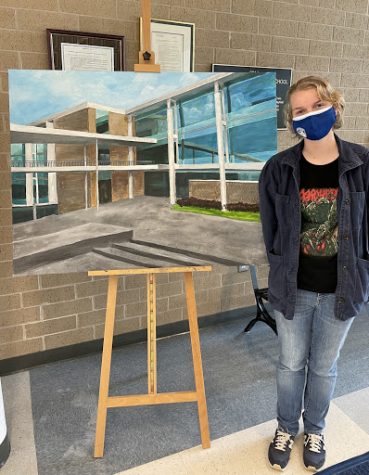 Carly Aitken's ('22) mural, titled "Connecting Points," depicts the exterior of the school.
"So I was encouraged by […] Ms. Landers, and I went up to the school a little bit after quarantine started and I sketched out some rough drafts," she said. "I really liked how the school looks, it's kind of beautiful and I was inspired to create something that celebrates that beauty."
The idea for Iris Tsouris' ('21) mural, which she titled "Between Bells," was sparked by the thought of everyday school experiences that she has missed since virtual learning began.
"['Between Bells'] depicts people walking on the sky bridge, but focused on their shoes, from the knee down," she said. "I made this early January at a point where I was kind of missing the in-person feel of school. And I feel like there are a lot of really small, seemingly trivial moments that we've kind of lost, like bake sales under the sky bridge and that feeling where you leave class and you see everyone else walking through the halls, and I really kind of missed that, so I wanted to capture that sort of vibe in my piece."
Thorp's mural was inspired by one of her favorite parts of school: reading.
"This isn't just any mural, it was a mural that's going to be hanging up at the high school, so of course I wanted to include as much of the high school as I could, with the actual building and some teachers and friends and people running around everywhere," she said. "And one thing that I've personally always loved about school is books and reading, so I try to capture that with this mural […]. Because, even if you're not a bookworm like me, I know everyone at some point has read a book that's taken them to a different place, so that's what inspired the mural."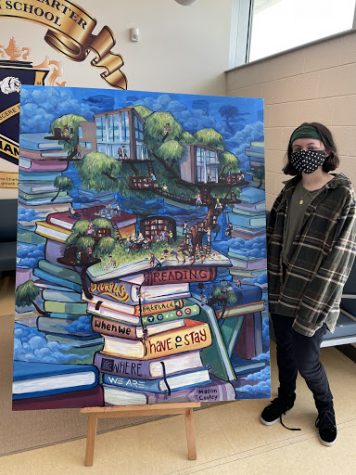 The mural took considerable time and effort to create, with hours upon hours spent painting the canvas, but Thorp found ways to keep from getting bored.
"I sat in the room with the big canvas for […] probably at least 100 hours, so I had to have something to do while I was doing it, so I didn't lose my mind," she said. "So, I FaceTimed many friends, I listened to many albums and podcasts, and I honestly probably discovered a couple of genres of music just because I was so bored and wanting to have something to listen to while working on it."
The artists encountered challenges, though, as they created their pieces. 
"I was kind of struggling with carpal tunnel at the time in my dominant hand, […] I'm actually still kind of struggling, it was really difficult to paint and use my dominant hand, for a while," said Tsouris. "And at some point it started getting better. And it was also possible to use my left hand for a little bit, just because you can just fill in easy pieces of color with that, but I would say that that was the biggest challenge."
Thorp talked about her difficulties in painting the large canvas, as well as creating something for the school when she couldn't physically be there.
"I've never worked with the canvas this big, I forget the exact dimensions, but it's almost taller than I was. […] And it was a little bit daunting, because originally, I was foolish and sketched it out on a piece of notebook paper instead of a sketchbook, so I was holding my little tiny bit of notebook paper up against this five foot monster. And I think most of the problems stem from it being so large, and learning how to mix paints so I have enough to last over an entire area," she said. "And I guess a little bit of it was, I was trying to make something about a school that I hadn't been to in a couple months because, of course, I'm still virtual. I'm at home, so I had to Google a lot of pictures of the building and talk to a lot of people that I know are in the building right now to help get that feeling of, 'Yep, this is Chamblee.'"
Once all the murals are completed, Landers has to begin the difficult task of finding where to place them around the school and making sure they are preserved.
"We'll get all six of them there, and then figure out where best to spread them out, so that there's a new pop of color in different places that don't have stuff going on. Ms. Holland wants [Thorp's mural] in with the books in the library, or near there. So we just kind of have to figure out what areas need [them], so we're just waiting until we get them all in there," she said. "And then we have to be really careful with the lights. [There is] one more thing [the murals] need. We're going to build frames for them, just a real simple wood frame, and then we need to give them a coating of UV protection because everything in that building gets lots and lots of light, so we don't want them to fade through the years."
Landers made sure to emphasize how hard she knew her students worked for the betterment of the school.
"What stands out to me, always, is the amount of work that you can get people to do for nothing other than making everybody else feel good, because these students, you know, they didn't get monetarily compensated. They were donating and volunteering their time, they got service hours for National Art Honor Society, but that was a massive amount of time for them to donate," she said. "So that is the thing that is most striking to me, I understand the amount of work that goes into what they do, and as an artist I understand how valuable your art is to you. And the fact that they're willing to spend that time and gift that to the school speaks volumes about those artists, […] that is something that is really above and beyond what most people are willing to do."