Lady Bulldogs Kick their Way into the Playoffs
Chamblee Girl's Soccer had a highly successful season, reaching the second round of state playoffs after ranking second in their region. Their first game in the playoffs was against Jackson County, which went into multiple overtimes and was settled through penalty kicks, and the second  was against Blessed Trinity.
The team faced many challenges beyond their highly skilled competitors however, with Covid-19 rampaging from their preseason conditioning to even now.
"So we actually started preseason conditioning back in, I would say October-ish. So even then that was still part of the season and I think given the circumstances and with covid everything I think we did a really good job […] overcoming all the challenges we had to face," said Maci Yaeger ('21), one of the Senior Captains. "As a team, we did a really good job of staying safe and protecting each other and making good decisions when it came to like social events and wearing masks all the time. We were masked pretty much all the time, [even] during practice and only really took them off for games or to get water."
Unlike many teams they faced, girl's soccer never had any true issues with Covid-19. However, many of their games were cancelled due to positive tests on other teams.
"I think one main way the pandemic affected this season was that a bunch of our games were cancelled because other teams had players that tested positive and had to quarantine," said Molly Silverman ('21), another Senior Captain. "Luckily, we were never the team that tested positive, but it was really frustrating to have games taken away. I think another major thing that the pandemic took away was our annual soccer sleepover. We usually have a big sleepover with the whole team and it's a huge team bonding moment, but obviously we couldn't have that this year."
Despite the loss of traditions like the soccer sleepover and team dinners, members of the team said they were so happy to just be playing together, and found other ways to bond.
"This year [had] one of the highest morales. I don't know if that makes sense, but it was just, it would have been nice if we could have done [more bonding], but I don't think it really affected [our playing]. Like we spent a lot of time together anyway, and we tried to bond in different ways," said Carly Aitken ('22), a varsity player in the program
After winning 2nd place in the region, the girl's soccer team prepared for their first playoff game against Jackson County, which they won 2-1. 
"Our first playoff game was an emotional rollercoaster to say the least. We were down one to zero with about twelve minutes left to play. Sophomore, Regan Drummond ('23), scored an amazing goal off a corner to tie it up with about seven minutes to go. We then went into both halves of overtime, then into penalty kicks," said Silverman.
Kara Croone ('24), Molly Silverman ('21), Ansley Harrison ('24), Megan Woo ('21), and Maci Yeager ('21) were chosen for the penalty kicks, meaning the fate of the game lay in their hands.
"We had to go to [penalty kicks] and that was definitely like a really stressful moment on the team. It really tested our trust in one another. […] and each time [there was a penalty kick] we all like had our arms around each other, held our breaths, […] and I think the moment that the goal went in, my shot went in […] to win the game — It was an amazing moment," said Yeager. "The entire team crashed the field, and literally like knocked me over. […] I ran over and hugged Molly and Megan and then the rest just like, boom crashed into us […] and it was such an amazing feeling."
It was the longest a game could possibly be played, meaning the team felt as much exhaustion as excitement entering the penalty kicks.
"I was definitely not very happy about it because everyone was really exhausted and most of us had played the entire game. And then after that finished and we went into penalty kicks," said Aitken. "I know we had two freshmen on the field at that time, and we were just trying to hype them up so they wouldn't be too nervous about taking the penalty kicks."
For seniors, they knew these last 5 goals could be their final ones in their high school career.
"I felt very nervous, but excited [entering overtime]. Of course there was always that feeling that they could score a goal and win and my soccer career would be over, but I knew how good and passionate our team was so I was excited to see what was going to happen," said Silverman.
After their hard-won game with Jackson County, the team moved forward to the sweet sixteen against Blessed Trinity. 
"We had to play Blessed Trinity in the second round [and] they're ranked ninth in the nation. We knew they would be the best team we've ever faced, and unfortunately, their passing was flawless and we lost eight to two. We definitely could have played better, but they're also very very good. On the bright side, we managed to score two goals," said Silverman.
Despite the loss, Yeager was proud of the team and their efforts, especially not giving up after the first half.
"I was very proud of how we played. Obviously it wasn't the outcome we wanted. It never is when you lose and you have to go home. Blessed Trinity is a very good team. They have phenomenal players and we all came out to that game and we were ready to go," said Yeager. "At halftime the score was I think one to four and we were down and we were hoping we were going to be able to like pick it up because when we played Parkview, we had the same score at halftime like it was the same situation. Unfortunately with Blessed Trinity […] the score did end up being two to eight. We lost, but I think we did come out and in the second half and we did do better."
Yeager reflected on one of the game's goals, knowing it was her last in high school soccer.
"I did take a free-kick and that's how we ended up scoring. I took the free kick and it hit off the crossbar and my other senior Captain, Molly Silverman managed to head it in. And that was a special moment getting to like you got one final play with her and like one final goal and assist. So obviously it was very emotional since it's our senior last game ever and in high school soccer pretty much, Soccer in general," said Yeager.
Chamblee soccer had an impressive year, between second in the region, and maintaining a perfectly safe season. Earlier in the season they beat Decatur, a prominent rival.
"I thought it went really well. We had a lot of success in general. A lot of things that we haven't been in previous years beat this year," said Aitken. "For example, Decatur, one of our biggest Rivals from two years ago we were able to beat. We also did really well in our sort of region since we got moved up and I don't think people were expecting us to do as well as we did."
The team never let a challenge stop them, whether it was a rough first half or red card, they gave it their all, making their loss against Parkview earlier in the season feel like a win according to team captain Silverman.
"I think one thing I'm so proud of is the amount of times our team faced adversity, were never fazed by it, and overcame it. For example, in our game against Parkview, we were down four to one at halftime. Most teams would look at that, and would already feel defeated…not us. We came back the second half and tied it up four to four. Unfortunately one of our players got a red card, so we had one less player than Parkview. Again, most teams would look at that and feel defeated…not us. We scored another goal and made it five to four," said Silverman. "Sadly, there was still about fifteen minutes left to play and our exhaustion got the best of us and Parkview won six to five. However, it didn't really feel like a loss because of how much we overcame."
This year's soccer seniors were thankful for a full season no matter what.
"I just loved the fact that we were able to have a season especially after last year it was literally like, cut in half," said Maci.
Yeager's final memory of the 19-20 school year was actually a soccer dinner last march.
"The last thing we did before covid hit was […] having dinner as a whole soccer program and that was something I'll remember forever because we were all sitting there enjoying our food [and] we're all getting these notifications like, 'oh schools canceled for the next two weeks. And so are all like athletic activities.' […] We were actually going to have a game the next day," said Yeager.
Like most sports at Chamblee, the team's feel like a family and provide students with unbreakable bonds with one another.
"I think the main thing I'm going to take away from Chamblee soccer is the friendships I made all four years. Not to sound dramatic, but our team is a family, and we all love and care for each other so, so much. I've made lifelong friendships that I'm going to cherish forever," said Silverman.
As the senior's prepare for graduation, they look forward to their teammates' future success. 
"I hope to see growth in the program, both on and off the field. I think a huge goal for this program is obviously to win a state championship in the next few years, and this team definitely has the capability of doing that. I also hope the chemistry only continues to grow, and I hope that the new players learn to love this team just as much as I do," said Silverman.
Returning players are looking forward to the incoming freshman class and another year of team improvement.
"I'm looking forward to meeting all the new players. I know there's a lot of good talent coming up from middle school. And also just seeing all the girls who are on the team right now, like improve and to see myself to improve and just go out there and continue being a good team," said Aitken.
About the Writer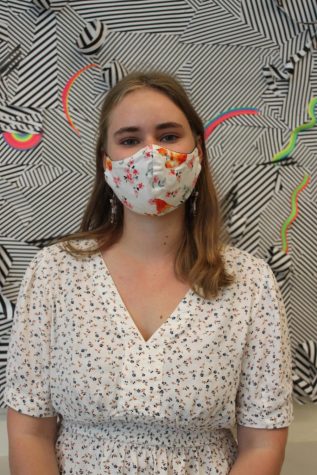 Sirianna Blanck, Editor-in-chief
Sirianna Blanck is a senior and editor-in-chief of the Blue & Gold. She has a strong cat obsession. In five years, she hopes to be fighting for environmental change. Her Chamblee experience has been akin to "Alice's Adventures in Wonderland."