Ms. Pete Closing her Fourth Career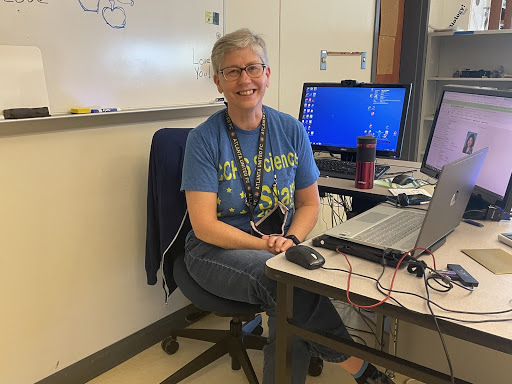 After teaching in DeKalb County for over 20 years, Chamblee science teacher DeAnn Peterson, known to many as Ms. Pete, decided to call it a career. Or, at least, she called it a career as a teacher, as teaching wasn't her first long-term job and it likely won't be her last. 
"I was working my third career when I was doing home inspections, like, when you want to buy a house, I would, you know, climb all over it and go under it and all of those things," said Peterson. "And I came home one day and said, 'I cannot do this until I'm 60 years old because my body just won't hold up.' It had been like the fifth roof I'd been on, and the fourth crawl space, and it was hard work, and it was dirty. So I came home and thought, 'Well what do I like about that job?' I was like, 'I like teaching people about the houses. Oh, there's the magic word.'" 
Peterson got her teaching degree from Georgia State University, but didn't immediately come to Chamblee.
"I taught at Avondale High School for my first eight years of teaching, and then they closed it. But I enjoyed those times, too," she said. "And I'm really glad that I went to Avondale first and then Chamblee. It taught me how to manage classrooms, and have a heart for students that are struggling in the socioeconomic status land and how to help and support them properly, mainly by helping them get a good education and get off to college."
Once she started teaching, Peterson found it immediately rewarding.
"I think teaching gives me hope for the future, better than any other job that I've ever done. If you pay attention to, you know, mainstream media and all of that stuff, 'Oh, teenagers, oh, how can you handle teenagers, we're so messed up for the future!' and then I go to school every day and I see all y'all and- and just… we're in good hands. I never expected that part of teaching to absolutely be—it sounds gushy—but to be in love with my students. I just go in and my heart bursts every day, hanging out with students. So that's a big lesson for me: to learn just the love for humanity, and particularly that 16- to 18-year-old group that is just open to learning new things and doing fun things and becoming adults and it's just a blast."
Fellow science teacher Dr. Kathryn Zuehlke talked about Peterson's energy and passion for teaching.
"She's energetic, she's enthusiastic, she's always willing to learn something new if it's going to help her make the content more interesting to students," said Zuehlke. "She's very supportive and willing to work with students who are struggling to learn new material and catch back up. She enjoys when students start asking questions that are 'off script,' and sometimes those are the best lessons when you start doing that."
Peterson tries to focus her students not just on the specific subject that they are learning in her class, but instead science as a whole, which makes sense given the fact that she has taught everything from AP physics to chemistry to AP environmental science at Chamblee.
"Because I've taught everything, when you come into my classroom, you are going to learn science as a whole thing, science and engineering as a whole thing, rather than just learning chemistry, or just learning biology, you know, just these boxes that we stick ourselves in. I [taught] it more as science as a whole thing," said Peterson. "My favorite example is teaching ATP synthase, the stuff that we get all of our ATP from [ATP is adenosine triphosphate, an important molecule for producing energy in cells]. And it's such a beautiful little enzyme that takes the chemistry and the physics and the biology to make it all work together."
Peterson had one very specific fond memory of her time at Chamblee.
"The [old Chamblee High School] building was built around a central courtyard, and that was the senior courtyard, and my classroom was off of it, so I could open my window and there was the senior courtyard," she said. "And I'm sitting there one morning, stressing about school, and just everything, and in my window drifts this beautiful sound of violins and a cello, and there was a group of students that were practicing orchestra in the senior courtyard, and the acoustics on this gorgeous spring morning were just phenomenal coming in my window and, you know, it was incredibly high-quality music, in addition to the acoustics. I was like, 'Oh my god this is so cool.' So, that's absolutely one of my favorite memories."
Zuehlke also talked about her memories of Peterson, who helped her while she couldn't teach for a period of time.
"About five years ago I got really, really sick and it was a rough year. It was the first year Dr. Sauce was principal and we were short-staffed and I was teaching AP bio with [Peterson] for the first time," Zuehlke said. "And I was coaching cross country, wasn't feeling well, I went off to do Iron Man in September, and then found out that I had pneumonia and I missed two months of work. And I remember [Peterson] just covered, you know, she worked with my husband to get as many lesson plans […] and just really did her best to make sure that my students still continued to receive a good education while I was unable to help them. I was on medical leave for two months, and I greatly appreciate all that she did during that period of time. And then she helped me also come back to transition back into school when I was still not at full strength."
This year, Peterson decided to end her teaching career after becoming eligible for full retirement benefits.
"I'm aging out, and I'm ready to move on to my fifth career and do something else. I teach kids how to swim, and so that's my side hustle that I've got going on right now," she said. "And so that's probably what I'll be doing most of, if I'm not traveling someplace. I've been working since I was 14. And that's 46 years, I'm done. I'm done. I'm tired. I'm not really tired. I want to do things while I'm still young enough and energetic enough to be able to enjoy them."
Peterson is going to try to travel more since she now has more time on her hands.
"[I'm most looking forward to] traveling. I was sitting in my car the other day, and a Stephen Stills song has a line in it: 'When you see the Southern Cross for the first time,' and I shouted at the radio and I said, 'Oh my god, yes, bucket list! I need to go see the Southern Cross!'" she said. "I want to see the world."
About the Contributor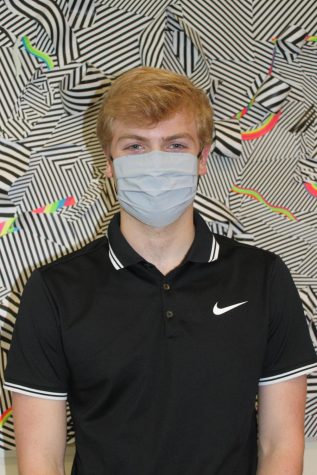 Thomas Rice, Editor
Thomas Rice is a senior, and this is his second year on the staff. In five years he hopes to be celebrating a Hawks NBA Finals victory after graduating college. The movie that would best encapsulate his Chamblee experience is "Tall Girl", except instead of "Girl" it's "Boy" and instead of being about himself it's about Blue & Gold staff writer Adam Pohl.