Purple Reign: Humphrey honored as Teacher of the Year
Every year at Chamblee, a teacher is honored with the distinction of Teacher of the Year. It is rare — maybe even unheard of — for a teacher to hold that honor two years in a row. Then again, 2020 and 2021 have been years unlike any others, and Toni Humphrey is a teacher unlike any other.
After Chamblee teachers voted in the spring of 2020, Humphrey was announced as Chamblee Charter High School's Teacher of the Year for the 2020-2021 school year. Having worked as a teacher at Chamblee since 2009, Humphrey teaches ESOL [English Speakers of Other Languages] American literature and ESOL British literature.
Humphrey was honored to find out she had been voted as Teacher of the Year by her colleagues.
"The Teacher of the Year award means the world to me because my colleagues bestowed this honor to me. They recognize my hard work. At times, when I felt like giving up or when I thought I wasn't doing enough, my colleagues have always been there to assure me of my value to the ESOL students," said Humphrey recently.
In previous years, some teachers have looked down on teaching ESOL students due to smaller class sizes and have not acknowledged the work that goes into the classes.
"[I]n previous years, some people have looked at teaching ESOL as being easy because the classes are smaller, but that's not the case because you have different students coming from different parts of the world who can't speak English, and I have to try to teach them content English," said Humphrey. "And it's quite difficult when you don't know the language. So when my colleagues recognize that I'm working hard, and I'm trying to be the best that I can be for my students, it means the world to me."
For Humphrey, one of the most challenging parts of her job is the communication with ESOL students who don't yet have the best grasp of English.
"I experience several challenges as a teacher of ESOL students. Communicating socially and academically with some of my students is a challenge because they are new to the United States and know very little English," said Humphrey.
With different students at different levels each year, another challenge is that Humphrey must also adapt and change her lessons every year.
"Also, I feel like a new teacher each year because not all students are the same. I cannot use the same lessons from the previous year. I must figure out new strategies, find new resources, and create new lesson plans in order to cater to the needs of students I have presently," said Humphrey.
Humphrey's colleagues in the English and ESOL departments have witnessed her work as a teacher first-hand, and believe she represents the characteristics of the Teacher of the Year.
"I remember when she went to get her specialist degree and really began to hone in on the ESOL population being where her heart lies and where her passion lies. That is why she is full time, the chair of a newly formed department this year. It has its own department now. It's not just under the English umbrella for the first time," said English teacher Adrienne Keathley.
Yasmin Anderson, who teaches American literature, has seen Humphrey go above and beyond in terms of helping her students.
"She goes beyond what she needs to try to do and benefit her students, students who are sometimes underserved and who have a lot more challenges facing them," said Anderson. "It's harder because they have English as a second language, so their challenges are a little greater than those that have English as their first language. So she has a duty that I believe that's difficult for teachers to have, to not only teach them how to properly speak English, but navigate with them just trying to understand the proper way to write and read English, which is difficult for some students. So she does a lot to try to instruct them and show them what they need to do."
Miriam Davidow, who teaches 9th grade ESOL literature and ESOL world literature, also values how Humphrey is realistic with her students.
"I think she cares a lot about her students and making sure they are successful. I think she's realistic with them. Doesn't have crazy expectations; tries to get them to reach their potential," said Davidow. "She's always so patient, very flexible, honest."
Humphrey has also left an impact on her students. Elizabeth Cuadrado ('23) appreciates how Humphrey has helped her in the class, along with being relatable with her students.
"She's relatable. She can understand the student. She'll help and she'll give us simple work where we still learn, of course. And she's very helpful with us. She cares," said Cuadrado. "And I wouldn't be shocked by the fact that she's Teacher of the Year."
Cuadrado also appreciates how Humphrey has helped her grow in the class.
"I was always horrible in class and she took her time, even though there's a lot of work to do, she still took her time to help me," said Cuadrado. "And even with other students too, she was still taking her time out of her day to help. So she's a very good teacher."
Outside of the workplace, Humphrey enjoys spending time creating spoken word poetry.
"I also love writing poetry, writing spoken word poetry. I love performing my spoken word whenever I can. More recently I've been recording my poems and putting them on Instagram and Facebook for others to enjoy," said Humphrey.
In addition to poetry, Humphrey loves taking care of her Yorkshire Terrier and listening to music.
"I have an eleven-year-old Yorkie that's my world, so I'm taking care of him, and he's like my child," said Humphrey. "I love listening to music. I do that every morning while I'm getting ready for work. I always put on some music on my Alexa and I dance around before or while I'm getting ready for work. Have to have it on in the car. [… ] I like R&B, hip-hop, country, rock, Afrobeat, Latin. I listen to all types of music."
Humphrey even made a video presentation of her spoken word poetry titled "A Little Inspiration," which was presented to teachers at a virtual faculty meeting earlier in the year.
"It was incredible. She has an amazing way with words and she's got a great speaking voice. [It was] just creative and amazing," said Davidow.
The Teacher of the Year for this school was voted on by Chamblee teachers in early 2020. However, because of how this school year has been affected by the COVID-19 pandemic, DeKalb decided that teachers of the year for all DeKalb schools will also be the teachers of the year for the 2021 to 2022 school year.
"Because of the COVID situation, all DeKalb County teachers of the year will be Teacher of the Year again next year, because we weren't celebrated at all this year. So essentially I'll be Teacher of the Year for two years," said Humphrey. "I don't like the attention, but since we haven't been celebrated, I guess I'm okay with that."
As a plus, being Teacher of Year gives her a reserved parking spot near the school.
Overall, Humphrey's favorite part of her job as a Chamblee teacher is the people.
"The students and my colleagues. Period. I mean, that's it. I have some really great students, and my colleagues are the best," said Humphrey. "And I feel that I wouldn't be here this long if it weren't for the students and my colleagues."
About the Writer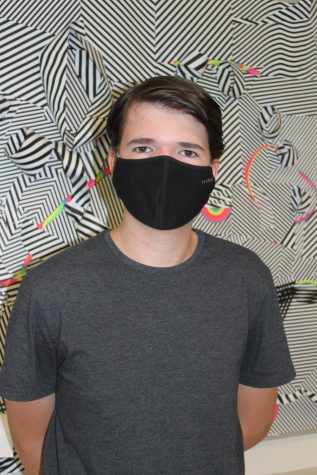 Keegan Brooks, Staff Writer
Keegan Brooks is a senior at Chamblee and this is his third year with The Blue & Gold. In five years, he hopes to be a student or alumni of a college somewhere. Hopefully by then he will have also finished the shows that he started watching, but never finished. A movie that has encapsulated parts of the recent Chamblee experience is "Contagion."