Adam Recognized as Georgia High School State Swimmer of the Year
Two years ago she was ready to give it all up. Last year a pandemic broke up her routine and brought uncertainty to her senior season. This year, she received the top honor our state bestows.
Mary Adam ('21) has been named the Georgia High School State Swimmer of the Year for the 4A/5A classification. As she moves on from Chamblee to continue her academic and athletic career at Florida Atlantic University, Adam brings with her memories and lessons learned from her pre-collegiate swim career.
Adam's journey to success was not easy. In her freshman year, she faced a shoulder injury that prevented her from swimming.
"My Chamblee swimming journey has definitely been an adventure!" said Adam. "I spent all of freshman year with a shoulder injury where I couldn't train and could barely race. Right after my ninth grade season ended, I had major surgery to fix my injury. They removed three muscles and two ribs that had developed in a way that put a ton of pressure on my nerves in my shoulder. I had to miss almost three months of school to recover, and by the time my sophomore season rolled around, I still could only kick at practice."
After her surgery, Adam had a difficult time recovering and working back up to her initial high level of swimming.
"My sophomore year was really rough, both time-wise and mentally because I was so much slower than I had been before my surgery and in middle school," said Adam. "I actually almost quit swimming that year, just because it was stressing me out so much and my shoulder was still causing a ton of issues. I didn't even make the state team, but Coach Reynolds and Coach Valley brought me to the meet as an alternate."
Adam's junior year was a year of resurgence as she put in extra efforts to improve, especially during the initial periods of COVID-19.
"My junior season with Chamblee was the beginning of what I consider my comeback," said Adam. "I trained super hard over the summer and through the year, and I went from going [from a race time of] 1:16 in October to 1:08 in February. When COVID hit, I decided to use it as an opportunity to focus all of my energy into my sport. Our pool closed for two months, but I worked out twice a day, and I also started paying close attention to what I was eating. In May 2020, when I got back to training with Spartans, I pushed myself insanely hard, and my 100 breaststroke [race] time consistently got faster."
Adam's final year of high school swimming, her senior year, was a whirlwind of COVID-19 chaos and breakthroughs, with a happy ending.
"This senior Chamblee swim season was unbelievably chaotic," said Adam. "Our season kept getting pushed back by DeKalb, and I honestly didn't think it was going to happen at all. Luckily, I was proved wrong and we got a very compressed season — two months instead of four. My senior year really stands out to me because it was the only year where I could race confidently. My first three years had been filled with lots of doubt and insecurity, but I attacked this last season with everything I had, fueled by the hope of some kind of happy ending. And I definitely feel like I did accomplish my happy ending! I ended up winning the 100 breaststroke at [the] state [swim meet], as well as being a part of a winning medley relay team. It was an amazing way to round out my high school career!"
After experiencing the ups and downs of her swimming years, Adam was very surprised when she was recognized as Swimmer of the Year for her division.
"Finding out I was my division's swimmer of the year was insane," said Adam. "I've had a crazy journey, and I never thought that I would be able to pull off a comeback like I did. This award means a lot to me. I know all of the work that I've put in over the years, but to have other people recognize that feels really good." 
One of Adam's closest friends and teammates James Hardy ('21) had been rooting for Adam to win the award.
"I really wanted her to get this award like even before she did," said Hardy. "I was hoping that we would nominate her for it, that the coaches would nominate her for it, because she has had one of the more incredible kind of comeback stories that I've known in Georgia swimming."
Hardy noticed Adam's talent for swimming when he first met her in the seventh grade.
"When I met her in seventh grade, she was swimming a [time of] 1:07 at 100 breaststroke, and that's actually the state cut for the boys high school teams," said Hardy. "I believe we had one boy make it to state or maybe two this year, and they swam about 1:07. So she was swimming as fast as they were this year when she was in seventh grade."
He credits Adam's strong sense of determination for her accomplishments as a swimmer.
"I've known a lot of people who are very talented, people who are getting recruited to very good schools, and I've never met someone who is so in love with the sport as she is," said Hardy. "And not only that but [also] the grit and determination she has. I really think that she's probably the most determined athlete I have ever met. I don't know anyone else, personally, who has had to deal with the setbacks that she has had and still made it as far as she has. 
Coach Lorri Reynolds, one of Adam's swim coaches, recounts Adam's persevering spirit that ultimately led her to where she is today.
"[When Mary] ended up having to have surgery [it] was really hard for her," said Reynolds. "I saw Mary dig in and really dedicate herself to getting better, recovering from surgery, and leading her team to a second-place state finish in 2020 and a third-place state finish in 2021. She was one of our captains and was a great influence and a really good leader."
As she leaves high school swim behind for college, Adam shares one of her favorite memories from a swim meet.
"My favorite swimming memory actually happened right before the 100 breaststroke at state my senior year," said Adam. "They had a little break before the race, and I was just standing behind the blocks, so I started singing and dancing behind the blocks. They were playing 'You Make Me Feel' by Cobra Starship over the speakers, and I was having my own dance party just minutes before we dove in. I think the dancing actually helped my race because it calmed my nerves and kept me warmed up, although I did look pretty silly."
For Adam, some last words from her teammates and coaches.
"To Mary: for me, my [swimming] career is over. I'm not gonna pay attention much to swimming anymore. Except for you," said Hardy. "Like I'm going to keep paying attention to you because I know you're going to go places. I know you're going to keep it up and make it to the NCAA [National Collegiate Athletic Association] and just no one deserves it more. Also, stay in touch."
"Coach Valley and I are so proud of [Mary] for all that she accomplished, but we are mostly proud that she stuck to her goals, overcame a huge obstacle, and accomplished what she set out to do," said Reynolds. "Not only is she a great swimmer, but Mary scored an amazing 1560 on the SAT and will graduate with a 4.0 GPA. Florida Atlantic University is lucky to get her for the next four years!"
Adam acknowledges her parents, teammates, and coaches for guiding and supporting her.
"There are so many people I couldn't have done this without," said Adam. "My family and friends have always been so supportive. I also have to thank Coach Karl, my Spartans coach, who believed in me and worked with me even when I started from nothing. My teammates have been nothing short of amazing, and I'm inspired by them every single day. Finally, Coach Reynolds and Coach Valley have been along with me from the very beginning to the very end, through the ups and the downs, and I am beyond grateful for their support and encouragement."
About the Writer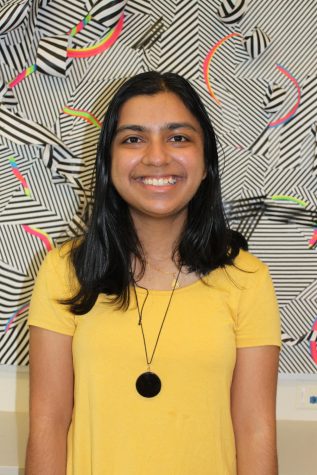 Ashika Srivastava, Editor
Ashika Srivastava is a senior and editor for the Blue & Gold. In five years, she hopes to be recounting the great tale of how she lived through a global pandemic. For her, the movie "Beauty & the Beast" best encapsulates both the beautiful and sometimes scary parts of her Chamblee experience. This is her second year on the staff.