Chamblee Gymnasts Flip Out Over 2021 Olympics
Upsets plagued coverage of this year's 2021 Olympics with a slew of unprecedented headlines that broke the news this summer. One of the most prominent being the absence of all-star gymnast Simone Biles, commonly known as one of the greatest gymnasts of all time. 
Although viewers missed most of her athletic abilities, the media was not short of news concerning Biles bowing out of the team competition. Biles has ignited hundreds of opinions about her decisions, including those of Chamblee's county-winning gymnasts. 
Chamblee gymnast Rachel McGuinness ('24) explains what happened to Biles in that crucial moment during her vault.
"She had something called the twisties where as soon as you flip, you don't know where you are in the air," said McGuinness. "You could lay it on your back, your head, or your feet, and you wouldn't know it until you landed […] you can break your ankle, which is what she almost did." 
However, it is speculated that Biles dropped out because of more than just the "twisties." English teacher Adrienne Keathley has been coaching Chamblee's gymnastics team, and as a previous competitive gymnast, she solidifies how stressful being a gymnast is. 
"Gymnastics in the competitive world then, especially in my day, was tough and I don't think it's changed a whole lot up until the last year," said Keathly. "More attention has been brought to the mental health element of the somewhat toxic and abusive strategies that some coaches would use." 
When coaching her team, Keathley likes to keep it low impact.
"I keep things way lighter," said Keathley. "They are getting the majority of the routines and everything from other coaches and uplifting each other always. Nobody is pressured to do every event, you know, they can pick the ones they're comfortable with."
Mentally, this Olympics has been difficult for Biles. The forefront of her focus is on her routine, but there is something else threatening Biles' mental health: surviving sexual assault. 
Biles is the last competing survivor of prior team doctor Larry Nassar's mistreatment of the U.S. Women's Gymnastics team. Nassar is now serving a life sentence in a federal state prison in Florida.
"For Simone Biles, that is an unfair burden to place on any person's shoulders, you know, she's like 24 I believe," said Keathly. "[S]he is, I think, the only gymnast on the U.S team this year that survived the sexual assault from Nassar. And triggers and trauma are real. I mean, stress triggers the trauma."
Biles had the pressure of the entire United States on her shoulders. She led the team to gold five years ago in the Rio 2016 Olympics, and everyone expected a gold medal performance this year as well. 
"The U.S has won for the past two years I believe," said gymnast Sarah Wolf ('24). "They were supposed to win this year, but then Simone Biles dropped out so they ended up getting second, which is still really good. It just wasn't expected."
Heavy criticism with equal amounts of support followed the gymnast. She was called selfish for supposedly letting down her team. Despite Suni Lee winning gold for the all around individual event, all eyes were focused on Biles.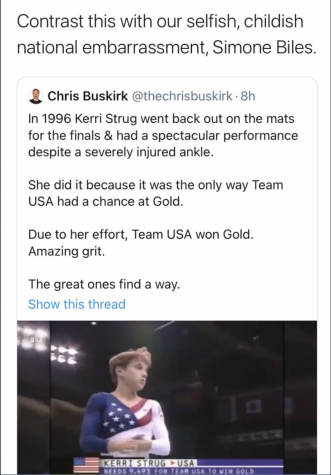 "I can't imagine being like her. I think she deserves the attention. She's the greatest of all time, like she's awesome," said Esther Stambler ('23), a Chamblee gymnast. "But it gives, putting so much attention and pressure on her is what caused her to withdraw. I think we put too much pressure even with all the attention she deserves, but it's probably really stressful for her, and I don't necessarily think it's always a good thing." 
Proving the masses wrong, Biles fought for her pride and won bronze on the balance beam.
"Like it's great that she was able to still compete and get something out of the games and to show everybody who doubted her that she's still great," said Stambler. "She's still a really good gymnast and you can take time off. You can do what you need to do and still come back and be an Olympic medalist." 
In face of physical and mental ailments, athletes have been practicing self-care. Biles has shown all athletes that breaks are necessary for success. 
"It's important for us to take care of ourselves, and that sometimes means stepping away from our passions, right?" said Keathley. "So in order to do better at them eventually or, you know, continue improving, sometimes you just need to step away completely, and take care of yourself mentally."