We're Back Baby
The 2021-2022 School Year has Commenced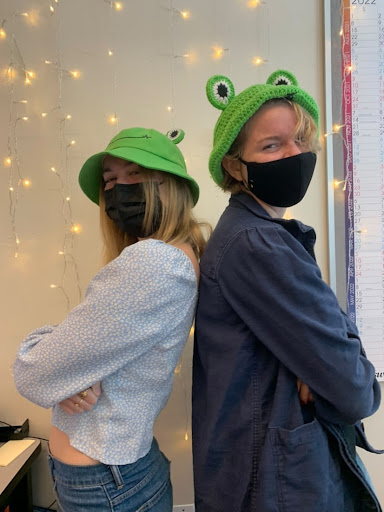 Back to school is always an exciting time of year where Walmart is packed, students are trying out new styles, and there are always logistical problems somewhere along the line. This year isn't much different, except this year's problem is a worldwide pandemic that has been going on for almost two years, spanning multiple back-to-schools. Due to the pandemic, most students have missed out on seeing their peers, and after such a long time this has been proven to be an incentive for many to come back excited.
"Back to school is actually pretty cool because I haven't seen my friends in person for almost two years. It's been so long, and it is really great to be able to get back into the cycle of things where I know I gotta do this and gotta do this. It gives me almost a purpose," said freshman Garrett Moore ('25).
While some freshmen are excited to be back in person, some are not.
"No, well I'm excited to be back, at the same time it's stressful with COVID going on. I would prefer a hybrid so I had the option to either stay home or go back to school if I felt things were getting out of hand," said senior Courtney Dunlap ('22). "I think we'll be in school maybe through the first semester and then we'll go back virtual."
Usually, the freshmen are the only newbies in the building, but this year the sophomores can also be considered freshmen since the majority haven't been full-time in Chamblee before.
"I think [sophomores] are still freshmen, even the juniors are still freshmen. The juniors left halfway through their freshman year; they are still freshmen. So, seniors are the only people [who] have been in the building long enough to be considered their grade," said Dunlap.
Sophomores had to relearn the ropes of school while also being expected to be a bit of a role model.
"I was nervous about not being able to find my classes. I was also nervous that I had forgotten how things work and wouldn't be able to work well in class," said sophomore Spoorthi Satish ('24).
After making it through 11 years of school, a lot of seniors expect the privileges that come with being a senior such as field day, priority parking, and outside seating for seniors. Unfortunately, it seems like these are less of a privilege and more of a luck of the draw. After the 4th week of school, some seniors have finally figured out their parking situations, but the first few weeks proved to be tough.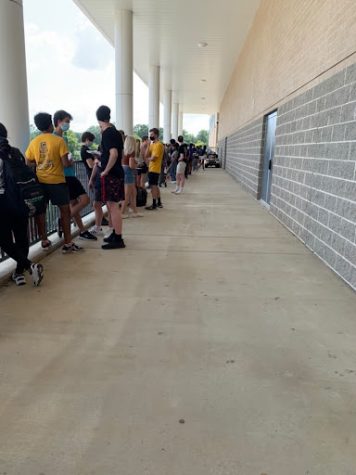 "I feel better now that I may be getting a parking spot but I think this year was much more of a hassle. I never remember it being this hard and I don't think my sister [class of 2020] had this problem. We had to rush to get a spot and then I stood in a line for 30 minutes, paid, and then was told I didn't have a spot so I had to go back around, but like I said it's better now because Mr. Weatherly, Mr. Johnson, and Mr. Brown fixed it and found me and my peers a spot," said Dunlap.
Another point of contention for seniors seems to be the lunch situation. In previous years, the only people who had outdoor seating were the seniors and if underclassmen did sit at the tables they were asked to move by administration or seniors. This year, due to COVID-19, many seniors are losing their spots to underclassmen because they prefer eating outside.
"I don't like it. I think it should be a senior privilege like it has always been, even during COVID. At least reserve the tables for seniors and let the underclassmen sit on stairs," said Dunlap.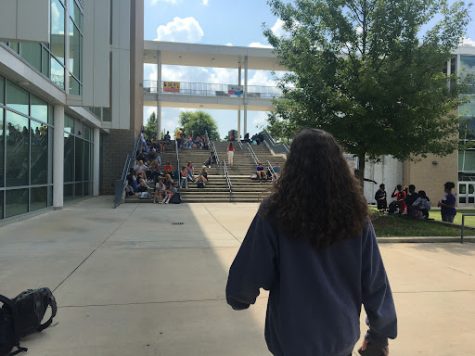 Some underclassmen agree with the idea that only seniors should be sitting on the chairs and while they sit on steps and recommend their peers do the same.
"I sat in a chair, like at a table, my first day of school, but the  because I felt like it was ingrained in me in freshman year, like, we're not allowed to sit out here [we moved]. But I'm really not comfortable eating inside so I just sat at a random wall and I think a lot of other people feel that way which is why so many people have sat on the steps," said junior Francesca Jepson ('23).
Many believe someone needs to remind the underclassmen that outside seating is one of the few privileges seniors get.
"I think [underclassmen that take senior seating]  just kind of need to be humbled a little bit. They don't know the traditions and things so I think they need to be made aware. Because it is a senior tradition [and] seniors don't get much. This is a big thing for them," said Jepson.
Most students remember how packed the hallway used to be, but with about 300 more students and being used to being 6 feet apart, the hallways have become a bit of a shock.
"There are a lot of people. [I'm] not used to so many people" said Jepson.
Moore was one of the few that decided to go back to middle school last year and says the experience of mid-pandemic high school was different than mid-pandemic middle school.
"Nobody ever took their mask off, like even when you're eating it was generally accepted to just keep your mask on the entire day so we would just get very uncomfortable and it was unbearable not gonna lie," said Moore. "It wasn't that fun because we had to wear masks everywhere because it was uncomfortable at the time because it was a jillion degrees and spring."
This year the school is trying to spice things up by having new themes on the last Friday of the month and so far some students are enjoying it.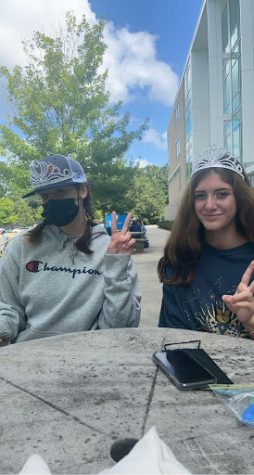 "I thought hat day was pretty cool, I liked looking at the cool hats although some people wore some dumb things, but it was still funny," said Satish.
Outside of hat day, the freshmen finally get to make their way into the building with a bright smile and cat ears. A little act that brightens a lot of people's days.
"This started on a Discord server and my friend was like 'If this gets a certain amount of likes then I'll do something dumb.' So, it was decided that he would wear cat ears and to show support, me and a few of my friends were like 'It would be really funny if we all wore cat ears with him on the first day of school.' After that, we didn't do it on the first day of school, I think it started a week ago and ever since its just been this inside joke among a bunch of freshmen," said Moore.
With everything about previous years in mind, students are trying to focus on the bright side.
"I know this year is going to be crazy and different from what all the seniors before us have had but I'm excited to see what the school has planned. They did that hat day which was funny and I hope they continue doing wacky things. I'm also excited for homecoming and prom. As long as people keep their mask on and aren't nasty, I think we could be fine," said Dunlap.