Touching Down with Chamblee Football
It is time to ring in the new school year with football games and team spirit here at Chamblee as everyone from players to the band members return to the field. 
After a year of online school, the football team, cheerleading squad, and band have been shaken up from a sudden change in schedule, but now they have the opportunity to catch up. The football team has been undefeated in their last three games and students are ready to watch, cheerleaders are ready to cheer, and the band is ready to play.
While the students weren't able to have a normal season last year, for many it allowed them to have a clean slate for this fall season.
"We use [the lack of practice last year] as a clean slate," said drum major William Emde ('22). "So all the bad habits, we just kind of forgot […] so we're now only able to just teach only the good habits back." 
No team is wasting time getting back into the swing of things.

"I was ready. You know, once we said, we're gonna have a season I'm like, 'Okay, good, great, let's get these cheers. I'm hoping for the best,'" said cheerleader captain Zoe Jones ('22) who is leading the squad for the third year in a row.
As the football team pulls out its first wins, the team has power in numbers. 
"Our numbers have increased significantly," said new varsity player Jayden Jones ('22). "I think we have a little over 60 players on the roster right now. Which I mean still isn't a lot, but it's definitely a significant amount for Chamblee."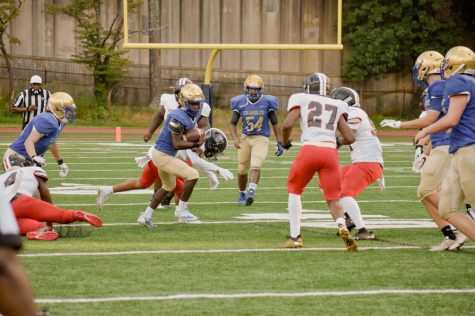 Practice started in the spring of 2021 and yielded more new players like Jones onto the fall varsity team. 
"In spring practice, we had a lot of people who were just starting football and the coaches knew that. So we took everything kind of slow. Nowadays in practice, we kind of have a routine and everybody knows what we're gonna do." said Jones. "We run through our plays, we do our drills, we get physical and then we get out of there."
On the actual field, game days have greatly improved from past years. Jones has been feeling confident in himself as well as the team.
"I know for me personally, the game went really well. I'm feeling good about this season. I'm excited to be on the team the year we start to win," said Jones.
Chamblee yearbook students are tasked with going to every home game they can, gathering pictures to capture the moments of community and school spirit. 
"When I was a freshman, I didn't think we ever won a game or any of the games that I went to," said photographer Natalie Brown ('22). "And then we started to win and the sophomore homecoming game we won. But now it's fun to actually go to games and win. And everyone just seems happier and that just makes it more exciting."
Adding to the excitement, the band and cheer team share the field with the football team.
"I think it went pretty well," said Emde. "We knew our stand tunes better than we did the week before but we still didn't have much time for much rehearsal. It went okay, overall, it was a very first-game-esque sound from the band."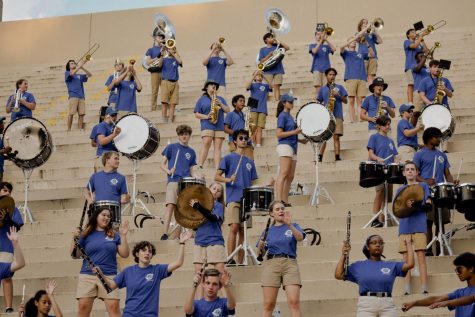 For the cheer team, Zoe already has a routine in place for her and her team to get the players ready to play and the students ready to cheer.
"Sometimes we'll try makeup, or we'll do something based on the themes," said Zoe. "Like last week, was red, white, and blue so we had blue stickers and paint on. We're looking at the student section and they know that we're with them and not just for football. But we're also there for the crowd." 
Due to COVID, there is less inclusion of the student "spirit squad" that dashes down on the field after games. Therefore, Zoe is working on including the crowd more with the cheer team's routines.
"We're still connecting with the crowd, we try to do stunts, to engage with the crowd, get them to cheer," said Zoe. "What I'm trying to implement now are some crowd cheers." 
But even with the revived cheering and occupied student sections, the effects of COVID-19 still affect the environment. 
"I guess [the student section] feels maybe smaller when you're down there. But I guess I haven't really noticed that much. I guess you could say it looks a little smaller than usual, and also I think it's because of COVID," said Brown.
With the comfort of being outside, students and players alike have relaxed their mask-wearing.
"It's definitely worrisome," said Jones. "Because even though you got your helmet on, you're still really just in everybody's face. And there are some people I've seen who try their best to play with a mask. But I personally just couldn't do it. I can't breathe. So it definitely is worrisome during actual games and stuff. It's difficult to be safe but everybody is definitely as safe as possible."
Even with the restrictions, students are still trying to relish what may be their first or last batch of football games.
"There was a chant that the seniors always do for the freshmen like, 'Move back freshmen,'" said Brown. "I just, I really liked the atmosphere and I feel like because you're with seniors like they're your last games, you get the energy."