The Old and New of Chamblee's Epiphany Dance Team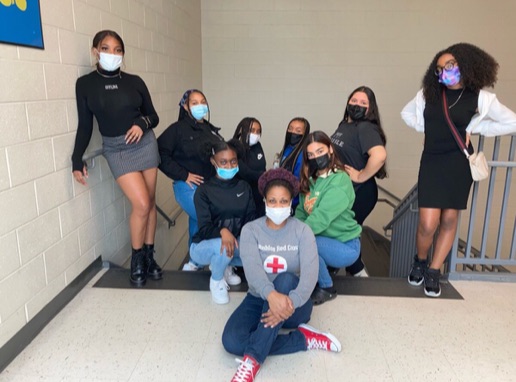 This fall, CHS welcomes a new dance team, and it hopes to be inspired by the great performances of the past. Chamblee has seen a few different dance teams over the years, and they have all impressed the crowd of students at the time. 
Junior Anica Emea ('23) was determined to make a dance team at Chamblee.
"I was like, 'Okay, this is the year that I'm gonna make a dance team,' so I made it happen," said Emea. " I talked to Ms. Humphrey [and] she sponsored me. I know she did the dance team [before] and she did an amazing job." 
English teacher Toni Humphrey was initially hesitant to sponsor the team, but Emea's passion was infectious.
"I was a little hesitant at first because I'm [burned out], but [Anica] convinced me. And so we decided that we wanted to start [performing] around homecoming," said Humphrey. "She was really interested […] and she [said], 'I don't understand why there's not a dance team. All other schools have their things, so why don't we have a dance team?'"
The Epiphany dance team has been through several variations, including one in the mid-90s and one in the early 2010s.
Take-One: Mid-90s
Social studies teacher Brian Ely attended Chamblee in the mid-90s, so he was there during the first iteration of the team during his high school years. 
"The old one started [in 1994, 1995] ish, mid-90s, and it was started by Macquelyn Brown, who was an English teacher here," said Ely. "It served as a fusion of color guard and dance. While a lot of it was centered and focused on the dance side of it, the choreography, [with which] Brown was tremendous, it was also part of the football games' halftime show. It served the role of the color guard, where some of the stuff was dance and some was flag work." 
According to Ely, the 90s dance team was extraordinary.
"People who went to school here in the mid-90s, if they tell you about their experience here, they can tell you about some of [Epiphany's] performances at the pep rallies," said Ely. "It was that good. To be part of it [was special], and it was a very talented group with high expectations. They did a great job, adding a lot of life to the marching band as well."
Ely continues to praise the 90s dance team and emphasizes its importance as the school's first Epiphany.
"I mean it was, it was like something we'd never seen here, and I mean it. Jaws were on the ground," said Ely. "Everybody was just blown away."
Take-Two: 2010s
Humphrey was in charge of the dance team in the early 2010s, which was slightly different from the current version. 
"The old one was also called Epiphany, but during my time, it [served as] the color guard. The girls did both flags and dance," said Humphrey. "They danced in the stands, and during halftime they did flags and they also did a few dance numbers. I was in charge of that from 2010 or 2011, and I gave it up in 2015, I believe." 
Humphrey enjoyed the work she did for the dance team and was proud of what they accomplished in those four years.
"[The dance team] was really fun. The girls really enjoyed it," said Humphrey. "We had between 10 and 15 girls, maybe. I think our school really enjoyed seeing [the dance team] perform."
Ely was also able to experience this group since he too worked at Chamblee during those years.
"Ms. Humphrey had a group that I believe used the Epiphany name as well. They were very similar [to the 90s version] in that the group did the color guard for the marching band, did dancing, and then also would perform at pep rallies. […] And I know that group there in the early 2010s was a really good group too," said Ely.
Take-Three: Here and Now
This year's Epiphany dance team members have been announced and they have started rehearsals.
"[Practices are] Monday, Tuesday, and Wednesday, from 3:30 through 5:00," said Emea. "We're doing majorette, which is like jazz. And I also do run the international club with Dr. Kashef, and we're hoping to put dancing in that too."
Humphrey was also excited about the diversity of the dance team.
"I'm really excited to see what tryouts are going to look like because, during our interest meeting, we had a very diverse group," said Humphrey.
Emea is especially delighted that she can bring the dance team back to Chamblee and its students.
"It's amazing. It really just makes me so happy that I'm able to give these girls a chance. I gave them a sport, something to be passionate about after school," said Emea. "I helped all these girls come together [to do] this one thing that we [all] love the most, which is dancing. I genuinely feel really happy because that's amazing."
Emea has a vision for this semester regarding what she wants the dance team to do.
"There's gonna be 10 positions on the dance team. 10 is the perfect number for our group because dancing and rhythm is hard to get. I'm currently planning on some costumes; they're customized costumes […] I want [the girls] to look the best they can," said Emea. 
They are still determining the specifics, including the places to perform.
"For now we're going to do sports events, and any other events we're invited to," said Emea. "I'm not sure if we will be dancing at other places, because we did just start a dance team, [which we haven't had for] a long time."
The team hopes to make an impact on Chamblee in the way that past generations have, and Emea is hopeful that it will gain a good reputation.
"This is something new to me because I have never run anything like this. So, I just hope we get the recognition from the school and from the students," said Emea. "[I hope] we have other students who are like, 'Oh my gosh, she's on the dance team.' I want that for all the girls, like 'She can dance.'"