Uddin's Research Pays Off with Perfection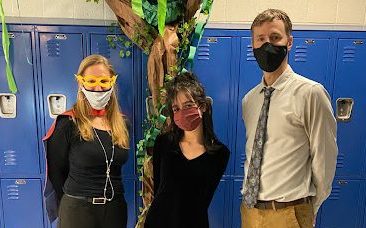 Since fall of 2014, the AP Capstone program – a two-year commitment to AP Seminar and AP Research – has brewed an informative storm regarding the future of many high school students. Since 2018, the courses have been offered to Chamblee students, and Selma Uddin took the initiative two years ago.
"I thought it was a great learning experience and I loved researching things I actually cared about versus topics that my teachers were just teaching for a test," said Uddin ('22), who completed the Capstone program in 2021.
Nevertheless, binding yourself to a topic still poses challenges, and the AP Research class didn't revolve around just any normal projects and presentations.
"Students who complete AP Seminar move onto AP Research," said Fred Avett, who taught Uddin last year. "They start by following a passion or curiosity, reading a lot about it in order to establish the body of knowledge about it – and find that missing piece of the puzzle. That is the question they ask and research in order to create new knowledge."
"Coming up with the whole thing was difficult because you're starting from scratch and you're performing your own research and have to figure out what you're asking versus developing a paper based on other people's research," said Uddin. "It wasn't a traditional group project in the sense that you couldn't rely on other people, you were able to focus on your point of view; I focused on the political aspect of the topic and I just found it so interesting since I could gain so much information and knowledge from just focusing on one lense."
Uddin's research project topic was about the correlation of eating disorders and TikTok. This project wasn't just a year-long school project for her– rather, it was a passion project.
"I really love focusing on one topic that I care about," said Uddin. "I did so much research that I truly felt like I could answer any questions people threw at me; the presentation was very validating."
"Selma was lucky: she came to class in the fall with a keen interest in social media and disordered eating," said Avett. "She stuck with it, found her questions, planned her research methods, compiled her results, and then presented her findings in April 2021. All research students must present their findings and defend their work in front of a panel of experts. Selma nailed that presentation. She was clearly knowledgeable about her topic and her work."
The objective of her topic was to research something that wasn't already heavily researched, and she found that eating disorders on TikTok specifically were overlooked in terms of statistical analyses and overall research.
"It's crazy because it's such a prevalent issue," said Uddin. "The further I got into it, the more I realized how unaware adults were about this topic; I would talk to parents and teachers, and they had no idea about it."
Despite her acknowledgment of her very meticulous and detailed work, doubts still arose after her final submission.
"Even after I submitted it I kept thinking, 'is it good enough?'" said Uddin. "I really cared so much about it. I'd spent so much time staying up and working on it because I wanted to make something I was proud of."
After scores were released, it was apparent that the results made the entire effort worthwhile. The College Board awards scores of 1-to-5 for the AP courses and exams, with a five being the highest score. Uddin earned a 5 for her paper and presentation.
"I loaded my exam scores and the first one was AP Calculus, which I didn't do so well on, and it was really amazing to see that 5," said Uddin. "It completely validated me being able to explain something that I was pretty informed on; it was nice to bring a message across to people who may not know much about it."
During a full two years in this miniature pathway, Uddin learned about new aspects of herself through her research.
"I learned that for some reason I enjoyed the stress of AP Research," said Uddin. "I've never had a class before where I've been so dedicated to a topic, even though it was stressful to keep up with the writing and make something I actually liked."
Additionally, her experience opened up new ideas for a future occupation.
"I had never thought about the concept of research psychology as a potential career," said Uddin. "It's so exciting to create your own research and analyses and I feel like my writing skills have improved so much as well."
Her diligent work was even recognized by Chamblee's very own Principal Gail Barnes.
"[Her paper] could not have been better […], it was perfect timing because I had just been looking at all the news about how social media impacts peoples' body image," said Barnes last month. "People only put out the good parts of their life on social media, they don't show the bad parts; they show picture perfect filtered images, they never show the reality of life."
Along with recognizing Uddin for her presentation, Ms. Barnes announced that Selma was one of the 302 students (out of 24,000 who took the AP Research class globally) who got a perfect score on her project, not a single point taken off.
"Selma's class was the third cohort to complete AP Research at Chamblee, and I had not been notified about a perfect paper before her," said Avett. "Ms. Barnes got the email about it and was so excited. She was responsible for establishing Chamblee as the first AP Capstone school in the DeKalb County school system."
"I wanted this class to come to Chamblee because of people like Selma," said Barnes. "It's the students getting interested in a particular topic and keeping them engaged, and that drives people to do better and more; it's that passion project."
However, this means more than just a perfect score. 
"Getting a good score is great, along with the AP Capstone diploma and adding this to your college application, but it's also about the skills you pick up that help you through life," said Barnes.