Hoco or Foco?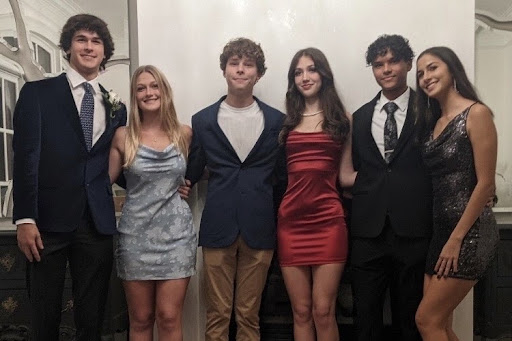 This year, due to COVID-19, Chamblee was not allowed to have its typical homecoming dance. Some students still got to experience their homecoming dances, though, just in different forms. 
Every year, students look forward to the homecoming dance, so some students decided to recreate the event on their own.
"This year we didn't have a homecoming for our school, so my friends and I decided to dress up and take pictures for homecoming because it was one of the biggest things that we missed, […] knowing that we didn't have a homecoming at our school, and it was really fun but it still didn't feel the same," said Samantha Booher ('23).
Many people had to make their own "foco" (fake homecoming) events. Some people even went to more than one of these "focos".
"I went to one with Lakeside friends and one with my gymnastics teammates, and they go to Renfroe, Decatur, Druid Hills, and Midtown. The first one, we just went to my boyfriend's house and hung out and watched a movie, and the second one we ate at Maggiano's and went to downtown Decatur," said Rachel McGuinness ('24).
Not all of these events were fake homecomings though. Some other schools in the area opened their official dances to outside students.
"I went to Wheeler High School's homecoming. It was an actual homecoming dance organized by the school," said Paige Parker ('22).
Even though some of the dances were open to outside students, there were still barriers to entry from outsiders looking to get in.
"There were about like 20 other girls from different schools, but all the guys were from the same school," said LC Smith ('24), who attended Riverside Military Academy's dance.
"[There weren't a lot of students from other schools there] because they opened it up to other schools only a week before the actual dance," said Parker.
Some students noted that the other homecomings were similar in level of contact to events still held at Chamblee.
"It was very upsetting [that we couldn't have a dance], especially since we can have football games with no masks […] outside. We could have done a homecoming outside at least," said Parker.