Set, Spike! Chamblee Volleyball Season Comes to an End
The Chamblee volleyball team finished their season 13th in the state. The team bloomed with new players and made lasting memories, including the infamous Dunwoody games and tiring Pius game.
"I am happy about how the season turned out. Just because it was with a really good group of girls and we all got really, really close this year and I've never been this close to any volleyball team ever, so it was really nice to see that kind of comradery within our volleyball team," said Sammy Hubbard ('22).
A common win for the team is Spikefest. It's a regional tournament in which Chamblee competes and hosts every year.
"We basically win Spikefest every year, so we kind of go in with a lot of pride and a lot of gumption to protect the title," said Sarah Duong ('22).
In addition to Spikefest, the team ended on a high note. This season's outstanding performance led them to nearly surpass their 2nd place spot in the 5A, Region 5 division.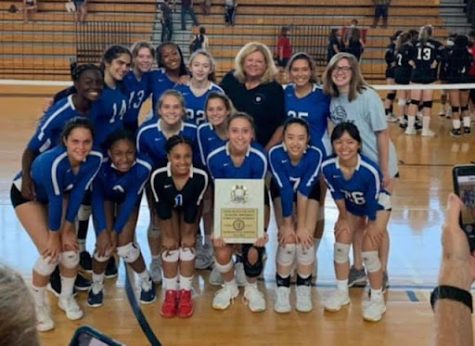 "We won, I believe, 75% of our games," said Layla Burrell ('23).
However, the season did not end without a few spikes.
"This season was kind of tougher for me just because of a lot of stress and I was very overwhelmed with my workload and having to just juggle a bunch of stuff at the same time," said Hubbard.
Juggling seemed to be a common frustration among the players this season.
"We had this one tournament where we had to play like five games back to back with zero breaks. In volleyball, that's not normal at all. Usually [we have] a game and a break, two games back to back is the max. So this tournament was set up really poorly," said Duong.
The Pius games ended with 3-0 and 2-0 losing scores.
"One of the last games was St. Pius, which was like a massive opponent. Our soul was broken, but we trekked on," said Duong.
The hype was real for the famous Chamblee v.s Dunwoody volleyball game, in which they played multiple times.
"Any Dunwoody game, in general, is so much fun, because they're our rivals and we also know people on the other team," said Hubbard.
Though, the rivalry with Dunwoody isn't always sunshine and rainbows.
"Their student section [calls] out our numbers and our names and just heckles us when we're playing and then our sections are polite and normal," said Duong.
"They have no chill," quickly added Hubbard.
The rivalry roasts are still in full serve.
"We know we're better than them. We don't stoop down to Dunwoody hate week because that's beneath us," said Harmon.
The games weren't the only memorable occurrences during the season.
"There was this one time where we were waiting for the bus to come and it was super late […] and then there was a fire drill at the school […] and we were just outside having fun, singing songs," said Burrell.
Overall, the team carried a positive mentality throughout their successful, post-pandemic season.
"My favorite or like, most memorable [moment was] when we were all like, terrified of having conditioning and then our assistant coach came in and she [was] like, 'Hey, guys, let's all sit in a circle and have a mental health day.' That was so much fun," said Harmon.