Tackling Chamblee Football's Successful 2021 Season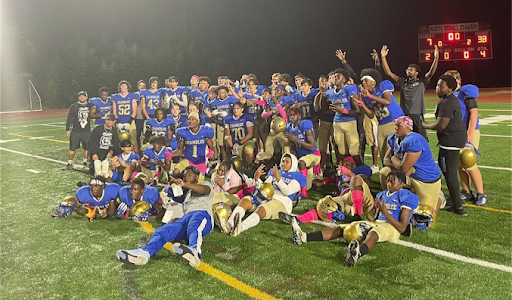 The football season has come to an end for the Chamblee Bulldogs. The 2021 season contained several victories and countless improvements from past years.
"[This season] we won nine games, and lost one," said head coach Robert Swank.
This past season has been Chamblee's first winning season since 2012 according to MaxPreps. The success happened due to several factors.
"I feel like us being successful in both defense and offense helped our team win more games. Last year, I feel like we were way more defensive heavy, but we got our offense to pick it up a lot this year," said Jacob Pickett ('22).
The success this year was not solely related to this year and season, but it is something the team has been working towards for years.
"The guys have been working really hard, and specifically for several years, most of the guys that started this year have been playing for two or three years, so I think it's two or three years worth of hard work and learning the system and it all just came together in this year," said Swank.
Coming back this strong, especially after their COVID-19-impacted season last year and the many other challenges faced in past years, have made these successes even more enjoyable.
"Seeing the success that our guys had, having overcome so much adversity the last four years, and seeing that constant improvement each of those years really culminated in seeing how happy and successful they were," said assistant coach Michael Freeman.
Seniors played a large role for the Bulldogs this year, and the team is looking to younger players to fill their shoes.
"We had a great senior class that's really gone through a lot of adversity the last four years […] here, and put in a lot of work," said Freeman. "We hope we get some more guys to continue to work hard. I'm still looking for more different players who haven't played before."
Even with pivotal players leaving, there is optimism about the football team going forward.
"I feel like there are great young kids that could be coming up, while there are of course seniors leaving as they do every year, there's always people to come up and take their spots. So I feel like the young guys will be able to do good next year," said Pickett.
Ultimately, the season was a success even outside of the wins and losses.
"We just had a lot of fun. I mean, the guys played hard every Friday night and we just had a lot of fun playing the game," said Swank.