Restless Recruitment: The Final Push Towards College Sports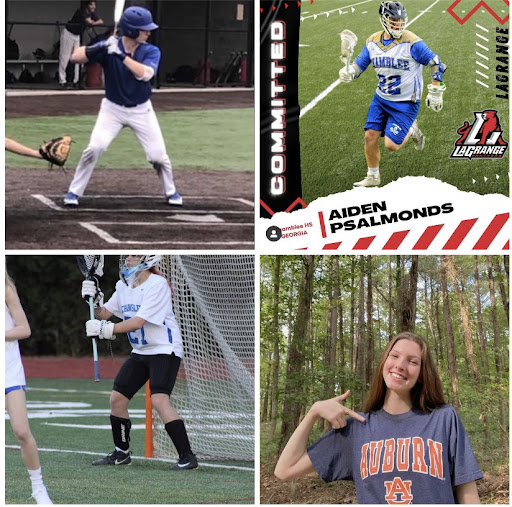 Despite the hardships of attending high school during a pandemic, many senior athletes have taken monumental steps to improve their collegiate futures, including recruitment. Not only does this give students an opportunity to access higher education at a potentially reduced cost, but it also gives students an outlet to continue doing what they love outside of high school. Of course, all success stories have an origin.
"I swam before I could walk," said Kyla Maloney ('22), who recently committed to Division 1 swimming at Auburn University. "My parents both swam, so they put me back in at a young age after I tried other sports that didn't end up working."
Maloney also earned the incredible opportunity to swim at the 2021 Olympic Trials.
"One of my most memorable experiences was the Olympic trials," said Maloney. "Getting to swim at the highest level meet that we have in this country was an amazing experience."
In addition to Maloney, Aiden Psalmonds ('22) also recently committed to play Division 3 lacrosse at LaGrange College, after only a mere four years of playing the sport. 
"My friend and I were in marching band together and he made me join, because they needed a goalie," said Psalmonds. "I ended up falling in love with the sport and I changed my position to attacker, which is my favorite one."
As well as the idea of college lacrosse, one of Psalmond's main goals was also to increase the new sport's popularity. 
"The sport isn't too well known at the moment, and I want to help be a part of growing it," said Psalmonds. "I feel like playing in college and maybe beyond will definitely help it grow."
Senior Madalyn Klaja ('22) is currently working on her commitment, with some inevitable road bumps along the way.
"The recruiting process is very hectic. I feel like you never really know what's gonna happen," said Klaja. "I had my hopes up for Slippery Rock University and Berry College, and both didn't go through because of lack of communication."
However, she managed to get in contact with Allegheny College in Pennsylvania, which made the struggles seem worthwhile.
"Eventually their coach reached out to me, so I visited the campus and spoke to the team," said Klaja. "I even got to sit in their classes just to see how the actual school was, and I feel like that was a really special experience."
Leon Cohen ('22) has been playing baseball for as long as he can remember, and it seemed like he was on the brink of playing in college.
"I knew I didn't want to stop playing, and I knew that I was gonna go to college regardless, so wanting to play baseball at the next level was the most logical step," said Cohen.
Unfortunately, his technical and athletic growth was stunted due to two year long injuries and two surgeries.
"I had a tear in the tissue right next to my ulnar nerve, which made me sit out of baseball for six months," said Cohen. "My injury caused nerve damage and I partially lost motor functions of my fingers. I still deal with problems on the baseball field because throwing and hitting the baseball at 90 miles an hour is just so violent."
The injuries and inability to play undoubtedly caused much more difficulty in his recruiting pursuit.
"My recruiting process has been pretty brutal; after the surgeries, I wasn't able to play and obviously if you can't play, no one is gonna want you on their team," said Cohen.
After all is said and done, nothing can take away from the joy that these athletes receive playing their beloved sports.
"The environment was so energetic and you could see everyone giving their all on the field," said Klaja. "It was easy to see how passionate we all were about the sport as a whole."