Scout's Honors: Gold Awards and Eagle Scouts at Chamblee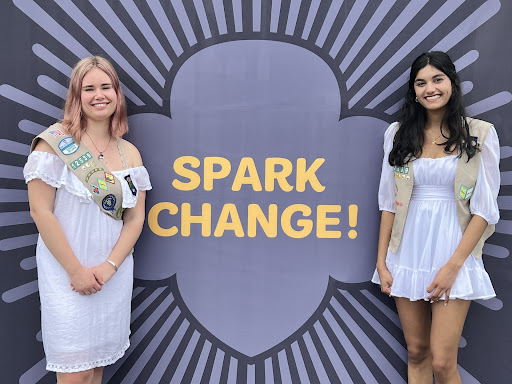 Programs out of school can be a great way to become more involved in your community, and there's nothing better to help do that than joining Scouts or Girl Scouts. With badges to earn and service to do, advancing in the ranks of these programs are major accomplishments. For Boy Scouts of America (BSA), the Eagle Scout is the highest rank attainable, earned by only 4% of Scouts. In Girl Scouts of the United States of America (GSUSA), the highest award achievable is the Gold Award, earned by only 5% of Girl Scouts.
"The Girl Scout Gold Award is an individual service project. It's the highest achievement a US Girl Scout can earn. It's something you work towards your whole Girl Scout career. You start with your bronze award, and that's with your whole troop and then you do your silver award in small groups, and basically the whole end goal of Girl Scouts is to get to your Gold Award," said Shrita Reddy ('22), a Chamblee senior who earned her Gold Award this year.
The process of gaining these prestigious awards isn't easy and requires a lot of time and dedication put in by Scouts who want to earn it.
"I have done several conservation volunteering projects at Mary Scott Nature Park and Shallowford Presbyterian Church. My Eagle community service project was building picnic tables, benches, and tables for the Columbia Theological Seminary in Decatur," said Sooriya Senthilkumar ('22), an Eagle Scout.
Earlier awards must be attained in order to advance in rank, and many scouts complete these milestones throughout the years of their journey.
"I did my Silver Award during middle school, which you're required to do to get your Gold Award. I really enjoyed [completing] my Silver Award, I raised donations for animal shelters, so when I got to high school I was excited to think of a cool Gold Award as a way to kind of put a capstone on my Girl Scout experience," said Sirianna Blanck ('22), another Chamblee Gold Award Girl Scout.
Volunteering can spark interests that wouldn't be recognized otherwise and benefit the community.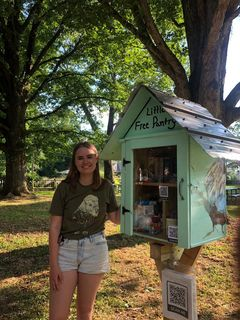 "I never realized how passionate I would feel about food justice. Working at the food bank and making the pantries really taught me a lot about the injustice surrounding the food we eat and how fortunate I really am. In college and in life I want to stay active with food pantry work. Overall, I'm just extremely proud. It's truly one of my greatest accomplishments and I'm proud to have served my community," said Blanck.
Community service activities can be a great way to bond with others in your troop, learn life lessons, and give back to the community. 
"It's special for me because it highlights all the fun and challenging stuff I've done in the past few years. I have made new friends that I consider brothers now, I have learned a lot of life skills concerning camping and wilderness survival, and I've become a better leader and communicator," said Senthilkumar.
Earning a Gold Award or becoming an Eagle Scout can be one of the most difficult yet rewarding processes a teenager can go through. The amount of effort put in by each individual draws the attention of colleges as well, as it displays the commitment, perseverance, planning skills, and maturity of the applicant.
"So the first thing you have to do is come up with an idea. And for the Gold Award, it has to be sustainable and make a positive impact in your community […] then you write a proposal. And that proposal […] it's very long. When that proposal gets approved, you do an interview which is really short. They just […] let you know if they see any possible problems with your project. And then you complete your project and then you fill out the final report, [which] was literally so long. it was longer than my AP research paper; it was insane," said Reddy.
Different projects focus on different issues in the community and seek to fix them directly by giving back and relying on people to participate. Longer-lasting projects were made to be sustainable and make sure resources would continue to be available to those who needed them.
"Mine was called the Dekalb Little Free Pantry Project, and I built three free mini pantries, which are like lending libraries you see around but instead of books they're filled with free food. So I had to find the supplies, host food drives, build the actual pantries, find locations to host them, and then find organizations to sponsor or sustain them long-term. At the end, I also took part in a weeklong food hunger summit with the Atlanta Food Bank. It took me almost a year in total to submit my final proposal. And then even when it was done I've been helping grade bronze and silver awards and completing related scholarships," said Blanck.
Other projects focused directly on current issues. In addition to providing the gift of knowledge, they also taught ways to keep yourself safe.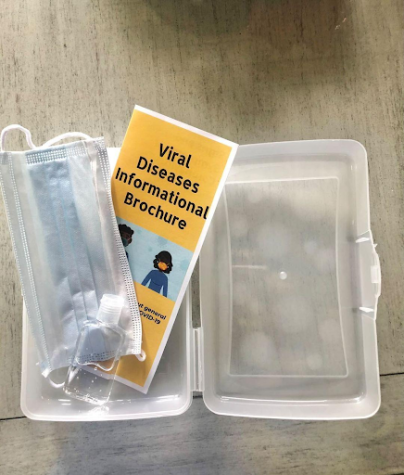 "My project was about bio diseases like COVID and other things. I volunteer at a charitable clinic down in Henry County, it's called the Hands of Hope clinic and also where my dad volunteers so I've been going there for a while. And through my project, I basically created a blog about COVID-19 research and it was also just viral disease things, because prevention practices are very important and education is necessary and hard to find in lower-income communities," said Reddy. "So I created a blog and I posted that to the Hands of Hope Clinic website because that's where patients know where to find information. I also had these little care kits, and it was a little box with a mask, refillable hand sanitizer — the big hand sanitizer was at the clinic so they can refill it — and then a brochure with disease prevention practices and a little bit about COVID, but mostly just general things about how they could stay healthy."
The amount of work put in by these hardworking students is something that impacts the community in a way that will be remembered and is worth being proud of. 
"To me, I think it was something I've been working towards, like a goal I've had in mind since I joined Girl Scouts at eight years old," said Reddy.  "It was really exciting to finally be a Gold Award Girl Scout because it was a lot of work and a lot of writing, so it feels good."