Celebrating Black History Month: Student Reflections
Black History Month at Chamblee has always been a celebration, and returning from COVID, the tradition has returned. During the month of February, Chamblee students come together to celebrate Black history everywhere and the Black members of the CHS school community. Black Excellence Understood [BEU] and Student Government Association [SGA] worked together this year to execute uplifting activities all month.
BEU is a club at Chamblee that promotes the representation of Black students at Chamblee with club-specific events and activities.
"[BEU] does community service, and we try to get speakers to come to show us more about Black excellence and teach our younger students and fellow peers about what it means to be Black and excellent, because there's not as much representation in the school," said BEU officer Zoe Jones ('22). "We just have this group so we can be able to make a change in the school."
This year, Black History Month is back in full swing.
"I think because of the previous years with COVID, there was less participation for Black History Month. But now, we're getting back in the swing of things, and there are more people who are willing to participate," said Jones. "And while there's freshmen who are still a little scared, I think within the upcoming years, we're going to have a lot more participation."
One of the events that BEU led were the weekly lunch activities: Tuesday trivia, Wednesday lip-syncing, and Friday karaoke.
"There was the music during lunch, and the [Black History Month Trivia] bingo, and I also liked the trivia. Those were fun," said freshman Olivia Arcement ('25).
BEU organized these activities to celebrate Black culture and add another layer of fun to the month's celebrations.
"I liked when we had dancing in the cafeteria, that was really fun," said  Shelyn Otoo ('24). "I felt like there was a lot of cultural influence in it. A lot of people were dancing and just overall happy, and that was really fun for me."
Chamblee's Black History Month Events
Another Chamblee tradition is the Black History Month door decorating contest, though there were not many participants this year.
"I think door decorations could have been better this year," said junior Demetrius Daniel ('23), a member of SGA and BEU. "I don't know how many teachers did that, I know some did. I think if we make that a bigger thing, that would be really cool as well, like if we had a theme in different halls."
The activities had a main goal of celebrating significant figures in Black history.
"So with the [dress-up] color days, they're to signify colors of our culture: black, green, red, and yellow. We have them every Tuesday. We ask everyone to participate just so we can have a form of unity; everyone's welcome to participate," said Jones. "And then with the bingo and trivia, it helps you learn more about Black history, like [people] and events that you didn't know before. It just gives more recognition to our forefathers and our people before us."
However, some students noticed that, similar to the door decorating contest, there was not much participation for these activities.
"I know, like for the dress-up and the bingo and whatnot, there's not much engagement within those things," said Otoo. "I'm thinking maybe something more interactive might be helpful to get engagement going through the school."
A new Black History Month event this year was the Black-owned-businesses day in which Chamblee student Black-owned business owners were able to sell their products during lunch.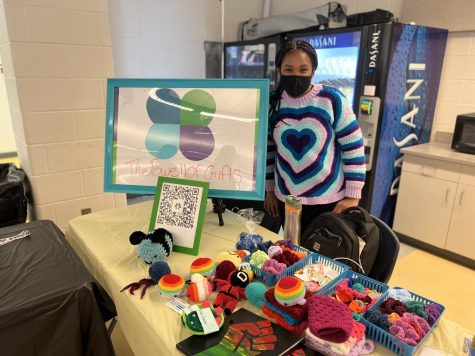 "I thought [Black-owned businesses day] was cute because we got to see everyone's products, and it was really nice, and they got to make a profit," said Otoo. "It was just really cool seeing other Black talent within our school. It doesn't have to be like a huge thing to look for Black talent, like you could find it just within your own community."
For the business owners themselves, it was a great opportunity to showcase their businesses.
"It was very good exposure, especially because there are many students here who are just looking to buy things. They just don't know that their fellow students here actually have the items for them to buy," said Jones. "And we got a lot of people to be interested in what we sell, and we also made some sales that day."
Additionally, BEU's  "I love being Black because…" banner allowed Chamblee students to express their identity and what they love about it.
"Over by the cafeteria, we had a banner that said, 'I love being Black because…' where we had Black students write about [why] they love being Black," said Daniel.
There were also setups around the school such as book displays in the library that brought to light a more creative side of Black history.
"[I liked the displays] trying to amplify Black voices. You go into the library and you see all of the books by Black authors. I think it definitely makes an impact because you're giving people more exposure to Black creativity," said Arcement.
Another display demonstrated Black students' art, through "Artist of the Week" rotations and above the BEU banner.
"[We] had a bunch of Black art right above the poster. It was called Canvas of Culture. It was just some of the art from Black students at Chamblee in the art program about being Black or about culture or history. And we're just putting it right above the mural there," said Daniel. "In the front [lobby], we have Black Artist of the Week. [It features] a Black student each week with Miss Landers. We display some of their art pieces. And it doesn't have to be about being Black; [it's] just art being created by Black students at Chamblee."
Unfortunately, not many people knew about these exhibits either.
"[The idea] is good exposure. I didn't hear much about that. They didn't tell us that that's what was going on. I think if they actually put that out there more, it would be really good exposure," said sophomore Kerin Oliver ('24).
An important part of Black History Month is the idea of recognizing Black students for their accomplishments, which was done through Chamblee's Black Student Spotlight.
"[The Black Student Spotlight] is one of my favorite [Black History Month events]," said Daniel. "This is one I helped with as well. We're starting off with more of the seniors because they're leaving next year. But each week, we're having a different Black student at Chamblee excelling in multiple areas of extracurriculars, academics, sports, other things like that. And we just list their GPA [and accomplishments.] It's on the bulletin board right by Ms. Anderson's room. We just have a different student each month, highlighting Black excellence at Chamblee and recognizing these students for overcoming barriers."
The Significance of the Black History Month Activities
Although the events are celebratory, some students believe that they often do not spark necessary change among students.
"I don't think anyone really acts differently," said Arcement. "The activities that are planned, you know, we just go through them. I don't think anyone particularly changes."
This calls for improvement in the coming years with Black History Month activities.
"I think [the activities] were more of just a celebratory thing. I think it really should have had a bigger impact on Chamblee as a school," said Daniel. "Maybe next year we could try for something more school-wide and more [about] bringing people together and education on Black History Month culture. I guess it was kind of difficult to do that this year. Maybe next year we could have a pep rally or like some kind of thing if [COVID case] numbers go down and we're good for next year."
Most students agreed that the only negative aspects of the month were the limited educational opportunities.
"We should do more informational activities. I like the bingo because it informs you more of like Black figures. I think we need more actual informative interaction," said Oliver.
The Black History Month Bingo activity is a good way to educate students, but it does not always reach all students.
"Even though the bingo is helpful towards informing people about Black figures, a lot of people don't pay attention to the announcements, so it might be better to have something [at] lunch or within a class," said Otoo.
Furthermore, many believe that there should be a balance between addressing issues related to Black history and celebrating the occasion itself.
"I think we did well with the informative side with trivia as well as the bingo, [but] I think that we could have done a better job highlighting or addressing the shortcomings with Black history month and with the Black experience in America," said Daniel. "[Also,]  providing an alternative or acknowledging not just the good part [of Black History Month], but also the bad part, and acknowledging the truth. Showing that there is still more to be done when it comes to racism and institutional racism in this country, to make it so that Black people have a better chance to have more equity in America. We could have done a better job of highlighting both sides of it."
Other students agree that both sides of the Black experience need to be addressed, but with caution as certain topics can be sensitive for some.
"If you are a non-Black person, you can still take whatever platform you may have and raise awareness, and you don't have to bring trauma into it to do that, but I feel like that's what a lot of people trace activism back to," said senior Jas Lawrence ('22). "[People are thinking], 'Oh, we have to rehash this old event that's really bad just to get people to see it.' You can do that without traumatizing people all over again. I feel like a way that we could have done things better is maybe hold petitions, or maybe not say on the intercom that a young teenage boy was brutally murdered for wolf whistling at a white woman. We all know the story of Emmett Till, but I feel like it narrows down who he was to a very distinct point in his life, which was really unfortunate."
Black students at Chamblee represent different ethnic groups and religions, but are often overlooked during Black History Month events.
"Chamblee is a really diverse school. We have people of all different communities here, and I really appreciate having that exposure towards everyone. But I feel like certain groups and minorities are less represented than others; for example, I didn't hear much about maybe Black Muslims or Black Jewish people," said Otoo. "I feel like we should have more representation for all types of different minorities and not just like the stereotypical type of that minority."
Final Reflections
In addition, there are several teachers at Chamblee that represent and model Black leadership for their students.
"My favorite teachers at the school have been Ms. Nesbitt and Ms. Clark, and I love them for everything they've done for me," said Lawrence. "Ms. Nesbitt has given a lot of really good introspective to what it's like to be like a black teacher in a predominantly white teaching school. I'm taking her class right now, and I also had her for one semester freshman year. I really enjoyed how she puts things into both her perspective and the perspective where most people would take it from, which is [often] the white perspective."
Black History Month is just one representation of the importance of Black history and culture, which is something people should consider when coming out of the month.
"I feel like Black History Month has a big influx of people supporting Black businesses and Black people, but after Black History Month, they don't really do too much," said Otoo. "I think it'd be nice to always have some influence of black people throughout, not in one season. It feels like after January 31, it just suddenly opens up like, 'Yeah, we support Black people.' And then after February ends, the amount of Black support drops in number. During summer [of 2020], I know a lot of people did a lot of activism because of BLM [Black Lives Matter Movement], but after that, I noticed that it wasn't such a big thing. And I wish it was like a more steady, frequent thing."
Numerous students hope that CHS can serve as an example of pushing beyond the month of February for celebrating and recognizing Black history. 
"I do think that we can push this to beyond just February. We have our pop-up shop coming again, not in February, but sometime in March. February is Black History Month, so we like to celebrate, but all of these are events we can do throughout the year," said Jones.
The month's main purpose was getting students involved in honoring Black History Month as a group, and it was successful in that regard.
"[The activities] did a really good job of bringing people together, for sure," said Lawrence. "People were like, 'Oh, it's Black History Month and we're gonna celebrate it, and we're gonna do this all together. We're not gonna fight over it or argue about it.' At the same time, it just did feel a little performative, but I still think it brought the community of students at Chamblee that really does care about the Black community together."
Overall, the month and its activities brought together Chamblee students for one cause: to celebrate and appreciate Black History Month.
"I think [the month] was very inclusive. It didn't feel like it was just [for] black people. It was about black people, but it wasn't only black people that were learning about it. They made it so everyone in the school was learning stuff, and I think that's really good to include everyone," said Oliver.