Custodians: The Back Bone of Chamblee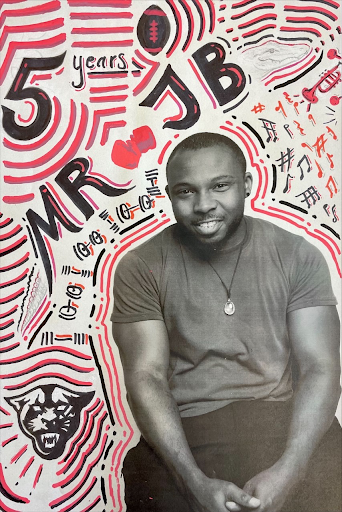 "We think of ourselves as hard workers, and a lot of us take pride in what we do," said Mr. Burton, a custodian at Chamblee.
Custodians often go unnoticed at schools, but their actions don't. They keep the building standing and Chamblee wouldn't be the same without them.
As COVID-19 continues to affect teachers and students, the custodial staff are affected even more.
"It changed up the way we normally do things," said Burton.
Though DeKalb County has lifted the mask mandate, COVID is still a big concern for the custodial staff.
"I think we all want to come into a clean and safe building, leaving with our health in good check. We just need everybody to really understand how serious this matter is with these COVID cases," said Kenneth Lyons, a member of the custodian staff at Chamblee high.
With duties being switched around, custodial staff are doing more than they should to keep the building afloat.
"For instance, my actual job is to maintain the building and keep everything operating, your lights, your AC system, the campus. But since we're short, I help out the custodial staff," said Lyons.
But with all these added responsibilities and loaded workload, what can the students of Chamblee do to make the custodians feel appreciated?
"I think it would be more appreciated if everyone would just do their part and help maintain the place," said Lyons.
Basic respect of the building seems to be one of the keys to showing appreciation.
"If everybody will pitch in and make a valid effort, throw your trash in the trash cans and just don't throw trash all over the place, it would be a big help for all of us," said Lyons.
The true way students can show respect towards custodians is just helping them through these unexpected circumstances.
"We would like you all to help us maintain the classrooms and the bathroom, that would be very helpful," said Mr. Jackson, a member of the custodial staff at Chamblee High.
It's important for students to remember they aren't the only ones who use the school facilities.
"This is where we all work and study and play. It's important if everyone gets on board to help us, especially at this crucial time," said Lyons.
Not having basic respect for the building makes the custodian's jobs more difficult than it needs to be.
"Try not to tear up and vandalize things, try not to write on the walls, because we have to clean that stuff up and it makes it hard on us…we are a high school, so we would expect students to do more to clean up behind themselves," said Burton.
So, if you see a custodian around campus, say a quick thank you to let them know that the students truly appreciate what they do to keep Chamblee High standing and operating.
"It would be nice if people said a simple 'thank you' every now and then," said Jackson.