Provenzanos Take Over: a (Donut) Hole is Filled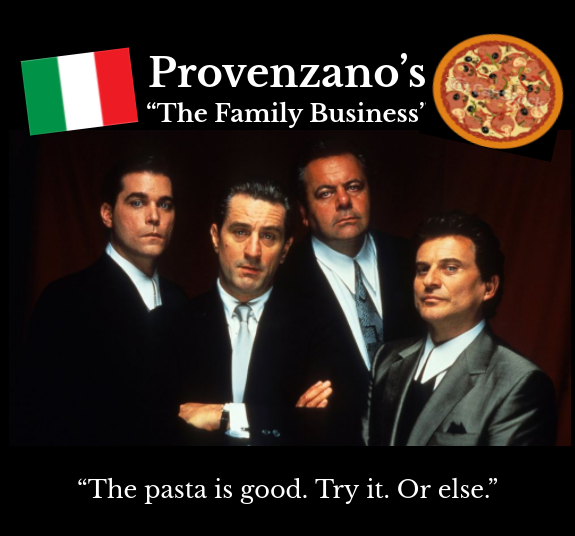 It's gray skies and rain as teary-eyed students, teachers, and friends bid farewell to "Dandy Donuts," a true pillar of the Chamlee community. The shop previously run by Dandy, a creative and hardworking Vietnamese immigrant, has been suddenly sold to a family called "The Provenzanos," who plan on opening an Italian restaurant.
"I'm heartbroken to see my favorite hang-out spot gone," said Fan O'Heyngout ('23).
"Dandy was such a nice man. I'm not saying these new people aren't. I'm definitely not saying that."
Unlike O'Heyngout, many students find the new owners' demeanors and sudden appearance distracting from their studies.
"I mean, it's kinda suspicious that they suddenly showed up right when the oil was found under the field," said Sue Picious ('22). "I know JROTC is 'handling it' or whatever, but I've seen The Provenzanos just kinda lurking, you know? It's a little unsettling."
Co-owner of the establishment Alberto "Big Al" Provenzano hopes to bring traditional Italian cuisine to the fine people of Chamblee. That's it, really.
"We are in no way associated with the Italian mafia," proclaimed Big Al in an unnaturally high-pitched squeal. "I swear. We're just a band of high school pals who never grew up. You know, it was my nonna's dream to open up a place of her very own one day. I hope to carry on her legacy. We're good people. Kind people. People in no way related to the Italian mafia, remember that, kid … for your own good."
Big Al wants to harbor feelings of trust and commitment with the locals. He and his team believe the restaurant could do the community some good.
"I know people may have preconceived notions of us, but I just want to tell them that they have nothing to fear if they don't do anything stupid," said Big Al accidentally flashing his gun. "Would you like some pasta? Hey Tony, get the pasta cooking, will yah? Come with me. We'll get you some nice pasta."
The backroom contained piles upon piles of one hundred dollar bills, which Tony promised was solely due to their fear of centralized government and the national banking system.
"Oh that, you know. I've just been screwed over by the banks one too many times," said Tony dabbing his profusely sweating forehead with a napkin. "It's so hard to be a responsible and trustworthy citizen nowadays, but you do what you gotta do to follow the laws. We definitely follow the laws. All of them. I actually read the laws every night before I go to sleep. Yep. All of them. I love following the rules, and actually, forget what I said earlier. I love the banks and the government that controls them. We're great pals. I'd kill for them. Here's your pasta, kid."
Mark Smith, the Provenzano's soon-to-be delivery boy, could not speak highly enough of the new business owners and believes that others should just give them a chance.
"Those dudes are the best," said Smith ('22) showing off his newly acquired Rolex. "I'd trust them with my life. I can't wait to start climbing the ranks. School was never really for me anyway."
Although the hole left by Dandy Donuts can never be filled, the Provezanos, regardless of their potential shifty demeanors, are dedicated to serving and feeding those seeking solace. And their pasta is good. Try it. Or else.