Oil Discovered Beneath Practice Field, JROTC Declares Martial Law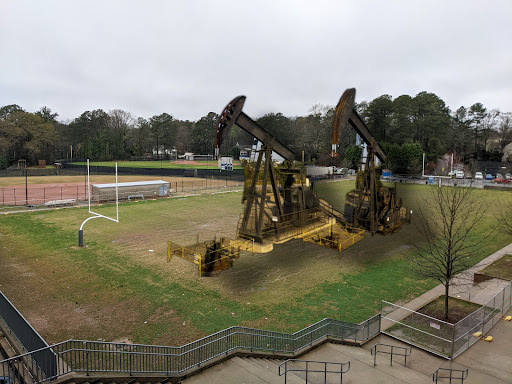 In an unlikely turn of events, a large oil deposit was discovered Monday beneath Chamblee's practice field. During a facility condition assessment in preparation for the field's impending turf overhaul, workers were met with surprise when their soil sample came back with traces of crude oil. The turf project has been indefinitely suspended by DeKalb County School District as they deliberate on how to proceed.
ExxonMobil and Chevron are among the companies that have placed bids for the small tract of land. Though any sale would undoubtedly create complications for the school's residents, the district has different priorities.
"Awooga, hummina hummina," said DCSD assistant superintendent Bert L'awnchair as his eyes briefly assumed the shape of stylized dollar signs. "Hummina hummina hummina hummina hummina hummina awooga."
With its new cash cow set to pay dividends, DCSD has the ability to improve quality of life tenfold at its schools, raising teachers' salaries and providing amenities to its many students.
"I'd settle for two-ply toilet paper, to be honest," said sophomore Sara Frito-Lay ('24). "Hell, with this kind of money they could even go for three-ply. And I don't know if four-ply exists but they could probably do that too."
The district has other ideas, however.
"We'll probably just spend it on more touchscreen boards for the classrooms," said L'awnchair. "Nobody really asked for them, but I just think it'd be neat."
As Chamblee's many athletic teams are already forced to share limited practice space at North Dekalb Stadium and the soon to be defaced practice field, a sale of the field would only exacerbate the teams' dilemma.
"With both JV and varsity, boys' and girls' soccer and lacrosse, we have eight teams and only two fields," said Chamblee coach Tina Hoops. "Now, we may have to think outside the box and combine sports to share field space. I'm thinking, 'lacrosse, but you play with your feet.'"
Amidst the controversies, tensions run high, as Chamblee's JROTC declared martial law following the discovery.
"Someone's gotta step up and maintain order during this time of turmoil," said JROTC captain Millie Terry ('22). "And we're experienced, the right people for the job. Personally, I served two tours during the great cat ear controversy last year."
"To call us heroes would be an understatement," said JROTC cadet Marcus Biscuit ('23). "I've been proudly serving my Country for three semesters now. I just wish they'd let us have real guns, then we could really keep everyone safe."
The student body isn't convinced, however.
"I called Marcus Biscuit a jerk one time in 6th grade, and now he won't stop 'keeping tabs on me,'" said junior Ben Lozenge-Smith ('23). "He says it's a matter of safety, but I can't even go to the bathroom without him peeking under the stall and giving me the stank-eye. […] Hm? He wants a WHAT?!"
A constant string of protests have followed the oil discovery and resulting events. On Wednesday, senior Jose Funyuns ('22) organized a hunger strike, which many consider a resounding success. Others attribute the downturn in school lunch sales to it being cheese boat day in the cafeteria.
"Yeah, nobody was gonna eat that anyways," said Lozenge-Smith. "I don't know if he planned that or it was just a happy coincidence, but now he won't shut up about it."
"Actually, it's Mahatma Funyuns now," said Funyuns.
In response to the protests, L'awnchair delivered a simple message during his Thursday press conference.
"Cope harder, I guess," he said.
Meanwhile, Chamblee's administrators are excited about the opportunities that the discovery will open up for students.
"I'm envisioning a sort of work-study program for these kids," said assistant principal Keisha Beef. "Half the day, they can go to their classes and learn Literature, Math, Science, all that bull****. And then for the other half, they can tough it out in the oil fields and learn how to be obedient cogs in the machine of capitalism."
At the end of the day, some are in favor of the county's plan, most everyone else is against it. Only two things are certain: Chamblee will see some significant changes in the coming months, and Marcus Biscuit should definitely not be trusted with a gun.