EOC Testing Back in Full Swing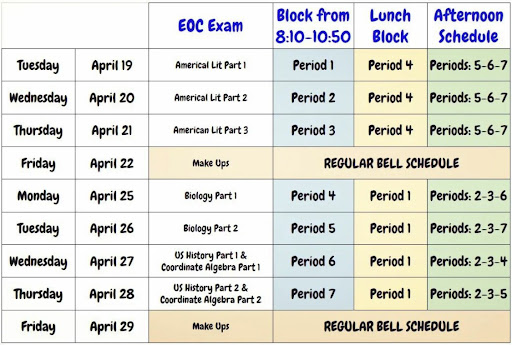 End of Course [EOC] testing, the dreaded assessments have returned to Chamblee. Taken by freshmen and juniors, these tests count for 20 percent of students' final averages.
Teachers have been preparing their students for the tests through various means of practice and study materials fitting their curriculum.
"We have one more unit to do, and then there's a foldable that they're making that's got some review information. Also, the Georgia Department of Education website has a study guide that they can use to study," said Mary Wagner, Chamblee biology teacher.
Many students do not feel prepared to take the test come April.
"I don't really feel prepared, no," said Maya Shatil ('25). "I think there'll probably be a mixture of things we learned and some things that we didn't learn. I can look back at my notes to prepare but otherwise, I have no idea what the questions are gonna be about."
There are mixed opinions on whether the test is an acceptable indicator of students' ability and knowledge.
"I would say it's not a great indicator, but it is an acceptable indicator. It's not a bad indicator," said James Demer.
Others, however, feel that testing doesn't properly demonstrate a student's knowledge due to differences in test-taking skills.
"I think the issue with having tests like the EOC that count for so much of your grade is that it's not really a great representative of your work ethic or how much you really know," said Meghan Bosman ('23). "Some people aren't good test takers, and then they don't score well on tests like these and it really affects their grade. But, that same person could be a super hard worker and [someone who] makes sure to do all their homework. Your grade consists of many things that balance out and assignments [that are] coming from a span of a few months, and the EOC is kinda all or nothing. If you were having a terrible day or didn't get much sleep before, and then you end up doing poorly, it's once again not a great representative of your grade."
Because the test counts for 20 percent of students' grades in their respective EOC classes, students are nervous about the fate of their final averages this school year.
"If I have to take a standardized test for [20] percent of my grade, I at least want to be better prepared," said Shatil.
Teachers are concerned about the gravity of these tests as well.
"I don't like that it'll count for so much of [the students'] grades. I never liked that. I think it's a little unfair and I think it's kind of a big amount to count for. And it also comes really early, at the beginning of April. There's still another month of school left afterwards, so I also hate that," said Wagner.
The tests will be conducted from April 19 to April 29 and with them will come a modified schedule for the 10 day period.