Three-Peat Chamblee brings Dunwoody to the Dawghouse
As expected, Chamblee beat Dunwoody 38-21 at our yearly rivals' game. The day of the game was filled with various festivities to excite the students about the matchup. To start off the day, Chamblee had a pep rally before school which included dancing, music from the marching band, and a funeral for the Dunwoody Wildcat. There was also a blackout dress-up day school-wide to celebrate the funeral. Going into the game, students had many predictions.
"I don't think […] they will have a chance at all," said Chamblee student Dean Payne ('25).
On the other hand, Dunwoody had their own predictions.
"I just want to say that Chamblee is awful and that our school has way more spirit than Chamblee, and we're going to win," said Alex Abbate ('25), a Dunwoody student.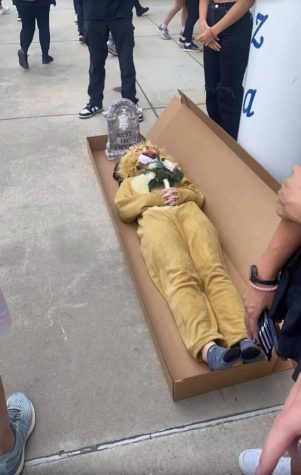 Before the game, there was much banter from both Chamblee and Dunwoody, making tensions high between the schools.
"Yeah, we are gonna [beat] Dunwoody," said Yasiin Keel ('24).
Chamblee took the lead in the first half of the game, but in the second half, Dunwoody managed to score points on the team. This didn't stop Chamblee; the team managed to stay consistent, as did their support.
"Yeah, there [are] a few hiccups, but yeah, [it's] a blowout," said Imran Mukhtar ('25), a student from Atlanta International School.
On the other hand, Dunwoody students faltered in confidence.
"I still don't think we're going to win because Chamblee has a superior team," said Michael Douglas ('26), a Dunwoody student.
But after two hours, the game concluded and as many people predicted, Chamblee beat Dunwoody, so spirits were high.
"It felt really good, I had a game plan in my head, and I came out and executed," said Fabian Walker ('23), the star QB.
After this year's victory, people are once again reassured of Chamblee's superiority over Dunwoody.
"It ain't a rivalry," said former football player Xander Smith ('22), "we do this every week."