Steve Lacy's 'Give You The World' Tour
On October 23, 2022, Steve Lacy performed his new album at The Tabernacle for one show in Atlanta. "Gemini Rights" is his second studio album, which dropped in July of this year. The drop was preceded by the singles "Mercury," "Bad Habit," and "Sunshine." Lacy's album also contains guest appearances from Fousheé and his old bandmate, keyboardist Matt Martians. Combining a variety of genres like jazz and electronic, the album has been described as a mix of indie rock and alternative R&B by many fans on social media. Many students appreciate the different elements of Lacy's music. 
"I like the rhythms [and] the chord progressions he uses. It is kind of poppy, but it has some kind of like funk and jazz mixed in, and I really like that," said Luke Simonsen ('25). 
Students from Chamblee who went to his show at the Tabernacle had to experience the venue's technical issues first-hand. 
"At one point, [the Tabernacle] had the smoke machines going off so much that it covered [Lacy] up. And he was like, 'I have to stop and step off' because he could not sing [due to] so much smoke on the stage. Also, everything cut out during 'Static,' like all of the lights and the music," said Bowers. 
Despite this, "Static" was still Bowers' favorite song of the night. 
"He performed Static a second time. [It] was so good. I have a video of me, and I was going to post it on Instagram, but I could not because I was singing so loud. You could not even hear [Lacy]. You could just hear me because I was feeling those lyrics," said Bowers.
The venue had many other problems, but students made the best of it. 
"It did not smell the best in the Tabernacle, and the line was outrageously long, but it was kind of nice to just stand around and enjoy the sights of Atlanta, " said Simonsen. 
Students also had to deal with the complications of general admission seating at the Tabernacle.
"I was a little confused at first because I was supposed to have floor tickets, and they filled up the floor before I got there. So, all of the people I was sitting around had to be on the second balcony. We paid for [the floor], so at first, we were a little upset about that, but then we all kind of chilled out. I was talking to the people around me even though I didn't know them, and it was still a really good vibe," said Bowers.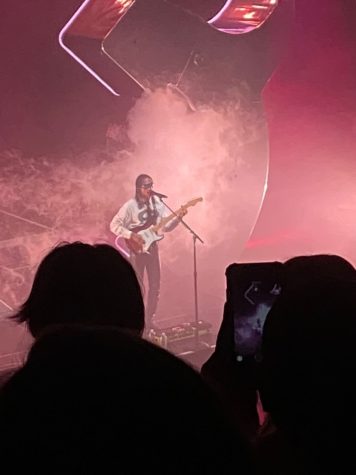 Even though students got stuck up in the balcony, it was still an amazing experience for them. 
"I don't really go to that many concerts, but I kind of wanted this to be my first personalized concert experience. […] I probably would have preferred to have been down in the pit area, but it was still amazing. Fousheé opened– she was in his song 'Sunshine' – and she also had some great songs of her own," said Simonsen. 
While "Sunshine" does contain the album's only featured artist, "Bad Habit" was Lacy's first song to enter the Billboard Hot 100, and it is now his first number-one single. Because of this, many people only know the lyrics to this mainstream song. 
"There absolutely were people who did not know the words to his songs at the concert. I knew every single song, I was singing along, and it was so exciting and fun. But, other people did not know half of the songs, and it made me so upset," said Bowers. 
Nonetheless, students agree that Lacy's mainstream songs were the most fun to watch because of the crowd's reaction.
"Most fun was probably 'Bad Habit' and 'Dark Red' because the crowd was just wild. The encore was amazing," said Simonsen. 
In the end, holding the concert at the Tabernacle made things difficult, but it did not diminish anyone's expectations for Steve Lacy and his music. 
"I got tickets for Steve Lacy because I like his music. I am kind of a poser [of a] fan, to be honest, I am not really a diehard fan, but I just like the feel of his music," said Simonsen. "Yeah, I think the concert lived up to my expectations."