Chamblee Student Works to Close the Gender Gap in STEM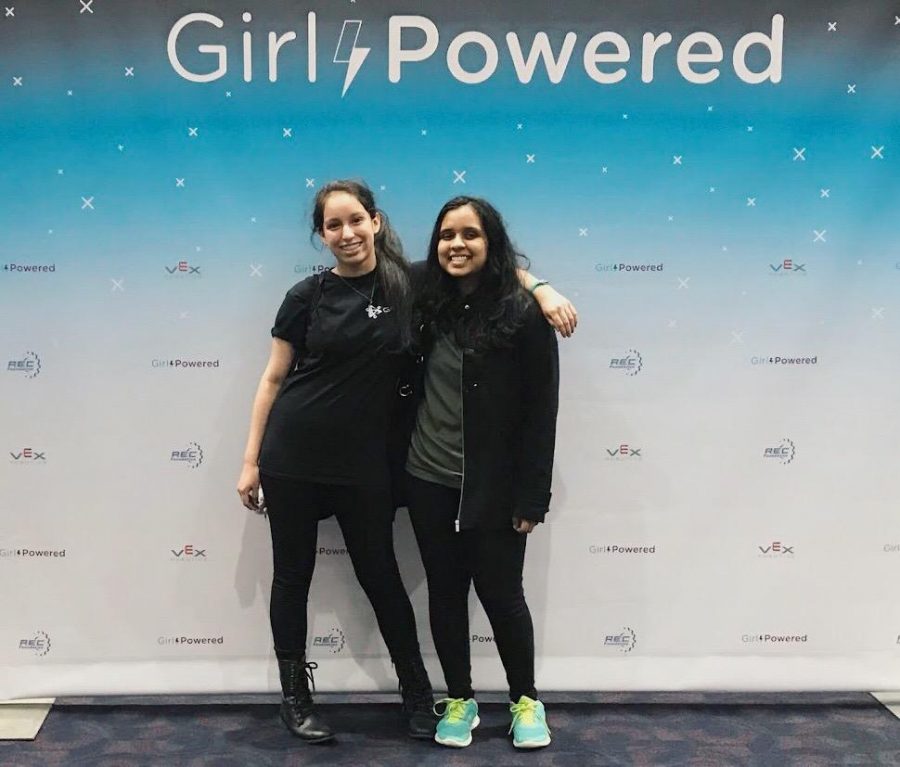 Today's society has made great strides towards expanding opportunities for women in all sectors of the workplace, but women remain underrepresented in STEM fields. Chamblee senior Moumita Sutar is committed to changing that.
"It really disturbed me how there was a consistent lack of girls in the engineering clubs and the lack of support and community available," said Sutar.
Recently, Sutar won a national award for her work in developing engineering opportunities for young girls in the Chamblee area. Lucretia Gant, one of the engineering teachers at Chamblee Charter High School, has taught Sutar for several years and is very excited about her progress.
"[Moumita] has been selected [as] one of the six young ladies across the nation as an engineering girl ambassador," said Gant."As a part of that distinction and honor, she will be selected to attend the Society of Women Engineers National Conference where she will be an ambassador for girls' outreach… then she is going to launch some initiatives here in the Chamblee area to make sure we expose girls to all the opportunities available in STEM."
Sutar submitted a project proposal to the National Academy of Engineering's program, EngineerGirl. In return, the organization issued her a grant to support her program and made her an ambassador.
"[EngineerGirl] emphasizes outreach toward women in STEM and getting more girls involved," said Sutar. "I applied for a program where I developed a project that focuses on outreach to middle school girls or elementary school girls… I submitted this project proposal and I got accepted, so this year, we are working with the directors […] to go to conferences and develop those skills and communicate with others to get that project going."
Sutar started the program because she wished to create a community for girls to gain awareness about engineering opportunities and to learn valuable skills, so they can avoid unpleasant experiences like she had when she was younger.
"There were many times throughout the years when I just wanted to quit because it was hard doing competitions, like robotics, when you didn't have the skills or weren't taken as seriously," said Sutar.
Sutar's project has two steps, through which she is going to most effectively reach local girls with STEM opportunities, the first of which involves kits which help girls get started with engineering.
"One of [the steps] is creating a low-cost design kit for one-day outreach events," said Sutar. This would be more directed towards specific groups of girls… and they would build something out of that kit. All the materials that are needed would be in that kit."
Her next plan is more focused on advising specific girls and helping them acquire the knowledge to succeed in STEM fields.
"The second part is creating this mentorship program throughout the year for middle school girls where we go after school and help them develop specific hard skills like certification in specific software or Microsoft or just helping them get more familiar and build those technical skills." said Sutar.
Sutar also created a Society of Women Engineers (SWE) club at CCHS as another way to improve engineering awareness for girls at the high school level and as an organization that will help with the rest of her initiative.
"I created SWE to have essentially a safe space and a community of support for high school girls in STEM," said Sutar. "I wanted a way [for] girls [to] gain technical skills, such as learning programming or getting certification or […] soft skills, such as networking, without feeling intimidated. Although we have general goals of the club, such as starting the middle school outreach program and working together with Georgia Tech SWE, we want the club geared to what the members want and will accommodate those wants by planning events [and] workshops."
Sutar developed her passion for engineering through Gant's Foundation of Engineering class.
"I got into [engineering] freshman year," said Sutar. "I knew that I wanted to explore engineering especially in middle school, but I didn't have the outlet to. And so I signed up for that class, Foundations of Engineering, and I found that I really loved building and solving problems."
Sutar wishes to give the opportunity to young girls in the local area that she never had a middle schooler: to explore engineering early on — so their first exposure is long before their first class, and so they take a major head-start towards their future.
"STEM is vital in the future and having technical skills gives you a competitive edge, so I wanted to create a way where girls could be aware and start gaining technical skills early, so that in high school, they would be more confident in joining STEM clubs," said Sutar.
About the Writer
Catherine Cossaboom, Editor
Catherine Cossaboom is a senior and editor of the Blue & Gold. In her free time, you can find her solving way too many math problems, going on wandering walks to make friends with the deer in her neighborhood, and training her kittens to compete at the next Kentucky Derby. In five years, she hopes to be traveling across the country, running math circles, writing columns, and turning math into a performance art to empower girls to take on the world's problems. This is her third year on the staff.