Top of The Class: Chamblee's Magnet Vals and Sals
Matthew Lombardo: Magnet Valedictorian
"I can imagine it was a fair amount of people I was competing with just because I know how really gifted a lot of my peers are and what they're accomplishing outside of just the GPA kind of scale. [….] They're very gifted and I'm sure they were right up with me," said Lombardo.
Beyond the countless AP's and other GPA boosters the Valedictorian title requires, part of being a well-rounded and social student requires some sort of extracurricular element.
"I was able to balance extracurriculars, but I wouldn't say as much as some other people. I did NHS and Beta Club, kind of the token volunteering organizations that a lot of people do at our school and I've played soccer all four years of high school for both the school and for Club," said Lombardo.
One way to find the time between clubs, sports, and homework is to utilize every minute of downtime in class.
"I've found that I have a lot of time always when we were in person, […] but there's a lot of time, down time during classes that you can take advantage of and really I was able to get a lot of my school work or homework done in school before I even got home," said Lombardo.
For Lombardo the title is a dedication to the hard work he's put in, not something to add to a resume or help with college preparations.
"Personally, I think it's more of just a reward for the hard work that I've put in. It's not really helping me that much cause I don't find out until very late until the college admissions process and I'm already kind of deciding where I want to go now. […]," said Lombardo. "But I think it's definitely an awesome reward for the work that I put in high school because I mean especially in Chamblee, such a competitive school."
Lombardo is currently choosing between the University of Georgia and Georgia Tech for college, specifically focusing on International Affairs.
Looking to future generations of hopeful valedictorian's, Lombardo advises maintaining a healthy relationship with your GPA and keeping an attainable workload.
"I think my best advice is to take it a bit easy on yourself, I mean if [valedictorian's] your goal then obviously that's your goal, but I don't think it's like the end of the world if you don't reach that goal and I think I think your goal should be more, I'm challenging myself with these hard classes," said Lombardo. "It doesn't matter about what my GPA is, but I want to learn as much as I can […] but if it becomes too much, don't force yourself to try to reach that goal. Just stay healthy with your studies."
Victor Lim: Magnet Salutatorian
"I'm still kind of processing it. It feels kind of surreal," said Lim. "It's not something I necessarily thought about until […] I found out I was in the running first semester senior year and it was never a thought before that."
Lim is no stranger to balancing his workload, even placing his sleep schedule as high as his grades on his list of time priorities, which could be considered rare for many teenagers.
"I feel the hardest part about high school is trying to find a balance I would say between life, academic life and also like your social life and […] the extracurriculars you do," said Lim. "The hardest part is definitely finding that balance just to fit everything in your schedule and also for me, sleep is so important. […] So definitely cleaning out my schedule so that I can get at least 8 to 10 hours, that's probably one of the challenges."
Along with his high GPA, Lim is vice president of NHS and in every club and sport he says that interests him, expanding his interests throughout high school.
"I'm someone who loves trying every single thing I can get my hands on. So I joined Interact, Beta Club, and [National Honor Society]. I'm vice president of NHS and I have also been involved in the math team, Science Olympiad, and tennis. I did cross country and swim," said Lim. "I think throughout high school I did join a lot of clubs and I did have a lot of satisfaction from all of them, and in a way, it really helped me find my interests."
Lim will be attending Georgia Tech for college, planning on pursuing the major of Biomedical engineering.
"I feel like I've always been very engineering oriented with my courses and I was thinking I [would] enjoy the legal profession," said Lim. "So I was thinking about being a lawyer and I was trying to find [a major] that combines both my interests so biomedical engineering could lead me to doing like intellectual property law. […] Pre-med has always also been in the back of my mind so if I would want to pursue that career I can also do that with my major."
With graduation right around the corner, Lim feels that high school gave him much more than salutatorian or an acceptance letter to Georgia Tech, but lifelong memories and relationships.
"I feel like [salutatorian is] not the biggest thing I took from high school right for me. It's definitely the memories I had, you know going to those football games, going to all those school dances, […] the relationships I had in high school with my fellow students and my teachers. Those are definitely the most rewarding aspects of high school," said Lim. "But don't get me wrong. I'm like flopping salutatorian on all my resumes throughout the rest of my life, but […] it's just an added plus of high school. I feel it's just something that I didn't expect and because I didn't expect it. It was way more satisfying."
About the Writer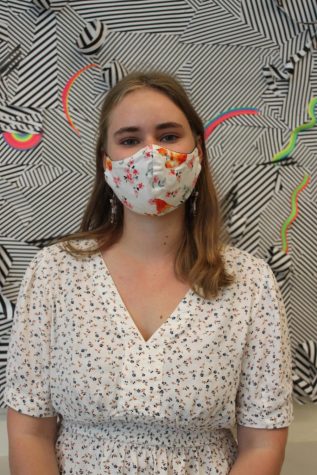 Sirianna Blanck, Editor-in-chief
Sirianna Blanck is a senior and editor-in-chief of the Blue & Gold. She has a strong cat obsession. In five years, she hopes to be fighting for environmental change. Her Chamblee experience has been akin to "Alice's Adventures in Wonderland."