Get to Know "LIT" New Teacher, Ms. Savage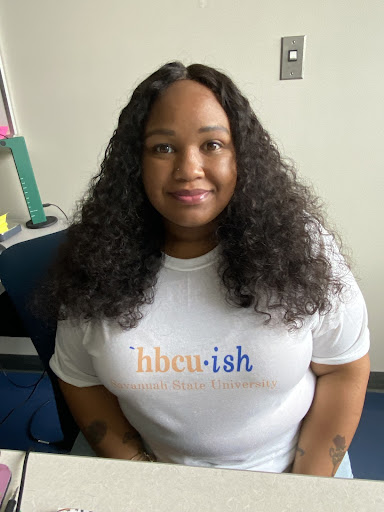 During the 2020-2021 school year, Courtney Savage joined the Chamblee staff and began instructing ninth grade language arts and writer's workshop. Even though she taught virtually last year due to the pandemic, she made the best out of her less than ideal circumstances. Savage now uses her teaching skills to connect with students and help them evolve their understanding of language arts.
Savage grew up in Savannah, Georgia, where she attended Savannah State University. Growing up, being a teacher was not her first choice. Savage aspired to be a lawyer, but now she uses all the skills she learned to tackle an equally demanding job: teaching high schoolers.
"When I went to college, they told me you have to go and major in English, because the school I attended, Savannah State University, didn't have a pre-law program," said Savage. "They told me the next best thing was English and then the rest is history. […] [Along the way] I happened to fall in love with teaching kids how to read."
Savage started her journey teaching literature by working with middle schoolers for five years in Savannah. After her time there, she decided she wanted to explore teaching high schoolers. 
"When I started exploring, I heard really great things about Chamblee. So I am excited," said Savage. "[…] I'm blessed that I was able to be selected to teach at Chamblee."
Once she got the job teaching at Chamblee, Savage dove right in to teach both her ninth graders and future writers. She enjoys teaching all of her classes and has some particular assignments that are her favorite to give.
"I like, for my ninth graders, when we get to do argumentative essays," Savage said. "The reason why I like the argumentative essays is [that] this is when I get to see my students become passionate about a point that they want to make. To me, this is when they begin to articulate how they feel. This is when they begin to pull out those resources that I taught them."
Just as the argumentative essays give Savage a better understanding of her ninth graders, a similar writer's workshop assignment helps her uncover the creativity and talent hidden within her students. 
"For my writer's workshop, I think [of] when we work with the memoirs because that's when I connect with my students. This is when I learned who they are," Savage said. "A lot of times we sit down and we want to teach the curriculum, […] [but] we don't get to know who our students are. When I do the memoirs with my students, I get to know who they are as a person and not what Infinite Campus tells me."
Evidently, connecting with students and seeing them face to face is a big part of teaching for Savage. This caused quite a few struggles during the pandemic for her and her students, when school was remote and they could only interact through a screen. 
"It was difficult at first because the student saw just a computer screen," said Savage. "[…] But I think eventually the students realized that 'Hey, she was consistent,' and I was there. So it was not all, 'Oh, it's just a computer screen,' it's Ms. Savage. To them, I went from being a person, to Ms. Savage, and then to Ms. Savage, my teacher."
Even with the pandemic, Savage still found ways to keep her students and herself busy. Outside of teaching, Savage has a few hobbies. 
"I love shopping," said Savage." And I've gotten into this whole thing of collecting stamps. Usually, the post office will have different things, and so I go and see what type of stamps they have for the month. So, I'll collect some stamps, and then [now] I will find myself going to do some amateur golf."
Besides her hobbies, Savage's most loved activity just so happens to be something that she teaches: reading. 
"I'm a big advocate of reading," said Savage. "[…] Not just for a purpose, but reading for fun [as well]."
Savage reads many books with her ninth graders, such as Romeo and Juliet, Mice and Men, and Stamped, but her favorite book to read with the class is To Kill A Mockingbird. 
"I think To Kill a Mockingbird has been my favorite simply because it's a coming of age story. We learn a lot from a child's perspective. I think we think that adults know it all, but we learn a lot from Scout," said Savage.

Just like To Kill a Mockingbird, another one of her favorite books, Their Eyes Were Watching God by Zora Neale Hurston, was also written from a unique perspective.
"We get to see a woman taking control and being full of her own destiny, even if it's not going in a great way. But, she's in control and she has that freedom. So I like Zora Neale Hurston and I like the fact that she writes in the dialect of the people. And she's an anthropologist, you know, so she understands the people that she's writing [about]," said Savage.
Just like Zora Neale Hurston and the woman from her book, Savage hopes that her students use the lessons they learn in her class to take control of their futures. Savage understands her students and knows that they gain from her just as much as she gains from them.
"The students like to think that they're lucky to have me, but this is my secret, I'm happy that I'm able to be impacted by them," said Savage. "They're thinking that they're learning from me, but I learn [just as much] from them."