How Clubs are Making Dough without Dough: Fundraising amid a Pandemic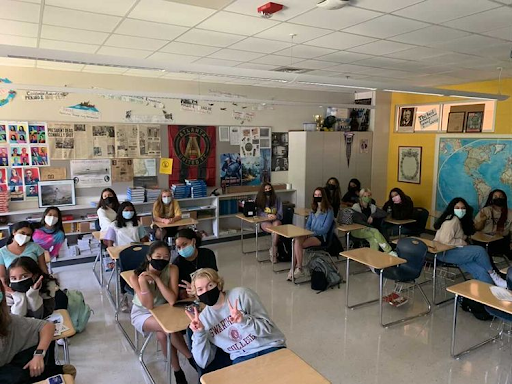 With over 80 sports and clubs at Chamblee, there always seems to be some form of fundraiser going on. With all the new precautions and uncertainties around COVID-19, no one really knows when or where they take place. Usually, the go-to fundraiser is a bake sale, but with COVID on the rise, clubs and teams have to get creative.
The cheerleaders have centered their fundraisers around the football season, unsurprisingly, beginning with their paper spirit chain.
"So basically, every grade has a spirit chain and [they] try to buy the most links for [their] chain, to get the longest one. All the links are 50 cents and most people paid a dollar bill because they always had one and we just built it with construction paper and whoever had the longest chain will get 25% of the earnings and the spirit stick," said Varsity cheer captain Zoe Jones ('22). "The seniors [won]."
The cheer team is using their money for bows, meals, and new outfits but outside of that, the team is also trying to raise school spirit after the year-long pandemic.
"For this first fundraiser I just really wanted to create some spirit and kind of get some involvement with all the students, freshmen through twelfth grade, because there isn't as much involvement,  especially with the new students because they don't really know anyone. So, I'm trying to get a healthy competition going on between the grades," said Jones.
School spirit is usually at its peak the week before the homecoming dance and game but due to COVID, Chamblee's annual homecoming dance was canceled. However, the football game is still on so the cheer team is coming up with week-long events for students to get hype during.
"Because homecoming is canceled, we're actually trying to get some more involvement because we can't have a dance. We're trying to figure out some activities we can do during the week, just to make it more like an HBCU homecoming," said Jones.
The upcoming fundraiser for the cheer team will be held the week before the upcoming pink-out game against Dunwoody to help bring awareness to breast cancer awareness month.
"We're actually doing more [fundraising] for the upcoming Dunwoody game next week. So because it's a pink out, we're going to sell things that [are] specifically pink for breast cancer month, like wristbands," said Jones. "We're going to sell a little pink towel so you can wave them around, some pom-poms, and some little tattoos as well."
Women's Political Club is also coming up with altered fundraisers this year. Women's Political Club focuses on current geopolitical events and women's roles in politics. They're still doing their bake sale along with their annual t-shirt sale this year.
"We're thinking that instead of really a bake sale, it'll be more of like a snack sale. So [we'll] sell prepackaged snacks and candy so that there's nothing that people will [bring] from their home or anything like that. And I think we're still gonna accept cash. […] So that's the main thing. We'll probably just make sure to obviously wash our hands after we accept cash," said club president Francesca Mariano ('22).
The Women's Political Club has been using their bake sale profits for charity in recent years, and while their source of income may be changing, their goals remain the same.
"We have an annual bake sale and that money usually goes to […] different organizations every year. [In the] past years, it's been homeless shelters for women. It's been abuse shelters for women and children. We haven't decided what organization we're going to do it for this year," said Mariano.
If students are unable to buy snacks or their t-shirts, Mariano says there are other ways students can help.
"We have an annual period drive where we collect products for people who menstruate and we donate that to different organizations that will then distribute them," said Mariano. "As long as it's unopened [students] can bring [pads, tampons, pantyliners, and menstrual cups]."
Even if Women's Political Club can't raise a whole lot of money during their fundraisers, they hope to give club members an active voice.
"Our goal is to get a lot of people involved and for the club to decide […] what organizations we want to [donate to], because I don't want it to just be like the officers deciding what we think is important. I want to make sure that the members have input on what they think is important [to do] with our time and our money," said Mariano.
Chamblee has a new E-sports team that's about to start fundraising soon as well. The club focuses more than just the team's financial aspect though, hoping students can take the e-skills into financial gain themselves.
"We develop player's video game skills so they can participate in tournaments to win scholarships," said team captain Dylan DeSimone ('22).
E-sports will be participating in their first in-school fundraiser this year after raising money over the summer through the gaming itself.
"We did a fundraiser over the summer to fundraise for the club," said team captain Dylan DeSimone."We did a tournament involving Minecraft where players competed in a Hunger Games mode where the winner takes all."
Chamblee's award-winning marching band is also in need of new instruments, trailers, and maybe even a silver brass section. The marching band's go-to used to be fruit boxes but they started a new fundraiser shortly before the pandemic.
"We usually sell fruit boxes. We have also held car washes and sold donuts in the past," said drum major Hilary McDonald ('22).
This year the marching band has completely decided against bake sales and will take a different route instead.
"We currently have a fundraiser through a company that helps us send out emails to potential donators. These include people like family and even close family friends," said McDonald.
The Marching Band's goal is to raise as much as they can.
"I believe our goal is honestly as much as possible! Why put a limit on it when you can reach for the stars," said McDonald.
If students are unable to donate monetarily each team/club encourages Chamblee students to continue to repost and even sign up to sell items.
"[Supporters] can support the Marching Band by reposting the link to our fundraiser and spreading the word," said McDonald. "Visit the band website for more information."
If you would like to know more about each club here are their links and Instagram pages:
Band: https://www.cchsband.org/; @CCHS.BANDS
Women's Political: [email protected];@cchswomenspolitical; @Francescamarianooo
E-Sports: Discord Link; @cchs.esports; @dylan_mds
Cheer: Listen to the announcements