Gaining Experience: How To Get an Internship in High School
High school marks a time in every person's life where they are given a chance to experiment, explore, and find themselves and their passions. With so many classes, clubs, and activities to choose from, high school students can investigate many different fields in an attempt to find a potential future career or interest. 
And in addition to all that is offered to students within the school walls, participating in an internship is a great way to gain real-world experience related to your career, interests, or even a side hobby. It's also a great way to add to your resume for college applications by showing colleges how you're getting involved outside of school and taking that extra step on that path to your future career.
Unfortunately, so many high school students don't take advantage of the opportunities that having an internship in high school provides because they just don't know where to start. This makes sense because not all schools have classes or resources to guide students and it is generally not very common for students to have internships. So let's look at how you can work towards finding the perfect internship for you to complement you and your interests.
Establish your interests & what you're looking for
It's going to be difficult to find an internship that you'll actually enjoy if you don't know what exactly you are looking for and what you are interested in. Sit down with your parents, a teacher/mentor, friend, or just by yourself and make a list of subjects and fields you are interested in so that you have a place to start.
Consider the following questions: Are you looking for a quick experience over the summer or something that takes place year-round? Do you want to work with a team of people or do you prefer working alone? How many hours a day and days a week are you willing to put in for your internship? Would you be willing to work for just the experience or would you like to be paid? What is it exactly that you want to get out of the internship?
Maybe you are someone who is intrigued by all things science and are interested in a research internship, or maybe you are an aspiring novelist looking to polish those writing skills with some actual experience. There are so many fields and experiences to choose from so make sure you don't get lost or confused. Only you know what's best for you, and prioritizing that will help you get the most out of your internship.
Find programs/internships to apply to
The next step in your internship search is to search for internships or programs that are taking high school students. This is more simple than you might think. A quick Google search of "Internships for high school students" should give you a wide variety of choices. The hard part is narrowing down those choices to a more reasonable number. To make it a little easier, here are some websites and resources that I trust. 
This website lists several reputable high school internship programs that would be a perfect addition to any eager high school student's list. From this list specifically, I recommend the Bank of America Student Leader Program for anyone interested in education or working in the nonprofit sector. 
This is another resource with lists of STEM and Humanities related internships that you can take a look at. I would suggest creating a spreadsheet with programs that interest you (based on the interests and criteria you decided on in the previous step) and being sure to note application deadlines and other requirements like minimum age and location.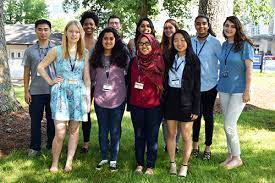 Some other research-focused STEM internships that I would recommend (since that's what I'm most familiar with) are the Summer Science Research Program at The Rockefeller University (biomedical research-based), Emory Winship Summer Scholars Research Program (cancer research), and the NASA STEM Enhancement in Earth Sciences Internship Program (several engineering, earth, and life science disciple-based research).
Most of these programs are free and just for the experience, and I would suggest that you steer clear of internships that ask you for money because those are often not reputable or beneficial, with a few exceptions of course.
Additionally, you can always find or make your own internships if you don't want to apply to an already established program or if you cannot find anything you like. For example, there are not as many humanities-based internship programs out there as compared to STEM ones so maybe reach out to a local newspaper or publication and ask if they are looking for interns.
The same goes for congressional internships with local politicians, internships in art or history museums, business or marketing-related internships with small (or larger) businesses, or even science internships in laboratories with professors. 
This source and this source explain how to "cold email" which is emailing a person or company "cold," or without knowing them, and asking for any opportunity openings. Cold emailing is a great way to reach out about internships that may not be open to the public.
Perfect those applications!
Now that you've made a list of potential programs and/or independent companies to apply to, it's time to start working on all of the applications. Organize and prioritize them by when each one is due so that you can meet all your deadlines.
Internship application season usually begins in late November/early December and most applications are due throughout January and early February. Many established internship programs also require additional materials like transcripts, test scores, and recommendation letters so make sure you submit all of these materials along with the application and essays you'll have to write.
Pro tip: save all of your essays in one document so that you can reuse them for different programs as needed and maybe even use them as inspiration for future college essays. For independent internships where you are cold emailing or reaching out to different organizations, you probably won't need to submit an entire application, but you will be attaching a resume/brag sheet along with your email or message to a company head or local business manager.
Make sure to tailor your resume to the internship you are applying for by listing relevant experiences and skills you have. Here is a website with more information on how to make a resume if you have never done so.
Patience is a virtue
As you wait to hear back from that one manager of a local art museum or those 10 really cool internships you applied to, remember to take a step back and pat yourself on the back for even looking for an internship in the first place. It's a really big accomplishment to be able to get a head start on your future as a high schooler.
Be patient with waiting for a response on your application(s), and don't be afraid to follow up, especially if you contact someone specific, but always try to be polite and respectful in your interactions. Somewhere out there is the perfect internship for you, and with it, a glimpse into what could be your future career.