How to Maximize Your Music Festival Experience
Music festivals can be a life-changing experience, and here in Atlanta there are multiple yearly, giving residents a unique chance to see countless artists. You get to see musicians you've listened to for years or become obsessed with just recently, and you can discover new acts that take your breath away. Sadly, they can quickly go downhill. Tragedies like Astroworld that are being featured on the news can happen without warning and the festival grounds are usually filled with drunk and high strangers even when there are no cases of imminent danger. Outside of danger, not planning your time out can lead to missing your favorite artist, becoming dehydrated, general anxiety, and other factors that can ruin the experience. Even if you're not going to a music festival, I hope my advice and experiences can also aid in attending concerts around town.
1: Plan your transportation ahead of time
Both getting to and coming back from music festivals can be quite the hassle. Here in Atlanta, MARTA is one of the best ways to get around when car services such as Uber and Lyft are currently pretty expensive, and during a music festival weekend, sold out! Otherwise, there can be parking near the festival but this is the most expensive and time-consuming option. Of course, the location of the festival will determine your best course of action, but don't leave your decision until the last second or you're bound to either get there late and miss a set or spend hours struggling to get home when all you want to do is pass out. If you are using MARTA, I recommend driving to the closest station with multiple rail lines, thereby reducing wait times.
2: Read the rules for what to bring in ahead of time.
Lots of festivals don't let you bring in non-see through bags, opened water bottles, etc. These days they also require vaccine cards or proof of negative COVID-19 tests. Security is not afraid to simply throw belongings seen as "banned" in the trash and keep moving, which I've sadly experienced many times. All festivals have security checks to monitor everyone and everything entering the grounds so while it can be possible to hide an item in your pocket, if it's made of metal, there are metal detectors bound to find it.
Here's what I always pack for music festivals based on their rules and restrictions:
A small transparent plastic bag
Phone
Phone battery and charging cord
Entry bracelet
ID
Vaccine card (now)
An empty water bottle or sealed water bottle
Granola bars
Blanket/towel

2021 lineup (Photo courtesy of Music Midtown)
These items allow me to enjoy the weekend to the maximum and know that I'm prepared for anything.
3: Plan out your weekend
This seems self explanatory but it's the most important step to getting ready for the festival, obviously. A few weeks prior to the festival, a list of the times will be released showing when each band will play and which stage. If you don't want to miss anyone, go through the list and choose who you'll want to see. When there are blocks without a band you feel like you have to see, you can do one of two things. Firstly, you can designate that time to get food and drinks, rest, and recover. Secondly, you can go through the bands you don't know ahead of time and listen to their top hits. This is a great way to discover new acts and see if they are the type of band you'd enjoy seeing live.
4: Learn the map of the festival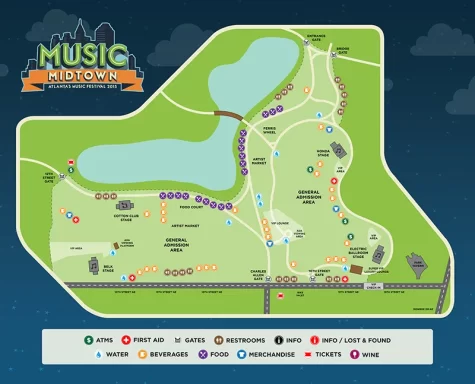 This is vital for finding the actual stages, obviously, but also can increase the efficiency of your trips to the port-a-potties or water refill stations. You also cannot rely on your phone for a map because the sheer number of people in one place trying to use the cell towers will mean you get no reception. I have never been to a music festival with good cell signal so looking around when you first get there to spot the first aid tents and designate a meeting area if you're with others is super important. You can also invest in your own personal cell signal devices like goTenna which allow the holders of the devices to communicate even when cell and wifi is down. I advise screenshotting the map, line-up, and schedules the day before so that you can check your photo app instead of trying to find a signal.
5: Getting close to the stage
Do not be afraid to try and push through a crowd, it's a music festival. Of course, you're gonna annoy the people who got there early to wait, but ignore them. You want the best time possible and you're all there for the same reason, they can't really be talking. Now, be as polite as possible. You don't want to get in a fight and if you're rude, no one is going to let you pass them. Obviously, you can just show up early, but when a line-up is packed with bands you love, this can often be impossible. Never go up the middle of the crowd, instead follow the edges. If one side has a tv, screen, or flag blocking the stage, choose the other side to go towards. Once you've reached as far as you can go without pushing, either make up an excuse about why you need to get through or just politely start pushing through. If you're determined enough, no one's gonna stop you from moving.
Lastly, there is something even more important than getting close to the stage — Positioning yourself between two people's heads. Even if you get within feet of the stage, if a tall person is in front of you, it's gonna be a way worse time than if you're 30 feet back, so when you're pushing towards the stage, pause and think about where shorter people are or good gaps of heads in order to have the best vantage point possible.
6: Extras
Music festivals these days have lots more than just the music. First, there's the merch tent. Even if I only buy a sticker or socks, it's super cool to see the work of countless artists hired by the bands. Every band has such a different aesthetic, even at music festivals with only one or two genres, making for really cool T-Shirts and other merch worth checking out if you have the cash.
All festivals these days also have tons of food vendors, including vegetarian, gluten-free, and vegan options. I once had a vegan jalapeno hot dog out of a small yellow food stand and I still think about it when I'm craving some classic American food.
At Music Midtown here in Atlanta, they also have fun bonus aspects that cost money like the Ferris wheel, body painting, etc. for if you find yourself out of the music zone. These are not always worth the time but if a line-up ends up not fitting your mood or you have a large break between the bands you came to see, they can be a fun break.
7: Download the music festival's mobile app
Every festival has them in this day and age and they usually have at least the schedule, if not also the map, rules, and basic info. Like I said early, don't rely on it during the actual festival because there's little chance anything will load (I once again take screenshots), but it's still helpful to have downloaded.