How to Start a Club at Chamblee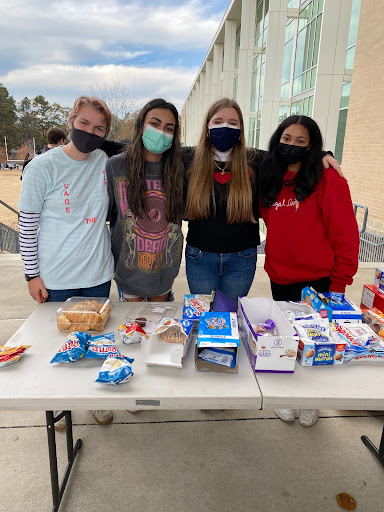 Chamblee High School is home to almost two thousand students, more than a hundred employees, many sports teams, dozens of different clubs, and a countless number of stairs.
At Chamblee, you can find clubs and extracurriculars for a variety of interests. These include students in VEX building robots, students in RRC/environmental club cleaning up rivers, students in literary magazines writing short stories, students in Women's Political Club hosting fundraisers, students in entomology club learning about insects, students in Interact volunteering around Atlanta, and much more.
However, there may still be interests shared by students that aren't served by an existing club. If you are at all interested in starting a new club at Chamblee (or reviving a defunct one), then this is the guide for you.
Decide what the club is about
The first step of starting a club at school is deciding what your club is about. While this might seem like the most obvious step, it's important to have a solid idea of what you want your club to do. A club is more likely to succeed if it is something created because of the shared passion of a group of students, and not just a student creating a club for the purpose of creating one, or because they think it will help them with college applications.
Make sure the club doesn't already exist
While it may sound obvious, step two is to make sure that your idea for a club does not already exist at Chamblee. You can determine this by seeing if there is an updated club directory, by asking your friends, and asking your teachers if something exists.
Sometimes you may find that a club you want to start would fit better as part of an existing club. For example, if you and some of your friends were big fans of ants and wanted to start an ant club at Chamblee — that would most likely fit under the pre-existing entomology club. If you and some of your friends were big fans of game development and wanted to start a club about it — that would most likely fit under the pre-existing computer science honors society or technology student association.
Find people to be in the club
If you are interested in starting a club at Chamblee, it's possible that you already have people in mind to join. However, even if you don't, you would likely be able to find more people.
Chamblee is a large school with nearly 2,000 students — no matter what your interest is, there is a good chance that someone else also shares that interest. Clubs often recruit people at the beginning of the school year (and other times as well) by posting flyers around the school and then holding an interest meeting. Other clubs have grown more through word-of-mouth or because a group of friends with similar interests wanted to start something.
Before going forward with the creation of your club, make sure it is something that you know other Chamblee students would be interested in joining.
Find a teacher sponsor for your club
Finding a teacher sponsor for your club may be the hardest or the easiest part of the process. Perhaps this is something that you already had a teacher in mind for when deciding to create the club, or is something you need to find and have no idea where to start. Your options include asking a teacher you know well who may have the time to sponsor a club, asking a teacher who teaches something related to the purpose of the club, or just asking every teacher there is until one says yes.
Hypothetical examples include asking Mr. Avett to be sponsor of the Arby's fan club or asking Coach K to be sponsor of The Simpson's watching club.
Actual examples from clubs founded at Chamblee in recent years include asking a personal finance teacher to be sponsor of an investment/finance-related club, asking a biology teacher to be the sponsor of an insect-related club, or asking a then biology/ap environmental science teacher to the sponsor of an environmental conservation-related club.
Formally register your club
Formally registering your club involves working with your teacher sponsor to submit a proposal to Chamblee's principal, Gail Barnes. This will involve you meeting with Barnes and explaining the purpose of the club, why it is something of value to Chamblee students, why it isn't part of another club, and what you will be doing at the school.
Do club activities
The actual club part of your club is the most important part. This entirely depends on what your club is about and can involve everything from weekly meetings to out-of-school activities to virtual events to volunteering to anything else that fits the topic of your club.
Ensuring the club continues
The last step of this guide is not one that is always first thought about when founding a club — ensuring the continuity of the club and its longevity after you graduate.
Ways to prevent a club from falling apart or becoming less active after the founders of the club graduate include always making sure to have non-seniors in leadership positions, having students who will be involved in the club year after year, having an organized system for how the club operates and events are planned, and having a teacher sponsor who is involved with the club.
Over the years Chamblee has had many clubs and student organizations that no longer exist. Taking a look through Chamblee's 1973 yearbook, some of the clubs back then that are no longer around include Latin Club, Rifle Club, Fencing Club, and Future Teachers of America. Others that no longer exist are the bowling team and the water ballet team (known today as synchronized swimming).
Whether you feel that bowling should make a comeback by starting the Chamblee Bowldogs, want to revive a dead language with Latin Club, or have your own idea of a new club Chamblee students would be interested in, the initiative of one or more students is all it takes.