Chamblee Students Rock out at ChamFest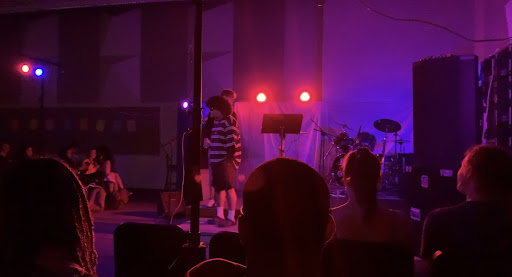 Chamblee High School hosted its first annual ChamFest for bands of all genres in the Chamblee area, sponsored by Tri-M. Tri-M is the school's music honor society that promotes and supports all types of musical events across DeKalb County. ChamFest, a free music festival, is their most recent, one that ended in a monumental success. Although the festival was free, all proceeds went to the Tri-M fund which provides resources to youth music programs across DeKalb.
Sully Watts ('23) is the president of Tri-M and a bassist for the band Kamikaze Daffodil. He described the work he and other members of Tri-M put in to organize this event.
"We've had this in the works since the beginning of the year and have been working on slowly moving towards it," said Watts. "Planning everything out and getting groups together has really just been a blast."
Watts' connection does not stop at being the organizer, he and his band, Kamikaze Daffodil, have just recently been formed and performed at ChamFest. Their lead singer, Addi Stephens ('23), and guitar player, Nathan Scherrer ('23), talked about what this festival means to them. Stephens expressed her joy in this opportunity being within her own community.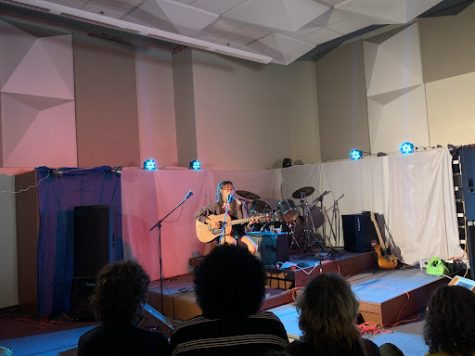 "I'm super excited. I've always wanted to be in a band. I'm excited to see other bands in the area and to be able to play music with friends. The event in general is just really fun," said Stephens. 
Scherrer stated his opinion on the purpose of this music festival.
"I think it's an awesome goal. Music is an amazing thing that I think more people need to have in their lives. It is a creative outlet for a lot of people, and providing those opportunities through music programs is an awesome thing," said Scherrer.
He wants more young people to pick up instruments as hobbies just as he did during the apex of the pandemic-induced lockdown.
"I always kind of thought guitar was a little cool, but I just never had the motivation to start learning it. When Covid happened, I realized that I had all this time and I needed to start doing something with my life. So I started learning guitar," said Scherrer.
Another band that played at ChamFest was The Midnight Collective, a jazz band that is always implementing a new spin on their music. Blake Dwelle ('23 Harrison High School) is the pianist for the band led by Jaiden Swamy ('23). Dwelle described his experience playing at an event like this.
"We actually only figured out what we were going to play about 10 minutes before we started. So I very much felt like at first we were just trying to survive, but it ended up being very fun. I liked the crowd and the cool little venue," said Dwelle. "I really enjoyed what you're doing here. We actually went overtime having fun but I really was happy with how we performed."
He also shared the story of how their band formed into what it is.
"I started playing piano six years ago and just really liked it. Eventually, I met Reed [the band's saxophonist] at a summer camp and one day he invited [me] along with some of his other friends to play and the rest is history," said Dwelle.
Dwelle further described what music and their band means to him.
"It's really everything to me. Not only because it's really fun to play and listen to and but it's because I get to meet cool people like Jaiden, Isaac, and the rest of the [Midnight] Collective. It's just always a good time whenever music is around," said Dwelle.
For Ethan Mitchell ('25), guitarist for Bark!, music played a large role in his life and heavily influenced him from an early age.
"I've been around music since I was a child. My granddad played a lot, and that inspired my dad to play which inspired me," said Mitchell. "Growing up, my sister and I were always competitive about music, and I always wanted to be better than her. That's why I started playing, and it only went up from there."
Mitchell's love for sharing music with others heavily influenced him to perform at the event.
"I think it's amazing that ChamFest is a charity event. I think that's awesome because it's a way for me to work with everyone to help give back. We've already raised over $500 for charity and other events."
Mitchell's band, Bark!,  formed from the roots of a shared passion for the arts and learning.
"We met in the AP music theory class Chamblee offers. It was cool because it was a laid-back class. There aren't a ton of students who take it, and everyone in there knew each other and we all liked music," said Mitchell. "Chase and Anna already played, so they invited me to join from there. A couple of months after that, we found Jayden, our drummer."
Mitchell also showed excitement for other performing bands and artists who he was both familiar and unfamiliar with.
"I wanted to see Kamikaze Daffodil because I haven't gotten a chance to see them perform at all, and I know some of them," said Mitchell. "I also want to see Joseph Rodriguez. I'm going to be DJing for his set and that's going to be really fun to hear."
Many parents like Amber Mcmeans found that Chamfest was a great opportunity for students to cut their teeth on performing live.
"It's really good for our younger bands because finding a place to play in Atlanta, a lot of [the venues] are 21 and older, and it's very difficult," said Mcmeans. "Having an outlet to play in front of the younger people that are also your age is very beneficial."
Mcmean's son, Brian, is a member of the Outfield Clovers and helps his mother explore new styles of music.
"I'm a child of the 70s and 80s, so I was kind of stuck in the music of the 80s and 90s, but now I have a son that's in a band," said Mcmeans. "We've been going out in Atlanta to see new bands, and it's been really nice to change and see different bands now that I'm branching out."
ChamFest ended in great success. The audience and performers had a great time at this premiered event and hope it will continue for years to come. As more and more musical interest grows, ChamFest is sure to grow in popularity and become something everyone in the Chamblee community looks forward to attending.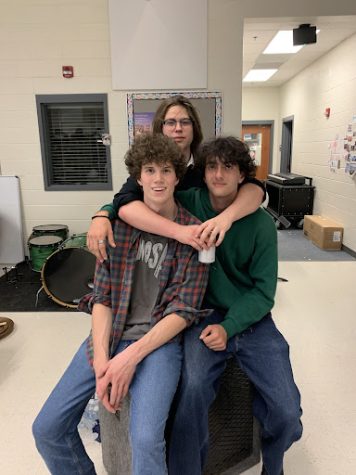 What does music mean to you?
Ethan Mitchell Bark! – "Music to me is amazing. To me. It's any way that humans have figured out how to make our sense of sound pleasant. We have the sense of sound and it doesn't ever go away, so we found ways to make it pleasant to add rhythm to it all over the world. There are thousands of ways that we find to make that fun and come together, and now you can use them in all sorts of unique ways." 
Anna Zhai ('23) Bark! – "Music is sex, drugs, and rock-and-roll."
Samuel Whitehurst ('24 DHS) Glydr –  "It's what I feel, every time I'm feeling sad or happy, I've got some song in my head. It's been that way since I was a kid. So naturally I wanted to make music." 
Quinn Allison ('23 DHS) Glydr – "If music was not a part of my life, I would not be alive."
Jack Gerard ('23 Centennial High School) Glydr – "I think music holds the power to be the purest form of emotional expression that you can have. All music, especially alternative music, is supposed to get out when you can't keep in. I make music because I can't not make music. It's the only way that I know how to express how I feel."