Drone Club is a relatively new club at Chamblee this year, and was created under the pretext to take better quality pictures of students and scenery at Chamblee.
"I wanted to make a drone club so me and my friends had an excuse to play with drones and help snap cool pictures. Our club now owns five drones, and we use them after school hours," said Drone Club Founder Watt Cher ('24).
Contrary to Cher's statement, recently there have been numerous reports of drones being in places where, simply put, they should not be.
"I HATE Drone Club," said Vicky Tum ('26), "The other day when I walked into the bathroom, I kept on hearing a weird buzzing sound. I didn't think that much of it, but when I looked up, there was a drone on the ceiling right above my stall. It is SUCH an invasion of privacy."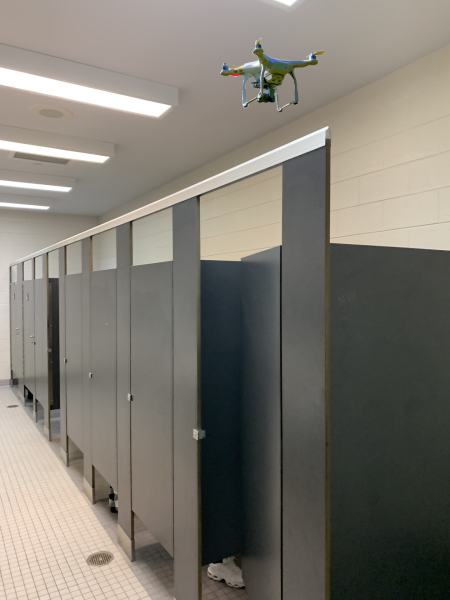 There was, in fact, a drone in the bathroom that day, but what it captured Tum doing was something much worse than a simple invasion of privacy.
"When Tum tried to confront us about our runaway drone, I just let her know we saw her whole bathroom experience. Her and her friends just go in there and [censored], they would never give that up," said Cher.
This was just the first complaint of the drone's lack of boundaries: another drone was found hiding in the AV room just two days later.
"During class the other day, this weird drone zipped out of nowhere and knocked one of our big, high tech cameras over. Who runs this club anyway? They need to pay for the damages they caused," said Cam Era ('25).
Again, Drone Club came out unscathed.
"I have no comments about why our drone was where it was, but we are definitely not going to be liable for the damage. Our footage found evidence of things in the green room much more interesting than some silly camera," said Cher.
The next day, Era was captured on Drone Club footage yet again, this time sneaking a litter of puppies out of the green room. No further interviews were agreed to.
"Drone Club has gotten out of hand," said history teacher, Cheat Terr, "I saw one zip out of my room on Tuesday as I got to school one morning. They seem to be taking over!"
Terr is not the first teacher to make these accusations.
"My room also had one in it on Tuesday, but luckily good ol' Mrs. Terr was there to help me track it down. We both happened to get to school really early, and we spent the whole school day tryin' to find it. Alas, no such luck," said gym teacher Play Yer.
Both Terr and Yer were found in the teachers' lounge during lunch that day, claiming to have been looking for the drone for their entire first, second, third, fourth, and fifth periods.
"Mr. Yer sure knows how to run. He looked so brave gliding through the halls, on the hunt for the drone. He is one great man. If only my husband acted like that," said Terr. 
A friendship seems to have formed from drone hunting. 
"I sure love Mrs. Terr," said Yer, "One of my favorite married women yet. What was I saying about the drone?"
After many more occurrences of drones roaming the halls of Chamblee, a report was filed against the club sponsor, yet the drone club faced no reprimand. 
"I'm not really sure what you mean about drones wandering around the school or hiding in the green room," said new AV teacher and sponsor of drone club, Dr. Spy, "I think this club has brought a lot to the school. I like it a lot."
Spy came to Chamblee after a long period of time working for the government, he did not wish to disclose his position, and brings a lot of what he learned there to high school. 
"I was taught to always be watching. Always know what is going on. Don't let anyone catch you by surprise," said Spy, "My goal is to teach my students this as well."
Overall, drone club has created a tight-knit community of drone fanatics at Chamblee for all the tech lovers to enjoy. 
"I want out," said Greg, a freshman in drone club, "I just wanted to play with drones, but our president and teacher sponsor have taken it too far. I know more than I ever needed to about certain people at this school."