After Taylor Swift's alleged breakup with Kansas City Chiefs tight end, Travis Kelce, the rumors have been proven true in Chamblee: Swift was spotted last Friday night at a Chamblee football game. Could there be a new romance brewing in the city of Chamblee?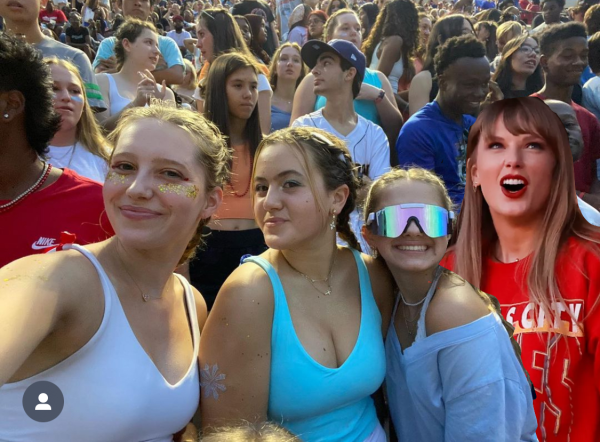 "I saw a tall blonde from a distance, and Taylor Swift is kind of always on my mind because I'm a huge Swiftie. I thought it was just a lookalike at first, but once I started investigating, all signs pointed to it being her," said Anita Bath ('26).
Many people doubt it was her at the game and are incredulous of the idea of her going for a Chamblee football player.
"I think this is all one big stunt—no way Taylor Swift would be going for someone in the Chamblee area," said Seymour Butz ('24).
Others are hopeful it wasn't her.
"I don't want her coming here and doing what she did to Kansas City; she made all Chiefs fans and the NFL so unfocused on the actual game going on. It was so annoying. That's the last thing Chamblee football needs right now," said Hugh Jass ('25).
One of the benefits of the Swift and Kelce romance was that it brought a lot of attention and publicity to Kansas and the NFL. Some believe this is exactly what Chamblee needs.
"The team has definitely noticed all the students leaving the games so early, maybe if Taylor swift was there people would actually stay the whole time, that would be nice," said Dee Sember ('25).
The man who has allegedly caught Swift's eye is Mike Crotch. He doesn't want to speak on the topic, but teammates have plenty to say.
"I'm all for [player dating swift] getting some play, I never expected him to pull someone like Taylor Swift. Apparently, they met through a family friend or something. The only thing that is crazy to me is the age gap, but I guess it's cougar season for Taylor," said Haiden Arron ('24).
Swift has proven to be difficult to contact, but maybe we will all see her next Friday night at North DeKalb Stadium.
"I will be tracking her every move, if she comes back, I will be meeting her," said Bath, "and of course supporting the football team. Her being there gives me an actual reason to go to the games."