Taking a Knee, Raising Emotions
The issue of respect for the American flag has long been a heated topic in our nation, and has only been magnified in recent months. Within the last year, numerous professional athletes, from countless leagues, have voiced their opinion on racial injustice and inequality in this nation by protesting the national anthem.
One of the most notable demonstrations was that of former San Francisco 49ers quarterback Colin Kaepernick. Kaepernick took a knee during the anthem before one of his games in 2016, sparking a national debate.
"I am not going to stand up to show pride in a flag for a country that oppresses black people and people of color," Kaepernick told the media nearly a year ago.
This form of peaceful protest has become increasingly popular among many players around the league, a growing force that has apparently warranted even a statement from the President. Trump urged NFL owners to fire players who protested the anthem, citing he was struck by what he called "disrespectful" and "insulting" actions to American principles.
"Wouldn't you love to see one of these NFL owners, when somebody disrespects our flag, to say, 'Get that son of a bitch off the field right now. Out. He's fired. He's fired!'," said Trump about the protesting players.
These remarks did not go unnoticed among NFL players, or the American public, as hundreds of players and staff knelt the following Sunday. Even entire teams, such as the Seattle Seahawks, boycotted the anthem by staying in the locker room.
"Out of love for our country and in honor of the sacrifices made on our behalf, we unite to oppose those that would deny our most basic freedoms," said Seattle team ownership in response to the team's actions.
This nation-wide flood involving anthem respect and protest has even reached students here at Chamblee. Stuart Steele, who himself is quarterback for the football team, expressed his views on the recent protests in the NFL.
"The flag itself is a symbol of our country and its history, which is both good and bad, so I'm kind of ambivalent towards the flag," said Steele. "And I think they [the protesting players] are trying to recognize that by showing respect but by not doing violent protests."
"I don't think that there is really a better way to protest than what they are doing because it does not affect anyone else in any way except for those who are opposed, getting offended," said Steele.
Chamblee junior Sarah Williams is passionate about the protests and feels that the flag and anthem are among the pillars of American convention, and that respect should be observed.
"While their [the players'] opinions and concerns are perfectly valid, there are still plenty of people who respect the flag and think that the national anthem is a valuable part of a sporting event," said Williams. "I think that the protests are distracting from the original reason the national anthem is played."
After careful deliberation of DeKalb County School District Board of Education policy, DCSD Superintendent, Dr. Stephen Green and Chief Communications Officer, Eileen Houston-Stewart, weighed in on protests among high school athletes in late October.
"If students should elect to express their free speech rights, we want to create and provide a safe space to do so; however, we expect students to express themselves peacefully and with order," said Houston-Stewart."The goal is not to interfere with the students' constitutional right to freedom of speech."
When it comes to the president's involvement in this issue, much of America views his actions as incongruous and unnecessary.  Amid times of turmoil within the U.S., that see citizens dealing with hurricanes, the lengthy process of healthcare reform, and the establishment of America's foreign policy, Trump insisted on intervening. The debate of respect for the flag and anthem will perhaps endure the test of time, but the consensus on Trump's intervention is one-sided. Williams, although opposed to the protests, voiced a direct opinion on our President's words.
"I think he should have stayed out of it, and I think it was wrong for him to do that," said Williams. "He shouldn't be engaging in issues that low."
Though the two students may fundamentally disagree on the conduct of the players, both think Trump crossed a line, and that he should re-evaluate his stance on the issue.
"He is overstepping his boundaries as a president," said Steele. "No doubt he has a lot of better things that he could be focused on."
About the Writer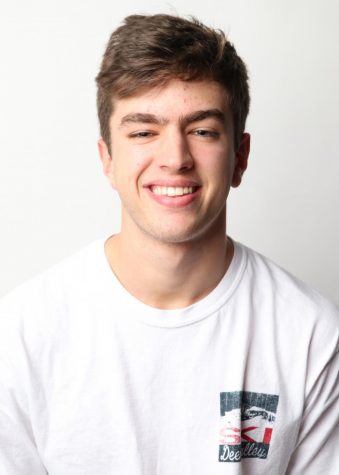 Matthew Welsh, Staff writer
Matthew Welsh is a senior staff writer. When he's not writing articles, he enjoys watching sports, wrestling his brother, and playing with his dog. This is his second year on the staff.