Braaten Leaves, Earbuds to Follow
Earbuds will once again be banned except in cases of explicit teacher permission.
Hang on for a minute...we're trying to find some more stories you might like.
Former principal Rebecca Braaten enacted a lot of change at Chamblee Charter High School, but there was one issue that really divided students and teachers — use of earbuds in the hallways.
Under previous administrations, earbuds had been strictly forbidden, but very shortly after arriving at CCHS, Braaten allowed students to listen to music in the hallways, as long as they had one earbud in and one ear free of earbuds, in case of an emergency where they needed to be able to hear what is going on.
Following Braaten's departure at the end of last semester, Terese Allen and Robert Williams took over as interim principals. Very soon thereafter, on Monday, January 7, the day students arrived back from winter break, Allen announced that from then on, earbuds would be once again be restricted. Students can no longer use them in the hallways, and they can only be used during class when teachers give explicit permission. What followed was an outcry from the student body.
Junior Jonina Bullock did not believe earbuds were even an issue before they were taken away, citing them as one of the few freedoms that the student body loved to have.
"I was confused because I do not see the problem with headphones. For me, I used them when I was working on homework or studying, because that helps me to focus more," she said.
Senior Sarah Mackey thinks the rule change was too abrupt to have a smooth transition.
"Why are you [administration] changing this halfway through the year, when you would think that the interim principals sort of just want to let things continue on until you have a good starting point? I can understand why they did it, but also it's frustrating," she said.
For junior Jawwad Uddin, the new policy is a double edged sword.
"To me, school is already one of the most stress-inducing experiences I face and those short amounts of time I receive between classes to hear a song help me to get through the day mentally. The fact that I'm losing one of my most effective stress relievers certainly [sets] a bad [tone] for the new principals," he said, "however, that really only applies to students. I believe, as stupid as this policy is, it's great that teachers are finally having their voices heard again and seeing action taken as a result of their cries for help. One of the biggest problems under the Braaten administration was lack of representation of the teachers and it seems like this new administration is rectifying that. My only wish is that they would have listened to the teachers on an opinion not so detrimental to the student body."
Despite near unanimous student disapproval, teachers are generally very pleased with the rule change. Health and physical education teacher Lorri Reynolds believes that the former earbud policy was good in theory, but could never work in a high school.
"The unfortunate thing with the earbuds is that the privilege was given with the stipulation of one earbud in and one out, or the famous 'one up one down', but alas, 95% of the student body pushed it to the next level to the point that no one could hear anything that was going on," she said. "Everyone was completely zoned out and it was completely out of control."
Reynolds, who teaches mostly freshman, thought the old rules were too much freedom for such young students to handle, and were doomed to fail. Despite this, she thinks the total ban on headphones should have some exceptions.
"The earbuds and cell phone situation is definitely something I'm happy about, [however] I do believe that y'all should be able to use them before school, during lunch, and after school," she said.
Uddin dreads that more restrictive phone rules may follow.
"I understand that, when used incorrectly, cell phones can be a distraction in the school environment, but much of the time for myself and students around me, phones are used solely for necessary communication at mainly appropriate times. Unfortunately, I believe cell phones are easily the next right we [will] have to [let] go just because of a few bad apples," he said.
In the end, Mackey believes rules are something that come and go with different leaders, and it is just part of being a high schooler.
"Everyone has their own rules that they prefer, so it sort of will be like an equilibrium of 'You can do this but you can't do this,'" she said. "Maybe they'll start letting us in the school before 8 a.m., hopefully. I think it's just sort of a give and take kind of thing, and if these principals are like 'No earbuds, no hats,' then that's them, just like [former principal Norman] Sauce didn't like holes in the jeans."
About the Writer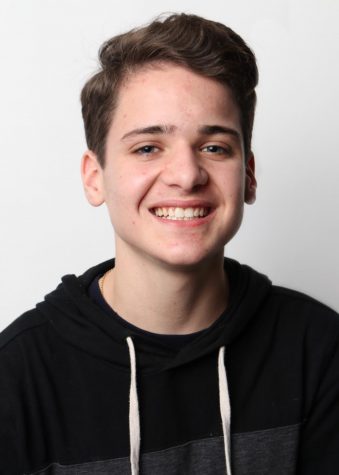 Foster Cowan, Staff writer
Foster Cowan is a junior and staff writer. He likes to eat prepackaged salads, wear sweatshirts for schools he doesn't attend, and avoid Boy Scout meetings. This is his second year on the staff.