The Ming-lers for PanCAN: The Fight Against Pancreatic Cancer 
If you would like to support the Ming-lers, You can follow PurpleStride here, and Olivia Li's Instagram Page here.
Olivia Li is a senior here at Chamblee who, since 2018, has dedicated much of her time to fight against pancreatic cancer. After her father passed away, she's worked for different organizations  on many campaigns to help the cause. Her most recent fundraiser was the Double Good popcorn fundraiser.
"The fundraiser I just did was with Double Good popcorn, which is a great organization that allows you to fundraise virtually by selling hand-made gourmet popcorn with your friends and family and 50% of sales benefit your cause. It allowed me to really invite my friends to join my cause and it was super successful and fulfilling to be able to raise so much money and connect with so many people. It was absolutely incredible that we raised over two thousand and eight hundred dollars with just a four day campaign and the outpouring of generosity and support was so, so heartwarming," said Li ('22).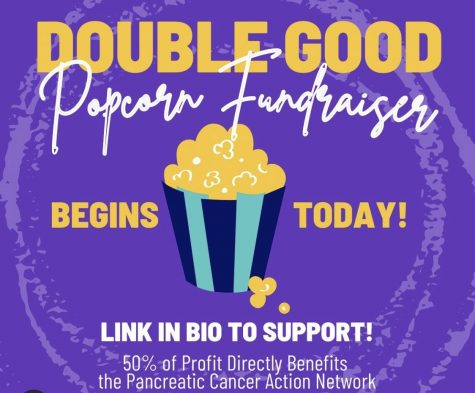 This would be the second independent fundraiser Li has done. Her first one was a year ago during the height of the pandemic when she sold t-shirts. The links for the shirts were sent around and a lot of students at Chamblee purchased one. So if you ever see someone wearing this shirt, you know they supported the Ming-lers campaign.
"Last year, I did my first independent fundraiser, a t-shirt campaign. I created a t-shirt design with a message related to a lesson I learned from my dad suffering from PanCAN and ran a t-shirt campaign on a platform called Bonfire. We sold over 100 items which was really successful and I also reached out, myself, to a lot more people asking for donations. I think my team raised $5,000 in total," said Li.
After seeing what Li has done previous years Caeley Woo, a senior who was inspired by Li to help support the campaign, and other supporters are waiting in anticipation to see what Li does next.
"I think Olivia is gonna do her t-shirt campaign again, which she makes really cute t-shirts [for] because she designs them herself. I think this year she has tried to do an embroidered one, which would be really cute. And yeah, all the profits go directly to PanCAN which is nice," said Woo.
Outside of her own fundraisers, Li has worked with the Pancreatic Cancer Action Network, also known as PanCAN, an organization that fights against pancreatic cancer. It's mission statement is "to take bold action to improve the lives of everyone impacted by pancreatic cancer by advancing scientific research, building community, sharing knowledge, and advocating for patients."
"[PanCAN] raises funds to directly help families and  for research trying to look for a cure, because there's no cure yet," said Woo ('22)
Li's extensive involvement in the organizations has encouraged her close friends to start their own fundraisers, the most recent example being the creation of their own branch of the Double Good popcorn campaign.
"[I got involved] through Olivia. Her family is pretty involved. And we also know another family [that] don't go to Chamblee, but who was also affected by pancreatic cancer. My parents had already been involved with PurpleStride and [organizations] like that," said Woo.
Her recruitment skills even got her a position on the Purple Stride team, where they have given themselves the name "The Ming-lers" named after her father and a bit of a pun.
"[The t-shirt] fundraiser really ignited my desire to work with the organization and helped me see how supporting PanCAN was a way to honor the memory of my dad, so this spring, I got more involved by joining the Atlanta affiliate of volunteers as a youth ambassador. This gave me a lot more detail about what goes on in the organization and I was even more motivated to fund raise," said Li.
Li has dedicated many hours and even a birthday to help raise awareness for pancreatic cancer from the moment she started in 2018.
"The year [my dad] passed was when we really started doing PurpleStride, which is the walk to end Pancreatic Cancer. In the past, we had to focus on taking care of him, which involved staying home. So when my mom told me about it that year, 2018, I got much more involved and I used my birthday party as a fundraiser along with my mom sending some emails to raise around $4,000 I think," said Li.
While Li has worked hard, she has had to deal with a few difficult challenges when it comes to fundraising.
"Fundraising wise, my biggest challenge was reaching people who were actually able to support. My friends are amazing and have given me a lot of support in my fundraising, but many are financially conscious of the money they earn and spend and don't have the financial stability to serve as larger donors like some adults can. So, I would say it's been a challenge to reach out to my connections who are older and have more resources to donate," said Li.
Even though Li has faced challenges, she has persevered and is on track to reach her monetary goal. After her previous success, Li decided to increase her  goal so she can contribute even more this year.
"My goal this year is to raise over $6,000, which I am definitely on track to reach right now," said Li. "I was hoping to do at least two fundraisers: the popcorn fundraiser, which I just did, and hopefully another t-shirt campaign in the spring."
About the Writer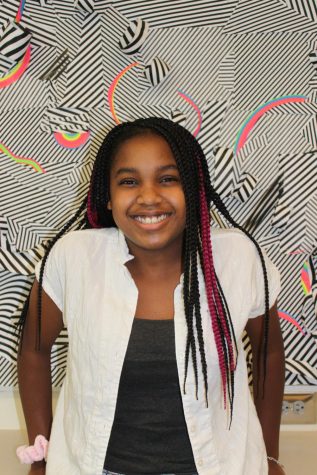 Kaylee Powell, Staff Writer
Kaylee Powell is a senior and this is her second year on the journalism staff. She thinks that "Get Out" encapsulates the Chamblee experience because it's about time she leaves this sunken place, a.k.a. school.