How to Bake a Stress-Free Cake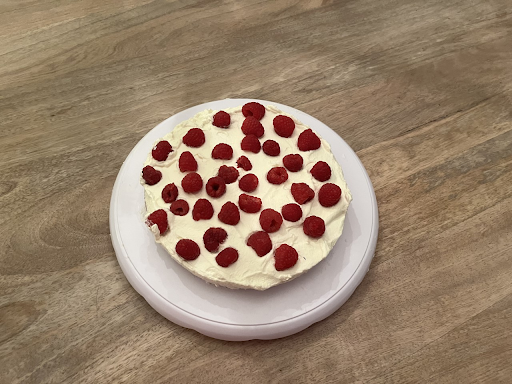 Baking is a rewarding, enjoyable task, but it can be difficult. Cake baking can be an especially daunting task. Imagine spending four hours straight struggling with a stand mixer, making batter, baking the cake, assembling and frosting the cake, and then decorating it. If that isn't scary enough for you, the dishes in your sink will be.
Without further ado, here is my favorite stress-free cake recipe:
Ingredients:
3 eggs
4 tablespoons unsalted butter
1 ¼ cups granulated (white) sugar
½ cup canola or vegetable oil
1 cup buttermilk
2 teaspoons vanilla extract
¼ teaspoon almond extract (optional)
½ teaspoon fine salt
½ teaspoon baking soda
2 teaspoons baking powder
2 cups flour
Tools/Equipment:
Two 8 inch cake pans (or a 9×13 baking dish)
Whisk
Large flexible spatula
Large bowl
Oven
Microwave
This recipe is a delicious classic yellow cake, whisked in one bowl. It is based off of a recipe from the New York Times, with a few changes. It's pretty easy to make, however, if you're hand whisking it ,you'll get a bit of a workout. Besides that, making it and cleaning up afterwards is a 'piece of cake'. To minimize stress and chaos, I recommend setting out the ingredients you'll need to use before you begin making the cake.
Step One: Preheat the oven to 350°. If you haven't already, take the three eggs out of the fridge and let them come to room temperature. This step might seem unnecessary, but if the eggs are cold they won't whisk nicely, and the cake will be dense and heavy instead of fluffy and light.
Step Two: While the eggs are adjusting, melt four tablespoons of butter in a microwave safe bowl. To avoid a hot, buttery, disaster in your microwave, cover the bowl with a microwave safe plate. Once melted, let it cool.
Step Three: Crack the now room temperature eggs into a large bowl, add one and a fourth cups granulated sugar, and whisk vigorously until the mixture is frothy and bubbly looking. It took me about one bicep burning minute. This step is what makes your cake nice and light.
Step Four: Gently whisk in the butter, two teaspoons vanilla, one fourth teaspoon almond extract (if you want to), half a cup of canola or vegetable oil, and one cup of buttermilk.
Step Five: Whisk in half a teaspoon salt, half a teaspoon baking soda, and two teaspoons baking powder until well incorporated.
Step Six: Whisk two cups of flour in until incorporated, then whisk vigorously to eliminate any remaining lumps.
Step Seven: Grease the two eight inch baking pans (or a nine by thirteen baking dish). Then, pour the batter into the prepared pan(s), making sure it's as equal as possible. The batter rises a lot, so don't worry if it looks like there isn't enough batter.
Step Eight: Bake! For two eight inch baking pans, bake for about 25-30 minutes. For a nine by thirteen baking dish, bake for about 20-25 minutes. Every oven is different, so baking times may vary. When the cake is done, a toothpick will come out of the center of the cake clean and the top of the cake will be golden.
Step Nine: When the cake is finished baking, set it out to cool. If your stove happens to have a fan, setting it on top of that for a bit makes the process quicker. The cake needs to be fully cooled before you frost it, or else the warmth of the cake will melt the frosting.
Step Ten: Once it is fully cooled, frost the cake! I tried it with both store bought chocolate frosting and whipped cream topped with raspberries, they were both good, but the whipped cream was my favorite. It tastes great, and it's not too sweet. If you don't feel like making whipped cream, Cool-Whip works just as well.
If you want to make your own whipped cream, here's how to do it:
To make it you need two ingredients: powdered sugar and heavy whipping cream.
Step One (the only step): If you own a handheld mixer or a stand mixer please use it. If you don't, get ready for some struggle.
Grab a large bowl and a large whisk, 1 cup of heavy whipping cream, and two tablespoons of powdered sugar. Put the whisk and the bowl in your freezer for 15 minutes. I know it sounds weird, but it helps speed up the process.
Put the whipping cream and the sugar in the bowl, and whisk vigorously until the cream reaches stiff peaks, meaning that when you pick up the whipped cream on the whisk the peak won't fall.
Lastly, Frost the cake with whipped cream and top with strawberries or raspberries.
Enjoy your cake!
The original NY Times recipe I modified:
https://www.nytimes.com/2020/05/22/dining/celebration-cake-recipe-coronavirus.html