Chamblee Bulldogs Defeat Dunwoody Wildcats at Annual Rivalry Game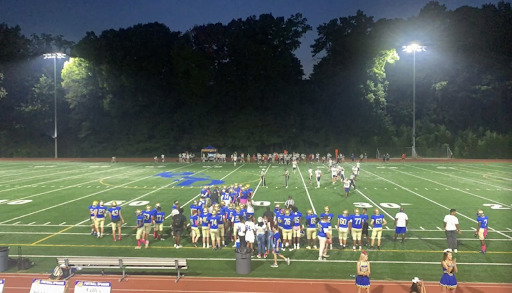 The Chamblee Bulldogs beat the Dunwoody Wildcats 38-7 at Friday's home football game, continuing their one year claim of the Golden Spike Award, which was introduced in 2014.
The winning team of the annual rivalry game is awarded the Golden Spike, symbolizing the railroad that used to connect the cities of Chamblee and Dunwoody. The team then keeps the Spike until the next rivalry game.
The theme for the Chamblee's student section on Friday was pink out, and students went all out.
"I liked [the theme] a lot, it was simple and easy for everyone to do," said Sadie Schroeder ('24). "I thought it was a really good theme and it boosted our school spirit a lot. I had never seen so many people wearing pink before; I'm pretty sure everyone who was there participated."
Chamblee High School's cheer team hosted a fundraiser supporting breast cancer awareness month through this pink theme. They sold pink pom poms, pink towels, breast cancer awareness bracelets, and various kinds of candy.
"The pink theme helped the breast cancer fund, with the stuff they were selling, which is great of course," said Schroeder.
Although Chamblee's rivalry against Dunwoody started long ago, students at both schools are still keeping up the playful, competitive rivalry. However, Dunwoody student's interest in beating Chamblee has been called "obsessive" by some. Students at Dunwoody even created a chalk mural of a "bulldog" with the title: Chamblee Hate Week! Wash Away The Bulldog.
"I would say [the rivalry] is definitely more of a fun thing but I would definitely like to beat Dunwoody cause they talk a lot of trash," said Nash Booth ('25) before Chamblee's inevitable win.
The rivalry hasn't always been so competitive, though. In fact, the two schools didn't even play each other in football prior to the 2000s.
"For most of the years I went [to Chamblee] we didn't play Dunwoody, so the rivalry wasn't there,"said Brian Ely, a Chamblee teacher who graduated from Chamblee in the 90s. "Now having worked here in the 21st century, it's been a lot of fun actually."
The annual Dunwoody/Chamblee rivalry game tends to have close to the highest attendance rate out of the football season, excluding homecoming.
"I think the rivalry definitely brought more people out. I mean, the student section was so packed and louder than ever. It was crazy," said Meron Lema ('24).