Chamblee PTSA Seeking Pot Donations
The Chamblee PTSA is currently seeking donations of clay pots for a campus beautification project. These pots will be used to create a border around the small pond in front of the school.
"There's a pond in front of the school that the ornithology club put in several years ago, and at that time they put some nice native perennials and some other plants in there, at two different times. Now, when the mowers have come through with their big commercial mowing machines, they've just mowed those over," said Nancy Farrey, an administrative assistant who is involved with the PTSA.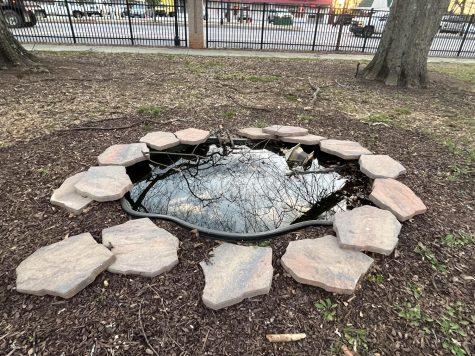 The purpose of the donated clay pots is to create a border around the pond and new plants.
"The CHS Campus Beautification Committee is planning a barrier/border around the bed and pond in front of the school around the pond. The ornithology and entomology clubs will be planting native perennials in the area and want to prevent damage to these plants. The border will be made of different sizes of these donated clay pots," wrote the PTSA.
Donations do not have to be of new clay pots, they just have to be in one piece.
"We're trying to do it inexpensively because we have a limited budget. We are going to be collecting clay pots of different sizes. What we're going to do is turn them over, and make a little barrier just around," said Farrey. "They can be different sizes. They can be dirty. They can have cracks in them or moss, [they] don't need to be new ones."
Any donations of clay pots should be brought to the school and labeled "Campus Beautification."
"If people have pots to get rid of, we would love to have them and we'll put them to good use," said Farrey.