Meet the Queen of Black Friday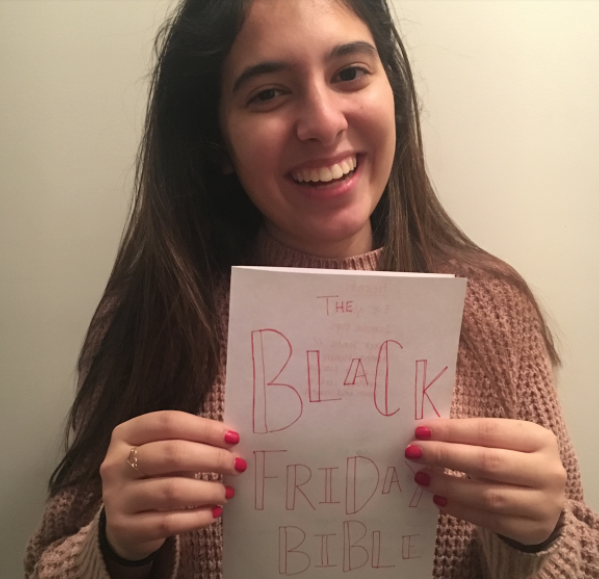 The day after Thanksgiving is usually regarded as a time for rest and relaxation, but for sophomore and Black Friday connoisseur Sahara Hetherington, it kicks off the beginning of the most wonderful time of the year.
"I'm excited the whole year for Black Friday," said Hetherington. "Like honestly, the day after Black Friday, I start mentally preparing for the next one."
She regards her shopping tradition as a transition into the holiday season.
"I personally think that it gets you into the holiday spirit because you're buying clothes and presents for people that you love," she said. "It's also right after Thanksgiving so you're happy from that and ready to buy things. It's just an overall great experience."
Even as a child, Hetherington's enthusiasm for holiday shopping was prevalent.
"Ever since I was little, my mom and dad used to take my sister and me Black Friday Shopping," she said. "I just remember the excitement of waiting for my mom to get all of our Christmas presents."
She starts to solidify her ideas for the next holiday as early as September.
"From like September I'll start thinking of things that I maybe want and keep an eye out to see if they go on sale," said Hetherington. "Usually around November 1 is when I start making my lists of what I want and decide where I want to go and what I'm going to do. One to two weeks before Black Friday is when all the deals will come out. That's how I decide where I'm going to spend the most money."
As for planning and preparation, Hetherington makes an hour-by-hour schedule, which she regards as her "Black Friday bible."
"This year I did a Black Friday bible," she said. "For maybe three or four years now I've been making a schedule for Black Friday. I don't usually follow it exactly but it's very precise and has the timings for like where we're going to be and what we're going to do. I have it accessible at all times."
Although the concept seems elaborate, she explains that her "bible" is less complex than it is put out to be.
"It's just a piece of paper that I fold in half that I created with my nice Stabilo pens," she said. "This year I was looking at it and my mom had written her own list on the back of it and I was like 'Are you kidding me mom?!' She wrote like a grocery list."
When it comes to the big day, Hetherington can hardly wait to get to the mall and start shopping.
"I get so excited that I can't even sleep," she said. "We went to Target at seven the night before and got back at nine.  I went to bed around one in the morning and woke up at five the next day. So I got four hours of sleep. We stayed out the whole day until four. I came home, took a one hour nap, and went right back out."
Pointing out that her shopping bags were not as full this year, she explains how she prefers the value and worth of each item.
"This Black Friday I didn't get that many items," she said. "I just got a few things that should last me over time, including clothes and various house items. I definitely think that shopping should be quality over quantity, so I didn't splurge on things that I probably didn't need."
When asked about the best deal she was able to find this year, she pointed out that Cost Plus World Market had a noteworthy early bird special.
"My family and I went to Cost Plus World Market pretty early," she said. "It opened at seven and we were some of the first one hundred people to walk into the store. Each of my family members got a 10 dollar off discount and the store had additional sales. We bought 200 dollars worth of items for 36 dollars."
Hetherington is also familiar with the darker side of Black Friday, having experienced a strange encounter while shopping at Target.
"Basically I was debating whether to buy this fuzzy blanket or a knitted blanket and I had a hand on both of them," she said. "This guy came over and he put his hand on the fuzzy blanket and said, 'Where did you get this?' and I was like, 'Uh I just got it from right there,' and I noticed that he had his hand on my blanket. He was like, 'Can you show me where you got it from?' and there weren't that many left. I was like, 'Two baskets over.' He totally was trying to take my fuzzy blanket and I was thinking 'bro, get your hands off my fuzzy blanket, this is not okay.  Please leave me and my blanket alone.'"
She warns that, in order to ensure a successful purchase, fast-selling items should be kept within arm's reach until checkout.
"You have to be kind of careful because if you put something down if you're not sure that you want it, someone else can totally take it," she said. "That's something I've learned. Be careful when you want something specific. Hold onto it and then right when you check out you should hide it."
As to any advice she would give to inexperienced Black Friday shoppers, she believes that one can avoid the tumult by simply heading out earlier.
"Don't be scared," she said. "It gets kind of crazy and there are a lot of people, so I would say the earlier you go the better. If you're just going to shop, lots of people people start getting to the mall around lunch time. They'll usually eat lunch there and talk and then go shopping. If you're in it for the deals, I would go before noon."
Even though Black Friday has passed, Hetherington suggests that those who aren't fans of the holiday should try to take part in the hecticness of it.
"Everyone should experience Black Friday at least once," she said. "Why not? Places like REI, what are they doing? Tell me why they close on Black Friday. They're like, 'On Black Friday you should be outdoors not in the mall.' REI needs to get it together– like what are they doing? Do yourself a favor and be blessed with the Black Friday experience."
About the Writer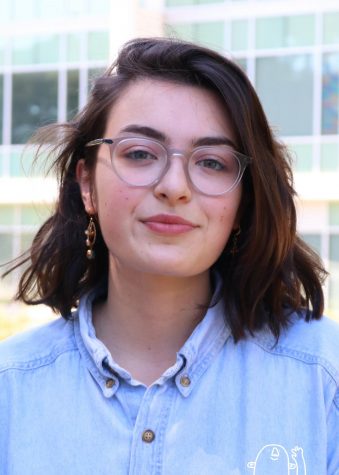 Ashley Veazey, Photo Editor
Ashley Veazey is THE photo editor for The Blue & Gold. When she's not in school, you can find her ordering coffee at Crema Espresso Gourmet, listening to Italian trap music, and talking to herself auf Deutsch. This is her third year on the staff.