Panthers Pounce on Success: Chamblee Alumni at GSU
Hang on for a minute...we're trying to find some more stories you might like.
This article is part of a series on college life for CCHS alumni. The other stories can be viewed here. 
Georgia State University, an institution that has seen a drastic rise in enrollment, ethnicity, and academics over the past decade, is raising eyebrows at Chamblee and across the country. Nestled in Atlanta between Grady Memorial Hospital and the Westin, Georgia State prides itself on a unique campus atmosphere and combines state-of-the-art facilities with an invigorated academic strategy that provides students with a world class education. Countless Chamblee alumni have made the move downtown, about 25 minutes down I-85, and have left the connection between Chamblee and Georgia State stronger than ever. 
"Honestly, I think that Chamblee over-prepared me for college," said GSU freshman and English major Celia Soriano. "I've asked other people how they feel about it, and we all agree, but that is not really a bad thing. Transitioning from Chamblee to to college wasn't hard at all, and honestly, at times, I even felt more stressed at Chamblee."
This feeling of academic qualification was common across many Chamblee alumni, and some even cited a specific Chamblee department that went above and beyond in preparing students for a world without hall monitors and bell schedules.
"I think Chamblee prepared me super well for college in academics, especially in Ms. Tulchinsky's class, because now any amount of homework I have pales in comparison to the nightly Tulch load," said chemistry major Joseph Young.
Not only does Chamblee's academic aptitude give students a solid foundation for achievement at college, but other aspects of our halls easily translate to those at a school like Georgia State.
"GSU and Chamblee have very similar levels of diversity, which has helped me meet [people from] all walks of life," said marketing major Marshall Peters. "Personally, I feel very comfortable in the GSU environment, which is something I felt at Chamblee too." 
Embedded in the heart of the city, Georgia State is no stranger to the cultural mosaic that is Atlanta, and students from Chamblee value the conservation of cultural identities from high school to college.
"I'm only in one club as of now, which is LASA (Latin American Student Association), and it has really made me feel like I belong on my campus," said Soriano. "This organization has a room in one of our buildings, which is open to any student at Georgia State, not just [club members] and is a place where we can eat, study, and hold meetings. It's one of my favorite rooms at GSU."
Like at Chamblee, extracurriculars are abundant and extremely accessible. The seemingly endless list of clubs, teams, and groups offered to all State students creates a unique all-inclusive campus environment.
"[I'm not in any] crazy extracurriculars yet, but I have been looking," said public health major Sydney Luna. "So far I'm a proud member of the PEACE Club (People For the End of Animal Cruelty), where we are looking into local activism opportunities. By the way, it is open to everyone, not just stereotypical vegans, don't judge."
From animal rights to Greek life, Chamblee graduates are readily finding new ways to interject themselves into the college community.
"I'm in a fraternity, and I also do intramurals, which is the most fun I've had playing sports in my life," said Peters, who in high school swam and played baseball for Chamblee. "Really the best part is making friends from all of it."
Like Peters, Young has also found a sense of brotherhood on campus, and feels that close connections are essential to survival in and out of the classroom.
"Pretty much the only extracurricular I do right now is a fraternity […] and I've met a lot of new people that way," said Young. "I would always say to do your best to be involved in something, no matter what it is, so you can get a solid group of friends that you can lean on."
But no matter where you go, college will always be first and foremost an educational institution. Some students are quickly blinded by the many freedoms a college offers, and forget why they came in the first place.
"Keep track of what's due and make sure you cut out time to sit down and do it, and make sure you try to participate in class so that the professor will like you and get to know you," said business major Xena Jackson. "Don't get too distracted by partying or anything like that because you can do that any time; your grades are a one-time thing."
Of course the step from high school to college is not always as effortless as some may suggest, and adapting to a new environment is imperative to your success in college. 
"I wish I knew to study the website iCollege and go through that more, because for a few weeks in one of my classes, I was leaving parts of my homework incomplete when I thought they were complete. But I was able to talk to my professor and get back on track," said Jackson.
Aside from mid-semester alterations, preparing for college before you step foot on campus is the best way to make the move physically and financially feasible.
"I wish I knew more about scholarships. I won't blame the […] counseling office at Chamblee for this, I blame myself. I could have looked into them a lot more, and so for future students I would definitely say try to apply for as many scholarships as you can," said Luna.
So if you have already applied or plan on applying to college, know that it is possible to find a home away from Chamblee. 
"I know any Chamblee student would love it here. Apart from the manageable workload, the diversity is just like Chamblee, which is another reason why I absolutely love it. Anyone can feel extremely welcomed," said Soriano. "The only advice I have is to be prepared for the city smell." 
About the Writer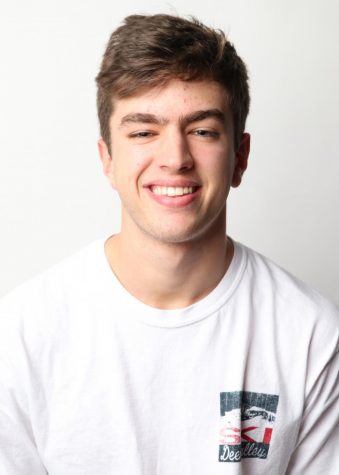 Matthew Welsh, Staff writer
Matthew Welsh is a senior staff writer. When he's not writing articles, he enjoys watching sports, wrestling his brother, and playing with his dog. This is his second year on the staff.