Moving to Milledgeville: Chamblee Alumni at GCSU
Hang on for a minute...we're trying to find some more stories you might like.
This article is part of a series on college life for CCHS alumni. The other stories can be viewed here. 
Although not as well known as Georgia Tech or the University of Georgia, there is a hidden gem located in the heart of Georgia that is a popular option for many Chamblee Charter High School seniors — Georgia College and State University.
A public liberal arts university located in Milledgeville with 5,987 undergraduate students, GCSU is an excellent fit for students looking for a smaller university experience that is still in-state and relatively affordable.
Anna Graves, who graduated from Chamblee in 2018 and is currently attending GCSU as a freshman psychology major, was drawn to the small-school aspect the most when applying to college.
"Going to a huge university with lecture hall classes of 200-300 [students] just sounded very overwhelming to me, and since my major is pretty common, I wanted to be at a school where the program was a little smaller and I didn't feel as though I was going to be competing against hundreds of other students for academic opportunities, like undergraduate research in the future," said Graves.
GCSU sophomore Jessica Eleazer, a member of the CCHS class of 2017, enjoys the school's friendly and easygoing qualities.
"The atmosphere of GCSU and Milledgeville is really laid back," she said. "It reminds me of Tucker, but not quite as fast paced. I often pass people I know from classes or clubs and they always offer a smile. The professors are also really friendly. I'm only a sophomore, but I've already kept in touch with several professors, and whenever I see them, they ask how classes are going."
For GCSU freshman Julia Hufford, who graduated from Chamblee in 2018, the school's lack of big sports teams does not deter from the overall college experience.
"Even though we don't have a football team, people still have a lot of school pride and spirit," she said. "The college makes up a significant part of the Milledgeville community and it's so great to see the college so involved in the community."
One aspect of GCSU praised by Graves is the beautiful campus, noted for its Antebellum architecture and lush greenery.
"Our campus is pretty small, but it's really beautiful, especially front campus. When the weather is nice it's fun to see people sitting out there and studying or throwing a Frisbee around," said Graves. "Right now they're doing some construction, which kind of sucks because students touring have to see this ugly construction zone in the middle of front campus, but I think they are supposed to be finishing up later this year. At least let's hope so!"
Both Graves and Hufford are involved in Greek life, a popular option at GCSU, and although Eleazer isn't in a sorority, she still enjoys a variety of extracurriculars.
"I'm on the club Frisbee team, as well as being a community advisor for one of the residence halls. There are other clubs I'd like to be involved with, like Psychology Club and Shelter Buddies, which helps out with the local animal shelter, but Frisbee takes up most of my evenings, which is when club meetings usually are," said Eleazer.
Graves was active in both girls' lacrosse and marching band at CCHS, and although GCSU does not have either of these clubs, she was able to find other organizations to be involved with.
"I was especially sad when I realized that I can't play lacrosse anymore. Leaving a place where I had a lot of friends and teachers who cared about me was hard because I only knew like two other people who were going to GCSU," she said. " I am [now] a part of the honors program, the women's club Ultimate Frisbee team, and I just joined Delta Gamma this spring semester."
For Eleazer, Chamblee's rigor helped prepare her for college, and the addition of free time and extracurriculars makes the GCSU experience even better.
"I feel prepared to handle the college course work, especially with only five classes. This semester will be a little more work heavy, but I know Chamblee's teachers have taught me what I need to know about work ethic and such," she said. "I do have more free time in college which is wonderful, and that's even when I account for the time that clubs take up. There are so many clubs with different interests that everyone will have plenty of opportunities to get involved."
Hufford believes it was not only Chamblee's strenuous curriculum but also the addition of dual enrollment in her last two years of high school that helped ease the college transition.
"Time management is the game you have to play in college and I learned that early on in my high school career. The other thing that really prepared me for [my] college schedule was doing dual enrollment my junior and senior years. I was involved in clubs and the music program in high school, so that got me used to my crazy schedule here," she said.
Although many will opt for more popular in-state options, Graves encourages Chamblee students to keep Georgia College in mind during their college search.
"It's a great school if you want to go somewhere a little bit smaller, but if you're looking for a huge university with giant lecture hall classes and football games every weekend then GCSU probably isn't for you," she said. "My advice for students currently looking at colleges is to just really consider the type of school and what kind of environment you think you'll succeed in, but also don't stress about finding the perfect school because I'm not sure there's such a thing. You just need to find a school where you can succeed. Whatever decision you make, get involved on campus and embrace what your school has to offer and you'll be more likely to succeed and have a good experience."
About the Writer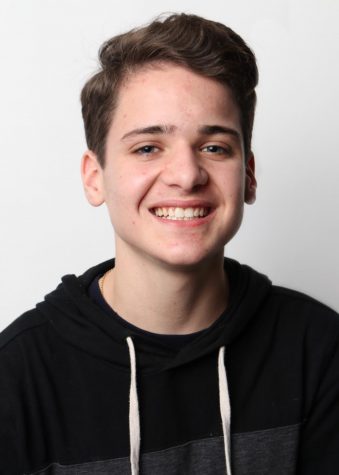 Foster Cowan, Staff writer
Foster Cowan is a junior and staff writer. He likes to eat prepackaged salads, wear sweatshirts for schools he doesn't attend, and avoid Boy Scout meetings. This is his second year on the staff.