Creating a Classroom: How Teachers Decorate Their Space
The classroom is a teacher's home away from home. It can be fun to show off their personal decorating style and make the room comfortable for students and themselves. Some teachers go all out, while others have bare walls–but whatever their style, it can be representative of them and their function as a teacher.
English teacher James Demer has a very personal style in the way he decorates his classroom. All across his bulletin board are posters representative of his rocker 80s lifestyle.
"I just put up my rock and roll posters, which face me and not the kids," said Demer. "Which is fine, since they don't know who Bob Dylan is. The students do, however, get to look at a giant poster of Stuart Steele's face [a Chamblee senior], which is awesome."
Desks are lined up in traditional rows, but he wishes for the classroom to be homier.
"I arrange the desks in a way so that no one has to sit particularly close to me," said Demer. "But, I wish my room was cozier. I went to a school that had some classrooms with desks, while others were decorated entirely in what appeared to be stuff found outside of Buckhead homes on trash day. It was comfortable, and I'd be happy for some parents to donate a couple old couches and bean bags to make the room less industrial."
Sometimes, decorations can be random with no real rhyme or reason to their purpose.
"I don't really have a strategy," said social studies teacher Theresa Abernathy. "If I'm feeling in the mood to hang something, then I try to hang something that I think the kids will like and I find somewhat enjoyable. If it's something I find visually appealing, that the kids might get something out of, or just something relaxing then I'll put it up. Like they like the lights, they like the ambiance. I don't really have a method, I just try to do the best I can. I'm not a very creative, artistic person."
Oftentimes you will find educational posters relating to the subject matter on a teachers wall, but not in Demer's room. His posters relate to his own personal style, but he hopes they open conversation.
"There is nothing on my walls that relate directly to the goals of AP Lang," said Demer. "But AP Lang is also about being knowledgeable and inquisitive about human experience in general, so if you don't know about, say, the Clash, I will have to curtail any discussion until you go and learn about the Clash, so we can discuss things from a similar level of sophistication."
With the new school-wide grade level arrangement, moving rooms can offer a chance to redecorate, but for some teachers, like Abernathy, they might have gotten the short end of the stick.
"My old room was bigger, no doubt," said Abernathy. "It feels cramped. I've got 38 desks, but my other room had to have been several square feet bigger. This room is so much smaller. When I tried to arrange the desks in the set up I had last year, I [couldn't] do that in here. I do have the largest classes I've ever had. I have 38 desks where I had 36 last year, but, yeah, it's cramped."
Desk arrangement can be the key to maximizing space in a classroom.
"Instead of having rows I try to put the desks in fours so that not only can the kids interact with each other but also see that I have a little more space," said math teacher Keisha Owens. "If I had them in rows then I wouldn't have so much space here to walk through. I can get to everybody. By putting them in groups it gives me more space. Groups also allow for group activities and not having to move desks around because the desks are already positioned in groups."
Also, bulletin boards are big spaces teachers can take advantage of.
"Unlike some high school teachers, I kind of like to decorate my bulletin board," said Owens. "I add color. I also try to put up things that will be of interest to them as far as math is concerned. It may not be as cozy or personalized for individual students, but it's kind of like standard based for a math class. The kids can see things that they're learning and make connections while they're working."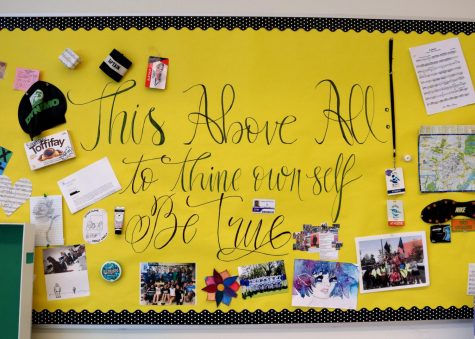 English teacher Holly Isserstedt likes to give students the opportunity to put up personal items on her bulletin board in order to express themselves.
"I give each class a bulletin board to display student work," said Isserstedt. "For my literature class, since they're seniors, I gave them the board to show off artifacts from this year or past years. I like to show off student work as it makes the room more personal, and the students have something of their own to look at. I have some posters and decoration that's just for fun which really makes the room cozier."
Although her room does not necessarily have educational posters, Isserstedt believes her personal style helps students have a better environment to learn in.
"With such a personal environment, students feel comfortable in the space they're in," said Isserstedt. "Being comfortable allows me to relax and be a better teacher, and for the students to be more secure in themselves and be able to ask questions without being afraid and be in a welcoming environment."