Behind Every Successful Woman is a Good Broadway Bootleg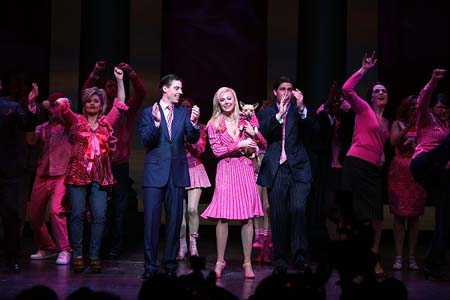 Hang on for a minute...we're trying to find some more stories you might like.
Anyone who knows me in any way knows that I love Broadway. I belt showtunes in the shower, I watch bootlegs on YouTube, I've choreographed the entirety of "In The Heights" in my bedroom. In 2017, my favorite musical was the iconic "Hedwig and the Angry Inch." In 2018, I fell in love with "Spring Awakening." And this year, I can already tell the cake goes to "Legally Blonde."
There's no shortage of musicals based off of cheesy teen films. From "Heathers" to "Mean Girls," they're everywhere. November 2018 even brought "Clueless" to the stage in singing and dancing form. Don't get me wrong, you can find me jamming to "Candy Store" any day of the week, but these musicals just haven't done it for me before. The character development is weak at best, and the music, although catchy, doesn't speak to me.
So I'm sure you can imagine my surprise when, upon finding a semi-high quality bootleg of "Legally Blonde" on YouTube, I finished the video finding myself feeling motivated and empowered. Formerly, the only song I was familiar with was the shrieky chorus of "Omigod You Guys." Needless to say, that song is one of the worst on the cast album. But I gave the musical a chance, almost entirely because of my colossal attraction to Laura Bell Bundy.
"
But I gave the musical a chance, almost entirely because of my colossal attraction to Laura Bell Bundy."
— Maya Torres
"Legally Blonde" starts with our heroine, Malibu beauty queen Elle Woods (Laura Bell Bundy), following the man of her dreams, Warner Huntington III (Richard H. Blake), to Harvard Law School. She aces the admissions process ("What, like it's hard?"). But once she reaches Harvard, she faces the reality of failing grades, mocking peers, and worst of all, Warner's new girlfriend, Vivian (Katherine Shindle), a smart but condescending vixen. Elle seems ready to give up on law school, until the recent graduate Emmett Forrest (Christian Borle) teaches her the secret to success: hard work and motivation. Suddenly, Elle, who has never read a textbook in her life, is a well-versed lawyer, reciting court cases as if she'd known about them her whole life.
When Elle is selected for an internship by harshly critical Professor Callahan (Michael Rupert), she finds herself trading her trademark pink for an intelligent shade of navy in order to successfully prove the innocence of fitness queen Brooke Windham (Nikki Snelson) in her dead husband's murder trial. But she is suddenly met with a harsh reality: she was selected for the internship because of her looks, and her professor wants nothing more than to hit on her. She decides to drop out and move back home to California, but is convinced otherwise not by her desperate attraction to Warner or by her new friend Emmett, but by fellow empowered female Vivian. Elle is back at it, leading her own legal team that Brooke hired to replace Callahan. After winning Brooke's case and earning the title of valedictorian at Harvard Law, the story comes to surprising end with the marriage proposal Elle has dreamed of since the beginning of the musical. Only this time, she's the one popping the question, and the man she's asking isn't surely Warner but Emmett, who has quietly been supporting Elle during the entirety of her journey.
So it's hackneyed and basic. So it's romantic and cheesy. I don't mind. It's motivating. Many a time, I've found myself struggling with a workout, but the blaring of "Whipped Into Shape" drives me to continue my sweat session. Occasionally, when studying seems pointless and impossible, a quick study break to listen to "Chip On My Shoulder" reminds me of the reasons for my hard work. While tempted to give in many times, Elle persists through every obstacle thrown her way. Seeing her do so makes me want to fight through all the barriers in my life toward a future of success.
But as much as I love a good push to finish my workout, I'm even more of a sucker for some good character development. The way Elle is able to smoothly transition from California sorority girl to hard-working law student to strong and independent female is truly astounding. Viven, starting the show as a mythic witch, comes to terms with sharing the spotlight with another female. Emmett at the beginning wants only to be promoted to partner in Callahan's law firm, but slowly discovers that what he really wants is to support Elle through her victories. Each character undergoes their own transformation, as portrayed by the flawless actors.
One actor in particular, Christian Borle with his portrayal of Emmett, was particularly fascinating for me. Borle's timing — comedic or otherwise — stole the show away from the leading actress. While given not a single solo song, Borle shares several significant portions of music with his co-star Laura Bell Bundy. Borle's warbling tenor combines with Bundy's piercing soprano to achieve what can only be described as heaven to the listener's ear. Borle had some featured moments in songs, including the better half of "Chip on My Shoulder" (arguably the best song of modern musical theatre) and a small segment in the title song. When Borle goes into his floating falsetto, all bets are off.
While Borle is the driving force of the musical, the message is what really brings it home. In the first act, we are led to believe that the lesson Elle learns is one of hard work and struggle. While these do impact her law career, what is much more important is Elle's sudden understanding of what it means to be empowered — smart and powerful and true to herself. Elle can reform her looks with navy skirt suits, but what makes her strong as a lawyer is her very own pink and femininity. "Legally Blonde" teaches young girls that they don't need to have dark hair and drab clothes to be successful in life. It shows them that true strength lies in people's abilities to be themselves — however pink and blonde that may be.
About the Contributors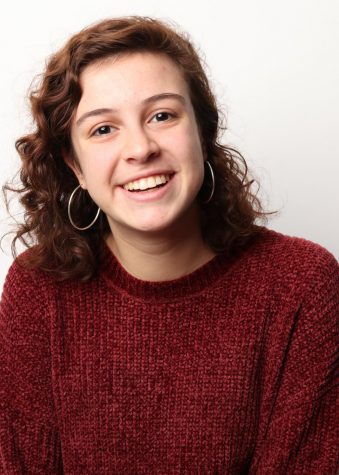 Maya Torres, Staff writer
Maya Torres is a junior and staff writer. She enjoys expanding her sock collection, making Spotify playlists, and practicing Shakespearan monologues in the bathroom mirror. This is her second year on the staff.