Rachel Lovejoy Slides Home with Amherst Recruitment
For many seniors, second semester can be a period of uncertainty and big decision making when it comes to post-high school plans. Others, however, look toward college as an exciting new adventure. One of these seniors is Rachel Lovejoy, who looks forward to playing D3 softball at Amherst College in Massachusetts.
"I've been playing softball for around nine years," said Lovejoy, on the sport that she has committed to playing in college. "It's honestly changed my life so much. I believe there are so many life lessons you can learn from softball: the power of teamwork, how not to let failure define you, and how to work hard for what you want in life."
The recruitment process can be extremely intensive with any sport, and committing to a school is a really big deal for a lot of athletes.
"Committing to a school depends on what division you're looking at. Amherst is a D3 school, meaning they can't offer any athletic scholarships. After you get interest from a coach, you can go on an unofficial visit to the school (which I did), where you tour campus, meet potential future teammates, and sit down with the coaches," said Lovejoy. "If they offer you, you can accept to a verbal commitment (a non-binding agreement). When I got my offer, it was an offer of a roster spot on the softball team contingent on the fact that I got into Amherst."
Being a college athlete can be completely different from an average undergraduate experience. For Lovejoy, playing softball offers the opportunity to transform her college experience and make the best out of her situation.
"[Amherst] wasn't my top choice, but that was changing throughout the entire recruiting process. I knew I wanted to go to a high academic school up north, and I got some interest from Ivy League schools but I wasn't offered by them. Amherst came into the game this past summer and I chose it over another college," said Lovejoy.
While it might be overwhelming for some student athletes, Lovejoy chooses to look towards the next four years of her life with optimism and excitement.
"Honestly, I'm looking forward to the camaraderie," said Lovejoy. "Heading to a school so far away is daunting, but it's so nice to know that I already have a support system in place to help me adjust."
Looking back, Lovejoy can attribute a lot of her personal growth to her playing softball for a majority of her life.
"Especially going through the recruiting process, I had to learn pretty quickly how to effectively communicate with college coaches, basically in an interview setting," said Lovejoy.
Just like any aspect of growing up and moving on from high school, there are many things to keep in mind in order to grow.
"My advice to people looking to be recruited is to be yourself. It's so easy to be influenced by others' opinions on where you should go and what level you're playing at. [Recruitment] is a huge commitment, literally like taking another class, but if you put a lot of effort doing the tedious work, emailing coaches and even calling them, you'll reap the benefits later," said Lovejoy. "It's also so easy to get down on yourself after you get rejected from a school. I think it's literally like a relationship: it won't work out if you and the coaches aren't fully committed or involved. The perfect school is out there and even though the process is hard, you come out of it a better person and with a commitment to continue playing the sport you love in college."
About the Contributor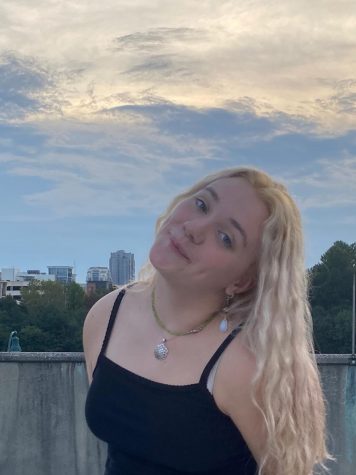 Stella Garrett, Editor-in-chief
Stella Garrett is a senior and editor-in-chief of the Blue & Gold. Outside of journalism, you can find her making costumes for Chamblee Onstage, drowning at water polo practice, sleeping, and playing with crystals. In five years, she hopes to be working on a farm or traveling the world in her converted sprinter van. This is her third year on the staff.