CCHS Comes Together For the Cox Trot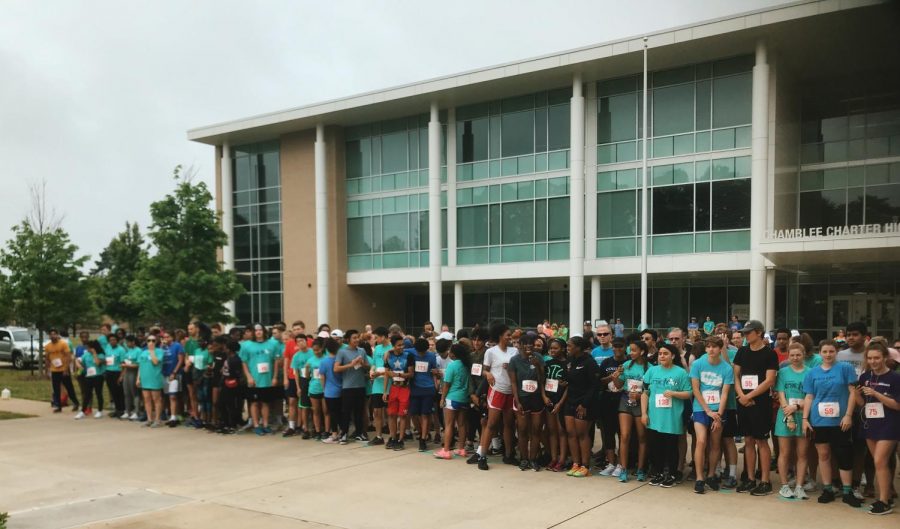 For the past thirteen years, the Chamblee community has come together every May in memoriam of the life of Kathryn Cox, a CCHS student who lost her life in 2006 in a car accident. Every year since, U.S history teacher Jennifer Tinnell has put on a 5K in her memory, the Cox Trot, and donates all the proceeds to Donate Life, a non-profit organization that works to increase the number of organ donations for people in need.
Tinnell had a special connection with Cox, as she was the cross country coach while Cox was on the team, making the accident particularly hard for her.
"There was no drinking involved; the girls were just out and around having a good time and the car just got out of control. It was just a very tragic accident," said Tinnell.
Cox had just gotten her license and was driving on a rainy day with her friends when she lost control of the car.
"Catherine's parents made a decision that since she wasn't going to survive that they would take her off of life support and be able to use her organs to help somebody else's life," said Tinnell.
A fun run had just been started the year before Catherine's tragic accident, so Tinnell decided to name it in her honor. Every year since, she has organized the Cox Trot with an all inclusive, community outlook: a 5K run that people can run, walk, and even bring their dogs.
In order to raise as much money possible for Donate Life, Tinnell sells T-shirts, as well as making a competition between her five classes auctioning things off in her room to the highest bidder.
"I'll auction some things off in my room to the highest bitter if they [the students] want something; pretty much anything that I own I'm willing to somehow give it away for charity."
The Cox Trot isn't only a major event for Tinnell's students, or even just current Chamblee students, but also CCHS alumni.
"A lot of alumni will get back in touch with me which just really gets me so excited. To get a random email or text from a kid — it could be from 10 years ago, 5 years ago– and they will send in some money or they will just show up the morning of the event." said Tinnell.
Many sign up and get to know about the Cox Trot because of cross country. This is how sophomore Lincoln MacDonald started participating in the Cox Trot.
"This would be my second year. Last year I actually enjoyed it; it was my first 5K and it's kinda how I got involved to cross country," said MacDonald.
Some senior students have been participating in the Cox Trot all four years, both as runners and volunteers, including senior Sherwin Sherazi.
"[It is] very fulfilling experience to help out in something so important. I got to volunteer, and me and Apoorva [Agrawal] were at the water station and … we were going into overdrives filling up cups and trying to give them to people," said Sherazi  
For others, like junior Alex Morales, it was their first year of having participated in the event.
"It was fun running, but tiring; overall it was a good first time," said Morales.
Everyone who participates provides a grain of sand for a good cause. The Cox Trot is an example of how much can be achieved together; what started as a small event by a group of students and a teacher is now a very important event for the whole community.
"Every year there is going to be a different amount of people that will support the Cox  Trot. I never know and I'm always humble and surprised at how many will end up showing up, I am always very thankful for that," said Mrs. Tinnell.
About the Contributor
Adena Perez, Staff writer
Adena Perez is a junior and staff writer. Outside of the paper, she likes to sew, sleep, and ride her bike. This is her first year on the staff.