Softball Team Reaches State Playoffs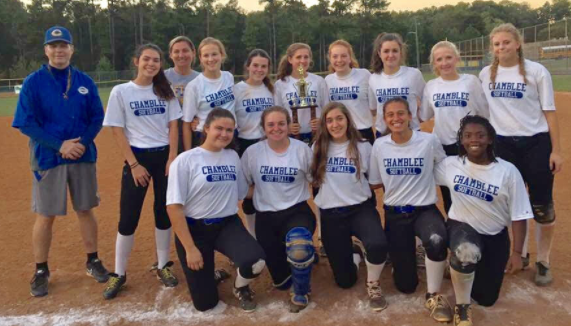 Hang on for a minute...we're trying to find some more stories you might like.
The Chamblee Charter High School softball team just made history.
On October 11, 2017, the Chamblee varsity softball team beat Lithia Springs High School in two back-to-back home games to advance to the sweet sixteen round of state playoffs for the first time in Chamblee history.
The team made it to round one of the playoffs several times, but has never won before.
"Until this year, we were 0-16 in state games," said junior Rachel Lovejoy, co-captain of the team.
Qualification for the state tournament is based off of the team's performance in region games. Most games are not actually region games, because there are only about six teams in the region.
"We finished second in the region and that made us eligible to play the third ranked team [during playoffs]," said softball coach Alan Loper. "That was Lithia Springs [High School]."
The series against Lithia Springs was a sweep for the Chamblee Bulldogs.
"In the first game, the final score was four to one and the second game [ended] 12 to seven," said Loper.
The second round of the playoffs was held in Carrollton, GA against Carrollton High School on October 18, 2017 and the Bulldogs lost, ending their time in the playoffs.
"They [Carrollton] had a small field, so they hit a lot of home-runs, which was a problem for us," said Lovejoy.
Overall the season was quite successful, setting more than one record for Chamblee softball.
"Our final record was 22 wins, seven losses and one tie," said Loper. "That was the best winning percentage of any [softball] team at Chamblee."
In addition, the team got off to a 9-0 start, the first time in Chamblee history.
In 2003 the team also won a whopping 22 games, but without any ties, so they lost eight games, making this year's win-percentage slightly higher.
This year, the team had to be reloaded after losing six seniors last year, but they were able to overcome that loss and succeed this year.
"We brought in a strong freshman class this year," said Lovejoy. "and that really helped."
Part of the team's success this year was the player's willingness to work together to improve.
"Everyone played their part and contributed to everything," said Lovejoy. "Even though only nine people can start each game, everyone participated, whether they were leading cheers, running as pinch runners, or telling our defense when a runner was stealing."
Skill on the field is also essential to a high-functioning team.
"I think our pitching was solid," said Loper, "Especially Carlin Waddell – she had a great season. Our other co-captain, Rachel Lovejoy, was a real leader and a great hitter, a great fielder and just a great overall player, and she really helped this year."
Being a captain put a little more pressure on Lovejoy than she had experienced in her previous two years on the varsity team.
"I felt more responsibility to not only do well but also to guide some of the younger girls on the team," said Lovejoy. "I'm not the most outspoken person, but I try to lead by example."
Now that this record-breaking season is over, the team is looking forward to a successful future.
"I'm excited about next year already," said Loper. "We only have three seniors graduating, and we'll miss them, but it's a welcome change from the loss of six players last year."
Even though the team's major pitchers are graduating seniors, there are more pitchers who didn't get a lot of game time this year as well as players from the junior varsity team who will be moving up.
"We have a young [rising] freshman coming up," said Loper. "I saw her [Margaret Axelson] pitch in a couple of games on the JV [junior varsity] level this year and was very excited about the way she throws."
The JV team does the varsity team a meaningful service by preparing the future varsity players for the task of the higher level of competition.
"The younger players are confident and experienced and they stay calm," said Loper. "That makes it an easy transition to varsity where they're out on the field against really good teams."
All in all, Loper was very proud of his team for their hard work and the great season that set them up for an even better future.
"I think we'll be really competitive next year," said Loper, "and I'm looking forward to reaching new heights."