Lady Bulldogs Leave It All on the Court
Chamblee Charter High School's varsity volleyball team placed in the challenging Elite 8 at state championships last year. Though this was a lofty achievement by anyone's assessment, this year, they're aiming higher.
Starting out the season strong on August 10 & 11, the Lady Bulldogs dominated the court and came in first place in the fifth annual SpikeFest, hosted here at Chamblee.
"As far as competition, we beat Tucker, we beat Druid Hills, we beat Lakeside and we beat Decatur for the Championship," said head coach Lorri Reynolds.
Reynolds has been the head coach of the volleyball program here since it started and is confident in this year's team.
"I think this is a really, really strong group. I think this team is even better than last year, so my only concern is that they keep working hard and rise to the occasion," said Reynolds. "It was great to start the season with a win, but we have much tougher competition down the road."
Aside from Coach Reynolds, the players are also excited for this upcoming season.
"I'm just looking forward to going as far as we can, especially for my senior year, since it's my last season," said team co-captain Hanna Cain.
As the season moves along, there is much to look forward to. There is an upcoming tournament in North Forsyth, where the team will be playing against a lot of bigger teams, particularly White Water.
"We want to make it further than the Elite 8. We've made it the last 2 years and we're hoping to make the finals this year," said Reynolds.
SpikeFest MVP Becca Evans is a major part of the team and was pivotal in the win at SpikeFest.
"[Evans] is very consistent with everything; she's a great hitter, passer, setter," said sophomore hitter Kenedi Bates. "All of that, so she definitely deserved it."
But the team dynamic might be another reason that the Lady Bulldogs have been so successful.
"The great thing about the team these last two seasons is that everybody likes each other," said Reynolds. "They all get along and hang out outside of volleyball as well as on the court, so it's really nice that they work together so well."
About the Writer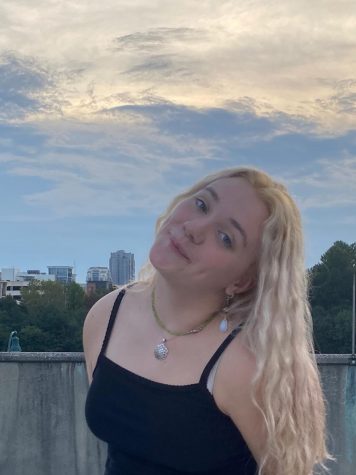 Stella Garrett, Editor-in-chief
Stella Garrett is a senior and editor-in-chief of the Blue & Gold. Outside of journalism, you can find her making costumes for Chamblee Onstage, drowning at water polo practice, sleeping, and playing with crystals. In five years, she hopes to be working on a farm or traveling the world in her converted sprinter van. This is her third year on the staff.