Rubbish Takes 'Trashy Pics' to a Whole New Level
Hang on for a minute...we're trying to find some more stories you might like.
A new wave of campus beautification has arrived, and it involves taking pictures of trash and uploading them for incentives. The 'Rubbish' project, created by Chamblee juniors Amy Lin and Shrika Madivanan, is a school-wide competition to sanitize the school.
"Rubbish is a project created to encourage students to improve our school environment," said Madivanan. "The goal is to reduce the amount of litter at Chamblee High School."
The idea arose from an observation during lunch.
"When I was a freshman, I was in the cafeteria one day and I noticed that people–even my friends–would leave trash behind," she said. " I was like, 'How could you do that to our beautiful school?'"
Even now, Madivanan adds, trash can be seen throughout the day.
"Our practice field, cafeteria, and hallways are often peppered with trash that was not disposed [of] properly," she said. "To combat this issue, we are pushing the students of CCHS to help out by just picking up trash as they go about their day."
The process of the project is relatively simple.
"There are some initial forms that need to be filled out on our Tumblr before you can begin," said Lin. "Then [after that], the first step is to pick up any litter you see at the school."
After taking a photo, it needs to be uploaded for proof.
"Take a photo of the trash and send it in through Remind by messaging both Shrika and me," she said. "Include a description of what category the trash falls into (paper, plastic, glass, tin, or other) and then you'll receive points. Our point system is based on the category and amount of trash."
As for prizes, Madivanan and Lin have developed a bi-weekly incentive hour.
"At the end of each school day we count up everyone's points and award them to each member," said Lin. "Every two weeks we'll have an incentive hour and you can cash in your points for prizes including brownies, cookies, and enamel pins."
Over 35 students, including junior Ellie Gies, have already signed up.
"Shrika told me about [Rubbish] and and said that I would really like it, and as soon as I heard the idea I loved it," said Gies. "I would absolutely recommend Rubbish because it is so easy. You get to clean the Earth and get a prize for doing it."
To get more information about Rubbish, text @rubbish to 81010.
About the Writer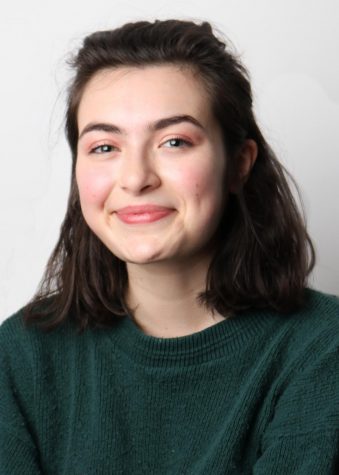 Ashley Veazey, Staff writer
Ashley Veazey is a junior staff writer. When she's not in school, you can find her ordering coffee milk tea at Sweet Hut, listening to Italian trap music, and talking to herself auf Deutsch. This is her second year on the staff.