Demolition to Development: Chamblee Chick-Fil-A Closing for Renovation
It may come as a shock to many Chamblee students that their favorite after school or before school hang-out spot is going to be demolished. The Chick-fil-A in Chamblee Plaza near the school has been a large part of our school's culture for years, but students will be happy to know that the restaurant will not be gone forever, but is being rebuilt into a larger, more modern building.
After continuously operating for more than thirty years, the restaurant will be temporarily closed in order for it to be demolished and a new one to be built. This redevelopment has the goal of creating a larger building, along with building an outdoor eating area and having more modern infrastructure. This is scheduled to be completed by the end of 2021.
Hundreds of students go to the Chick-fil-A to eat breakfast before school, hang out with their friends, study, eat before sports games, or just to have a chicken sandwich. The restaurant even employs current students at Chamblee, along with Chamblee alumni. 
The Chick-fil-A, built in 1987, was one of the first ten freestanding Chick-fil-A locations. Currently owned by Theresa Wilson, the restaurant employs seventy to eighty people.
"[The redevelopment would turn the restaurant] into a more attractive, modern, inviting and functional restaurant in keeping with the demands of the current market, customer expectations, and the vision of the City of Chamblee for the Peachtree Boulevard corridor," said the Chick-fil-A's attorney in plans filed with the City of Chamblee.
Selase Tdjame-Mortty, who is a senior at CCHS, has worked as a team member at the Chamblee Plaza Chick-fil-A since June of this year. He believes that the redevelopment will be a good thing for the restaurant and provide new opportunities.
"Our building has been around for a long time. […] We are one of the only Chick-fil-As that still has a basement and other things like that," said Tdjame-Mortty. "There has been some complications with zoning and districting starting with the storage unit and stuff. So we are getting the Chick-fil-A remodeled up to code with every other Chick-fil-A."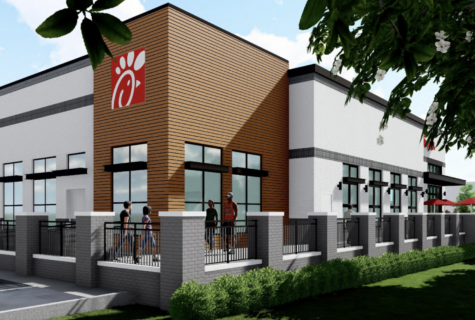 One of the most important things about redevelopment is that it will increase the size of the restaurant. Right now, the restaurant is 3,873 square feet and the new building is planned to be 4,700 square feet. This additional space should allow for additional seating areas, an outdoor seating area, and more outlets for charging customers to charge devices.
"As it is now, the restaurant is actually pretty small and inside we only have one outlet you can see. It's supposed to be an area for people to stay and work [or] do whatever they need to do for studying. A lot of kids go there to study after school," said Tdjame-Mortty. "An outdoor space will also help people who like to stay outside when it's warm or even if it's cold. I think it will be efficiently better for the restaurant."
The new building is expected to also have quicker wait-times and a larger indoor waiting area. This also involves a new drive-thru behind the building and alleviating traffic concerns.
"There's definitely a problem. […] It's just that there is not a lot of space and it's always crowded. We have a hard time moving people through a lot of the time and a lot of times food comes out slow," said Tdjame-Mortty. "Especially after school, inside there's not a lot of space to wait for your food so a lot of kids are sitting on the side."
Ryan Stupart,  a senior at CCHS, has worked at Chick-fil-A for about eight months. He believes that the redevelopment will improve the restaurant.
"I think it is [an improvement]. Right now it looks tight on space due to the rushes we handle and how busy the restaurant is. […] An outdoor seating area is good when done right," said Stupart.
The Chick-fil-A across from the school is not only a restaurant but also a meeting place and part of Chamblee culture. 
"It's always been a part of the culture. […] I see a lot of [students] during the week, especially on Fridays and during Football season," said Tdjame-Mortty.
With the Chick-fil-A temporary closing in order for a new one to be built, many students at Chamblee will have lost their favorite breakfast place or hang-out spot. While there are alternative restaurants, such as Dunkin' Donuts and Arby's, some students may just stop going.
"I think that there will be a lot less people going to [alternative restaurants] and more people staying [at school] to study or just going straight home," said Tdjame-Mortty.
Rainey Garcia, a junior at Chamblee, believes that redevelopment will help, but temporary loss of a popular meeting place will be tough.
"I go about twice a week. [..] A lot of Chamblee students go there, even students from completely different schools go there all of the time," said Garcia. "I feel like redesigning it would help, but for a while, it's going to be hard to make up some meeting spot for the Chamblee kids."
Employees of the restaurant have not been told a specific start or completion date for the construction, only that it is happening soon and all remaining freestanding Chick-fil-As are scheduled to be redeveloped by the end of 2021. Additionally, in order for the redevelopment to begin, the location needs a change in zoning to be approved by the city of Chamblee. This is scheduled to occur on January 16.
Overall, there is generally a positive attitude towards the redevelopment among Chick-fil-A employees and students at Chamblee.
"It's pretty positive. Some people are sad about it, but it's something that needs to be done because of the size," said Stupart.