New Academic Honesty Council Aims to Crack Down on Cheating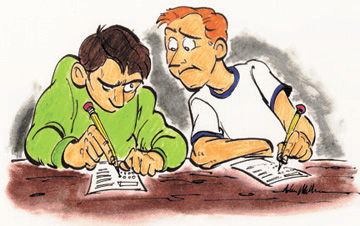 Erin Woo
September 12, 2016
Filed under News
Hang on for a minute...we're trying to find some more stories you might like.
This year, along with the Code of Conduct and the typical class syllabi, there was another document for students to sign during the first week of school: Chamblee Charter High School's new academic honesty contract.
The contract is part of a push to stop the problem of cheating at Chamblee. The other component of the plan is the academic honesty council, which consists of four teacher representatives, one from each of the four core departments, and an administrator, Assistant Principal Shervette Miller-Payton.
The current council members representing Chamblee's faculty are Deann Peterson, Carolyn Fraser, Amy Branca, and Dr. Andrew Milne.
"The key thing with the academic honesty council is that we want to talk to the students and find out more about what's going on," said Peterson, who teaches Advanced Placement Biology and Advanced Placement Environmental Science. "It's more of an intervention than just a harsh punishment style of dealing with it."
Students found guilty of a first offense will receive only a warning. For further offenses, students will have a hearing with the council. If the council determines that a punishment is necessary, possible repercussions include expulsion from honor societies, community service, and an inability to get recommendations for colleges, jobs, or clubs.
Second chances and restorative policies are also built into the system.
"From the teachers' perspective for recommendations and things like that, you can do restorative practices," said economics teacher Fraser. "The list does not roll over from year to year unless it is a pattern and you are doing it every year."
This is a significant change from previous policies, which were directed through the administration and included a zero on that assignment, parent contact, and a referral.
"We created the council to put it back in the hands of teachers," said Jimmy Demer, a member of the English department.
Demer, along with Fraser and fellow English teacher Branca, drove a "grassroots effort" to create the new academic honesty policy after especially egregious instances of cheating over the past school year.
"We felt that it had to be a strong enough statement to stop this "them against us" [teachers against students] mentality that seemed to have developed," said Fraser. "We wanted to give teachers the support they needed in their own classrooms when cheating was done."
So far, the academic honesty council has not yet needed to meet to deal with an incident of cheating. However, students told The Blue & Gold that that does not necessarily mean that the new policies are effective in reducing cheating.
"We definitely need [the academic honesty council], but I don't think it's working," said senior Olivia Wilborn. "I have seen cheating in several of my classes."
Other students believe that students now are at least "more scared to cheat," although some may still do so.
"Especially as a senior, we have a lot to lose," said Elena Allison.
Branca acknowledged that some level of cheating is likely to still occur, likening to the situation to "a cat-and-mouse game."
"We just want to make sure that the cats don't lie down," said Branca. "The mice are still going to get a piece of cheese here and there, but the cats are sharpening their claws."
One change several students think would make the council more effective would be the addition of a student representative.
"It could be the president of NHS, Beta Club, or SGA," said senior Ben Lang. "There could be someone from every grade to reduce bias."
Although council member Milne, a member of the math department, says that the council has discussed this possibility, as of now, legal issues prevented the addition of such a member.
"Right now, with some of the things that the academic council can levy as punishments, students cannot be involved in those decisions," said Milne. "This doesn't mean that there couldn't be a way to incorporate them in the process in the future, but right now that would be tricky."
For now, Peterson hopes that the teachers on the council will be able to convey the message that students "have better choices than just resorting to cheating as your best option."
"You're not just learning content," said Peterson. "You're learning future habits on how to work. This is to help you do that."